This is just a sample of the many antiques we have sold. Click link to see other Sales Archive Pages on this Site.
We can help you sell quality Kitchen Related Antiques Contact Us.
For further info on consigning / selling your antiques with us please see our FAQ page, the Appraisal / Selling Page and the Selling Your Collection Pages.

Our current offering of Antiques for sale are at our sister Website Patented-Antiques.com.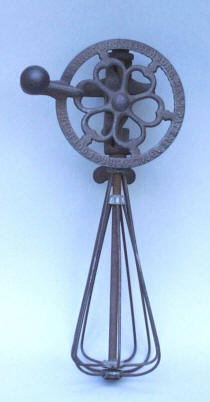 Monroe Patented 1859 / 1860 Eggbeater
This is a very hard to find, and relatively early patented beater as the patents for it were first pulled in the mid 1800's. Several different versions were produced over the years, with most of them having a provision for table mounting like this one does. (note shown in pic) Overall it is in excellent condition with just a light coating of rust that will clean or look great once some attention and oil or wax are applied. Rare, early and desirable. Highly recommended!!
Good + . . . . .
SOLD!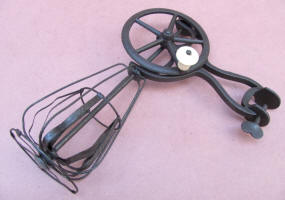 Monroe Patent Eggbeater
This rare and unusual antique eggbeater is simply marked Pat Appl'd For on the top of the beater shaft gear. It is otherwise unmarked. It is obviously a Monroe patent from its features and design. Given the make-up and history / provenance of this eggbeater I believe it is the patent model or prototype the Monroe brothers manufactured before being granted their patent in 1859 and going into production with slightly different designs. The book

The Eggbeater Chronicles

pictures numerous other examples, but none like this, or marked like this.

The first indication that this is a patent model or prototype is the gearing on the main cast iron wheel and counter gear to drive the dashers. There is none. No gear teeth, and there never was. It is not operational in the sense one would expect because of this, although the dashers move and operate like they should. There are just no gear teeth on the gears to drive the dashers. Both of these drive "gears" were cast without any gear teeth at all. The main gear is also unmarked unlike all other production model Monroe beaters known, save one, that Don Thornton pictures in the seminal work on the subject,

The Eggbeater Chronicles

, published a few years ago. They are all marked with the name and patent info.

Also pointing toward this idea of this eggbeater being the patent model or a prototype is where it originated from. This beater came from an old collection of not just eggbeaters, but also other unusual mechanical pieces, and the original owner's estate was divided up amongst the heirs. The original owner and antique collection were located near Peekskill, NY and the nearby location Garrison-on-the-Hudson is where O. Rundle Gilbert resided and sold many of the patent models from the patent model collection he had purchased in the 40's and was selling. Being from 1859 or before would also explain the overall pitted condition and lack of a proper tag. To explain, many of the earliest patent models were lost to fires at the patent office back in the late 1800's. Many metal patent models were saved and in many cases had a crusty / rusty appearance from the ordeal they went through. I lightly cleaned and oiled this eggbeater and it looks good. The wheels turn, and the dashers operate and are stable. The clamp screw works as it should. The porcelain knob is good.

A rare and unusual beater never seen before for the complete and top of the line collection. The search is over. Beat this!
Good + . . . . . . SOLD!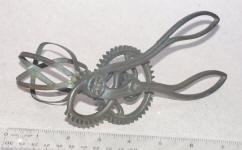 Jaquette #1 Eggbeater
Patented 1883
This is the smallest and along with the largest version, the hardest to find of the 4 different size Jaquette egg beaters. The patent was issued in 1883 and the inventor was from PA. This one has patent info on the center hub but is otherwise unmarked. I bought my first one of these at an engine show where it was on display as a what's it / paint mixer. I did not know exactly what it was, but had a feeling it was not meant for a paint can. Over the years I have had a few of the middle size versions of this beater, and at least a couple of the largest size w/ wooden handles, but this is only the second one of this size I have had in over 20 years of buying, selling, and looking for unusual eggbeaters. There is a pretty complete write-up on them, and the inventor, in Don Thornton's book on the subject,

The EggBeater Chronicles

where he places a value on this smallest model at 1000.00 +.
The condition is exceptional. There is no damage, and no rust or pitting. It is tight, and runs well. All of the solder joints are good, and this one has the flat strap dashers as opposed to the more typically seen round wire version pictured in Thornton's book and typically found. A rare eggbeaters in uncommonly nice condition. Beat this!.
Excellent . . . . . . SOLD!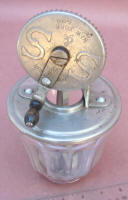 S & S / Hutchinson Mixer / Mayonnaise Maker / Churn
The S & S / Hutchinson Co of New York made a few different mixers and Mayonnaise makers. This is one of the more unusual and harder to find of those. We have owned and sold at least a dozen of the larger model that you find offered with the letters S & S in the top wheel. We have even had one of the harder to find ones with Hutchinson in the wheel. This is the first of this smaller #2 model we ever found. It is in very nice condition, and the glass has no chips dings or other damage. It is pictured and talked about in Thornton's book and is valued there at $400. Different!!
Fine. . . . . SOLD!

The Double Triple Clockwork Egg Beater
This unmarked eggbeater is a one of a kind never before seen oddity that nearly defies description its design and operation are so strange. The name we have given it tries to capture the essence of the operation, but that can only really be done when the operation is seen and the 3 main horizontal gears housed within the lower circle, just above the 3 lower paddles or dashers all begin moving in unison, much like a clockwork mechanism, surely creating the desired effect of whipping up a superior egg. The basic design of the handle and main drive gear could be attributed to any number of classic makers from near the turn of the last century, but the bottom portion is a completely new and novel idea that I have never seen anything similar to compare it to. The main drive wheel shows faint layout lines that the maker used during the design and fabrication of this, and there are others on the paddles and frame which indicate that this was a prototype or first in a series that never quite got past the design stage as this is the only one known or that has ever been seen. A true one of a kind eggbeater that just can't be BEATEN.
Good + . . . . .
SOLD!
The Standard Wire Handle Beater 12 1/2
This 12 1/2" tall beater features the now-famous "incurvation" design of dashers as described by Thomas Brown in his patent write-up. This beater has 2 patent dates March 8th 1881, and July 14th 1885 cast into the wheel. Don Thornton devotes an entire chapter of The Eggbeater Chronicles to this Boston manufacturer's extensive line of cast iron beaters, sorting out the array of Standard dates, markings and dashers through his meticulous patent research, and although similar examples with wire handles are known, this particular variation is not pictured, and is taller than those known or shown. This example is a beauty with no rust or pitting, and exhibits just a nice rich patina. It is nicely marked Dover Pat in addition to the above dates. Rare and desirable is the proper description for this one.
Good + . . . . .
SOLD!

2 Dover Clamp-on Eggbeaters
These hotel size beaters were made for commercial use in hotels, bakeries, schools and the like. The larger one on the left is hard to find, but they are available, and I even have a couple variations of these hotel sized beaters available for sale on the Kitchen / Beater page on our sister site (link below). The one on the right is a different story and its complete story is not known or told in even Don Thornton's great book The Egg Beater Chronicles. It is the beater with the single 1870 patent date marked on the beveled wheel. He has the beater pictured, but other than the mention of ours with the table clamp few others seem to be around, and I have only seen one other in all of my travels.
Good + . . . . .
SOLD!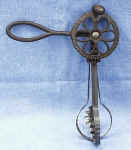 The Holt Right Angle Egg Beater / Cream Whip This beater is in very nice condition. As with most of them, the wheel skips a bit in operation, but that was a design flaw and not a condition the has resulted from beating up a million or so eggs. Every example of this beater I have ever had has had this condition, and that along with the coming of electricity probably explains the relative rarity of these pieces. There are two patent dates in the wheel from 1899 and 1900, one of them no doubt for the unusual right angle design, and the other most likely for the flared design dashers that this company was so well known for. These beaters were produced in this, the 8.5" size, and in much fewer numbers in the next size up which is 11 or so inches tall. If you ever see one of those, grab it as you may never have the opportunity again

Good + . . . . . SOLD!



Unique M.H. Roberts Patent Archimedes Egg Beater Maurice H. Roberts, the Boston inventor who designed this ingenious and appealing Archimedes beater, is not to be confused with Harry P. Roberts, another Boston inventor who likewise patented an Archimedes beater. This unique beater, patented April 25, 1922, has a turned up 4-pronged dasher affair as well as a perforated circular disk, both of which aid in the mixing and beating and, in the process it would seem, do their share of splashing and splattering as well! This example is the first we have ever had of this beater design, and it is in very nice overall condition.

Good + . . . . . SOLD!



Ram Double Propeller Eggbeater A fellow by the name of Robert Moore from New York City patented this line of beaters during the 20's. He made 3 or 4 different versions during their short production period, and this example is one of the most difficult to find. It is in super condition and still sports most of the original finish on the handle and knob. It is marked on the main wheel "RAM BEATER / PAT", and then a picture of a Ram with "Trade Mark" written underneath it. The operation is smooth as silk, and this will make a great addition to the growing collection.

Good + . . . . . SOLD!



The Lower Egg Beater This is one of the rarest of the rare in the kitchen collectible world. It looks like it should be from the mid 1800's, but the patent for this odd looking device was pulled in the 1920's which would have put it in direct competition with the Sunbeam Mixmaster. The race was on!! Unless you were from way out there, where electricity was still unheard of, which would you have bought home to impress the wife. Well that part of the story is history now, and Sunbeam is still making a version of their invention, while Mr. Lower probably died a pauper. RARE! There are only a handful of these known and it is without a doubt one of the most desirable and sought after of all mixers that are known in the Kitchen collectibles world. There is a break in the end gear wheel casting that has been repaired, and is barely noticeable unless pointed out. It matters little to the overall importance of this wonderful piece

Good + . . . . . SOLD!





The Lebanon Beater Patented in 1892, this unusual beater was invented by a man named Seltzer but goes by the name of the locale in Pennsylvania from which he hailed. Without a doubt it is one of the most unusual designs ever for an eggbeater, so unusual that I doubt it worked very well. Don Thornton gives a colorful history of the designer and the beater in his Eggbeater Chronicles. This example is in excellent condition and is marked Patent Pending rather than with a date. The operation is smooth but in a race I bet I would beat you with a fork, which makes this device all the more collectible and another great example of Yankee ingenuity at its finest!

Good + . . . . . SOLD!



Jaquette Bros. #2 Eggbeater This is one of the stranger designs and most graphic of all the many eggbeaters that was ever invented and produced for the American consumer. I got my first one many years ago at an Tractor and Engine Show where it was being presented as a paint mixer, and you know what, I didn't know any better either, and just bought it because it was different! This example is in super condition and has no problems or apologies. They came in three different sizes, with some variations in the numbering, and some differences in the design of the handles and agitator portion, with this being either round wire or flat ribbon material. A good one, and hard to find!!

Good + . . . . .SOLD!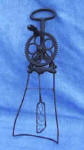 The Express Flyswatter Eggbeater This is another strange design and graphic eggbeater that was patented and produced for the American consumer. A good one, and hard to find!! It is also a lesson in the collectible market. The eggbeater market was HOT a number of years ago. There were several books put out on the subject, and it was a fun category to collect and to look for. Beaters like this were considered rare, and in the heyday were selling for 1500- 2000 incredible as that may seem. The last one I bought I paid 750.00 when I knew they were headed down, but had no idea how far. I figured i could still get $1000 and be OK. I sold that one several years later for 500. The last few I have seen sell on eBay have struggled to get that high. Will the prices cycle back? Maybe. Do I think they will, NO.

Good + . . . . . SOLD!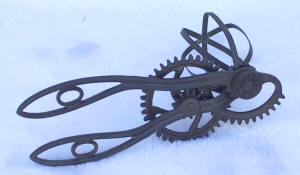 Jaquette Bros. #2 Beater This unusual beater / mixer is known as the #2 size even though it is unmarked and has those nice big 0's in the handles. In any case these beaters came in 4 different sizes and this is the second smallest at 8 3/4". They are all hard to find, and this one sports the much rarer and harder-to-find ribbon design dashers as opposed to the more commonly seen round wire versions. I still remember buying my first one of these some 30 years ago as a paint mixer at a farm & engine show. I had no idea what it was, but sure liked the mechanism.

Good + . . . . . SOLD!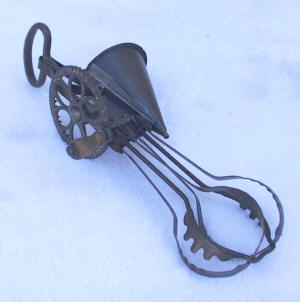 Holt Lyon Beater w/ Funnel This beater is known as the flared dasher design, and has the unusual and hard to find funnel that was sold as an accessory to help when making mayo or when you had to drip oil into the mix at a slow rate. A hard to find beater complete.

Good + . . . . . SOLD!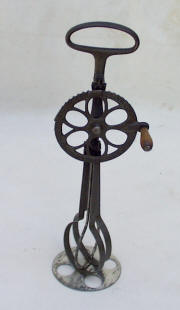 Dover "Stands Alone" Patented Stand-Up Eggbeater This odd looking Dover eggbeater sports three patent dates from 1873-1879, and its most notable feature is the tin bottom stand that allows it to be left standing upright in the bowl or on the tabletop. Talk about a beater that displays well! A rare and hard to find beater.

Good + . . . . . SOLD!












Minute Maid Eggbeater This eggbeater is a later design but has a lot of neat design elements going for it. First there are the heart shaped dashers, next is that fact they run counter to each other inside the main frame to real beat them eggs up. It has a great action and look. It is dirty, but will clean.

Good + . . . . . SOLD!










This is just a sample of the many Kitchen Related antiques we have sold. Click link to see other Sales Archive Pages on this Site.
We can help you sell quality Kitchen Related Antiques Contact Us.
For further info on consigning / selling your antiques with us please see our FAQ page, the Appraisal / Selling Page and the Selling Your Collection Pages.

Our current offering of Antiques for sale are at our sister Website Patented-Antiques.com.
This website is Copyrighted
(1998 - 2015)
Larry & Carole Meeker