This is just a sample of the many antiques we have sold. Click link to see other Sales Archive Pages on this Site.
We can help you sell quality Antiques Contact Us.
For further info on consigning / selling your antiques with us please see our FAQ page, the Appraisal / Selling Page and the Selling Your Collection Pages.

Our current offering of Antiques for sale are at our sister Website Patented-Antiques.com.
Champaign Bottle Corkscrew
This is an interesting little antique pocket corkscrew from a Hofbrau in Denver Colorado. The decorated sides depict a pair of cupids, angels or similar. In addition to the corkscrew it has a foil ripper, and a knife blade. The knife blade is marked with what looks like D. Heyser, DhLigs.
Good + . . . . . . $150.00 SOLD!!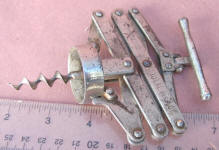 Ideal / Perfect Accordion Style Corkscrew This is an interesting corkscrew that is French and marked Ideal / Perfect..

Good +. . . . . . $65.00 SOLD!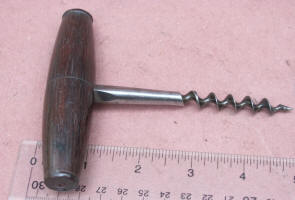 H & B Mfg Co. / Humason & Beckley Co. Corkscrew
This is a very nicely crafted T handle corkscrew from the mid 19th century. H & B stands for Humason & Beckley a well known 19th Century New Britain CT maker of hardware, barware and the like. Other than the one small chip in the Rosewood handle this fine cork screw is in super nice condition.
Good + . . . . . . $55.00 SOLD!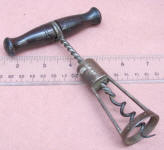 Clough Patent Power Cone Corkscrew
This is a nice looking corkscrew. Clough is most famous for his patents for a simple design screw. This was an earlier patent issued on FEB. 22. 1897. This style screw can be found with slight variations in the make-up and look of the cone. Some are marked with the name Williamson. Those with a Rosewood or ebony handle and the more sleek design of the cone like this one has would be the earliest of the models I believe. I do not see any markings or patent info which I have read is typical, but there is no doubt about it being an early Clough patent.
Good + . . . . . . $375.00 SOLD!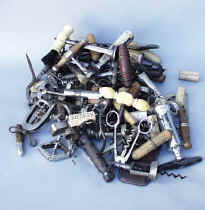 The Corkscrew Collection
Here is a collection / pile of corkscrews that I have acquired over the past few years. Do not be misled, I put the good ones that I recognize near the top. There may be a few sleepers in the middle, but I doubt it. I hate seeing my stuff in boxes where I can not find it or see it. All in all there are about 40 or so different ones here, and most of the other good ones are at the edges near the front.
Good + . . . .
SOLD!