This is just a sample of the many antiques we have sold. Click link to see other Sales Archive Pages on this Site.
We can help you sell quality Antiques Contact Us.
For further info on consigning / selling your antiques with us please see our FAQ page, the Appraisal / Selling Page and the Selling Your Collection Pages.

Our current offering of Antiques for sale are at our sister Website Patented-Antiques.com.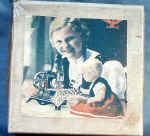 Unusual Small Casige TSM in the Box This little Casige measures just 4 1/4" x 2" x 5" and it comes with its charming and equally pint size original box and clamp. The machine is in outstanding condition---I don't believe it ever saw more than a few moments of use. The decoration isn't one of the designs that is typically seen, and the red and gold decals are real good condition-wise. There are a few scratches and nicks in the black paint that you notice if you really scrutinize the machine, but overall it looks great. The graphics on the cardboard box are darling. and the box itself is in very displayable condition. Be sure to click on that thumbnail for a closer look! This TSM is a sweetheart!
Very Good..........$265.00 SOLD!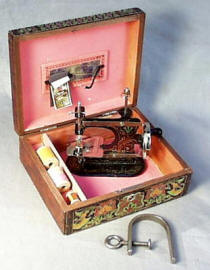 Beautiful Oval Based Casige TSM in Fancy Wooden Box This beautiful little machine is an oval based Casige model with bright gold and green scrollwork designs on the body and base. What is particularly special about it is it's original case, a beautiful paper covered divided wooden box elaborately decorated with green, red, purple, orange, and gold designs that have an exotic Oriental or Asian flavor. Dating from pre-WWII the tiny machine is marked "Made in Germany" and it is in excellent condition, noting a bit of paint and decal loss on the base where the clamp (also included) was affixed. The rest of the paint and decals are extremely bright and shiny as are the nickel plated metal parts. The case, which measures 6" x 7" x 2 1/2", is also in very good condition with just the slightest signs of use. These machines are generally found showing much more wear (see the example listed at the top of this page)---the child who received this one obviously knew it was special and treated it like the treasure it is!

Good . . . . . $365.00 SOLD







Casige Model 0 TSM / Toy Sewing Machine w/ Box This Casige TSM is a nice machine in very nice condition that you simply can not find anymore.

Fine . . . . . . . $175.00 SOLD!









Casige Elves & Mushrooms TSM / Toy Sewing Machine This Casige TSM is a nice machine in very nice condition with an unusual elves and mushrooms decoration I have not seen before. Different and Nice!!

Fine . . . . . . . $175.00 SOLD!











Little Red "Mystery" Toy Sewing Machine / TSM The collector liked the odd and unusual. She liked ones that were not in the book, and I think had to pay pretty good for them from the dealers that were feeding / building her collection. This is one I am not familiar with but was told by an advanced Canadian TSM collector / researcher that it is the Wonder Stitcher, made by a company called "Wonder Bilt" located in Toronto. They were only sold in Canada and the company had just a short-lived history. Different!

Good . . . . . . . $75.00 SOLD!







Tabitha Toy Sewing Machine This small rare sheet brass travel / toy sewing machine dates from the late 1800's and was manufactured in America by the Manhattan Brass Co. of New York. It was patented in 1888 by a T. H. Martin. The patent # is 379,175. There are several different variations of this sewing machine that can be found, and examples marked "Pearl" are very similar. There is one pictured in Glenda Thomas' book in its original box, and it mentions and pictures other differently marked versions that can be found. This is a earlier version and is marked Patent Appl'd For in the base.

The overall condition is excellent and the fragile little pieces including the spring steel tension spring is present and OK. The spool pin is also present. Many of the pieces were pressed and the decoration on those pieces is bold and not worn. It is a pretty rare TSM sewing machine and not one that turns up all that often. Cute!!

Very Good . . . . . . . $595.00 SOLD!






Vulcan English Toy Sewing Machine / TSM The Vulcan Toy Sewing Machine is an interesting looking and nicely finished sewing machine. The base appears to be aluminum and the upper portions are steel. The condition is super, and the ID decal is very good. It is a well made, and nice looking toy.

ISMC-BVULCAN-1

Good +. . . . . . . $95.00 SOLD!






Ernst Plank TSM / Toy Sewing Machine This is a very hard to find machine. Plank was the German maker most famous for their "boy" toys including trains engines and boats, and not so much for their line of toys and sewing machines directed at the little girls of the day. These were offered in Montgomery Wards Catalogs in the late 20's during the beginning of the depression.

The condition is superb.

ISMC-PLANK-2-668

Fine . . . . . . . $175.00 SOLD!






Martin Decker Kipic TSM / Toy Sewing Machine This is an unusual TSM sewing machine. They are discussed in Thomas's book and she says they are German and were offered for sale by a Pfaff Martin Decker. This is the first one I have ever seen in person. The head seems to be made of Aluminum, and the base cast iron. The condition is very nice, and it is a nice design not like many other toys.

The condition is very nice.

ISMC-KIPIC

Fine. . . . . . . $245.00 SOLD!






Casige "Gloria" Toy Sewing Machine This personalized toy sewing machine is a hard to find variation. The paint and other decorations are in good condition, and the decals are very nice as well. There is info on the sew plate that is different than the one in Glenda Thomas' book. Different!

ISMC-GLORIA

Good +. . . . . . . $195.00 SOLD!







Casige Floral Decorated Toy Sewing Machine / TSM This TSM was made by Casige and is in very nice condition. The picture decoration shows a decoration scheme I have not seen before, but there is another pictured in Thomas's book. It has poppies, cornflowers, and sprigs of wheat. Very unusual! A nice little machine that is not common and seldom seen in this nice condition.

ISMC-CF-DECO

Good +. . . . . . . $175.00 SOLD!






Casige TSM / Toy Sewing Machine This Casige TSM is a nice machine in very nice condition with a Lily and vine decoration.

ISMC-CASIGE-2-89B

Fine . . . . . . . $125.00 SOLD!








Betsy Ross Electric Toy Sewing Machine / TSM The Betsy Ross Sewing machine was an American product that dates from the 50's - 60's. The maker was Gibraltar and they were based in NJ. The Betsy Ross sewing machines are a well made heavy duty toy that operate very smoothly. The wood suitcase style box is nice and has a plaid covering. This electric version is missing its cord. I did not go inside to check the motor. What you see is what you get. It will display nicely.

ISMC-ELEC-BETSYROSS

Good . . . . . . . $55.00 SOLD!






Pink "Baby Brother" Toy Sewing Machine / TSM w/ Case Just like Mommy's, or so the logic went. The Brother Sewing Machine Company produced, or marketed, this cute little electric sewing machine to the next generation of potential Moms who wanted to be just like their mom, sewing machine and all. Oh, the good old days.

The condition of this toy is nice and the suitcase carrier shows signs of use. A very example!

ISMC-PBB

Good . . . . . . . $95.00 SOLD!





Stitch Mistress by Genero TSM / Toy Sewing Machine w/ Box This TSM / Toy Sewing Machine was produced here in the US just after WWII. They are made out of cast aluminum, and are a nice design. The condition is near mint..

ISMC-BLKG-155

Good + . . . . . . . $95.00 SOLD!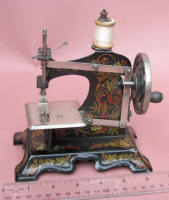 Muller # 5 TSM / Toy Sewing Machine This Muller #5 TSM Sewing Machine is a pretty commonly found machine, but not in this super nice overall condition. It has a decoration of flowers, vines, and berries that are in super condition. A chance to upgrade to a very nice condition early German TSM sewing machine.

Good + . . . . . . . $145.00 SOLD!









Enclosed Mechanism Casige Model 50 Toy Sewing Machine The number of different child's and toy sewing machines produced by Casige is astounding! This model is one of the more elegant sheet steel ones, standing a lofty 8 1/2" tall and with a graceful full-body design that encloses the drive mechanism. These full-bodied machines must have been a bit more expensive to produce as you definitely see more of the single sheet exposed mechanism models than you do of this style. The cam "gizmo" (rather than toothed gearing) of the handwheel makes for an effortless operation. The decoration on this model is somewhat Art Deco looking with its stylistic flowers in red, gold and green on both sides of the body and on the base. There is a bit of minor wear to the decoration and some paint loss at the bottom of the four legs of the base, but overall it displays well.

Very Good..........$115.00 SOLD!



Tiny Casige Toy Sewing Machine in Fancy Fitted Box This diminutive toy sewing machine is one of the prettiest, with gold and green vines and leaves gracefully decorating both sides. The paper-covered wooden box is vividly colored as well. And I guarantee you will love the condition!

Very Good..........$225.00 SOLD!



Casige Storybook "Little Red Riding Hood" Toy Sewing Machine This toy is one of those antiques that is eagerly sought after by collectors of Red Riding Hood memorabilia as well as by toy sewing machine aficionados. Casige made toys of several body styles with this decal, and this is the version with the enclosed drive mechanism. The decals are in great condition on both the front and back, and note the additional decals in all four corners of the base.

Very Good..........$245.00 SOLD!



Casige Model No. 103 Antique Sewing Machine This pretty sewing machine is still another variation of the "cast iron body on pedestal" style machines that Casige produced on assorted shaped bases. Although there were several variations of these machines, few were produced in any great number and all are relatively difficult to find. The Model 103 features a raised sheet steel base, and the base as well as the cast iron body are decorated with beautiful and elaborate blue flowers with gold foliage. The Casige logo or trademark is stamped on the stitchplate, and the machine itself is in excellent condition with bright and vivid colors. These machines are rarely found in the States and I was lucky enough to acquire this example from a dealer who brought it back from the UK.

Very Good..........$450.00 SOLD!



Muller Model 10 Chain Drive Child's Sewing Machine Not to be confused with the cast iron Muller 10 model, this sheet steel full-bodied enclosed mechanism chain-drive sewing machine is one of the harder-to-find in the Muller line of child's sewing machines. It is marked "Made in Germany" on a decal on the back side and dates from before the Second World War. This example is in nice condition noting some very minor deterioration of the nickel plating, but the black paint is still very bright and shiny. The gold decal scrollwork decoration is also in fine condition. These chain-drive sewing machines run exceptionally smooth, and must have been top-of-the-line in their day.

Very Good........SOLD!




Baby Brother Toy Sewing Machine in Original Case Here's one more example of a full-size sewing machine producer who, much like the Singer Manufacturing Co., fully understood the important benefits of marketing it's product to young consumers. This high quality "toy" machine must have made a good impression on many a future seamstress. The introduction in the original instruction booklet that is included with this example says it all: "Baby Brother, like Poppa and Momma world-famous Brother sewing machines, is a precision engineered quality product. Consider this a real machine and not a toy. Battery driven, it has been designed to give the same dependable full-chain stitch sewing service as big electric sewing machines." The condition of this example is as nice as they come and looks to have never been played with. Protected over the years in it's own little carrying case, this machine is close to flawless. The paper labels on the bottom are mint, the decal is mint, and the clamp is still in it's cardboard pack. You will have no complaints with the condition of this super little machine---it's definitely top-shelf!

Very Good.......... SOLD!



Sunflower Design Casige TSM This beautiful child's sewing machine is decorated with sunflowers bursting with color! It is one of Casige's pre-war enclosed mechanism models, and it is in super condition. As a bonus, this machine comes with the lid from it's original box---although the lid itself is in tattered condition, the wonderful image of four children sewing is intact and will display nicely!

Very Good.........SOLD!



Blue Casige TSM in the Box This toy sewing machine, marked with the Casige Eagle trademark and Made in Germany British Zone, is as close to perfect as they get! It looks as if it was never played with, as both the wonderful blue paint and the nickeled metalwork just shine! It is complete with all original parts right down to the needle and spool cushion. The original instruction booklet, in super condition, gives the young seamstress directions in eight different languages. The cardboard box has two tears in the lid, but overall is sturdy and in good shape. Guaranteed to be the way you like it!

Very Good..........$95.00 SOLD!



Blue Juwel Miniature Sewing Machine The history of this small sewing machine is an interesting one. According to the instruction booklet that accompanies this one, the Juwel was designed and produced "to meet the needs of those who are unable to afford a larger model nor obtain one during the present shortage." Based on information from Georg Reinfelder, one of the premier German toy sewing machine collectors, the Juwel was used by adults in refugee camps after WWII. The instructions go on to say "Do not be prejudiced by its size. Curtains, covers, clothing, etc can be made on the Juwel." This instruction booklet is written in English, so apparently the machine was successful enough that it was produced for export as well. This example comes in the original box, which is in just so-so condition. It has done its job of protecting the machine, which is in excellent condition. The machine is a cast metal and has some interesting features. It operates with a "belt"-driven mechanism---the belt is actually numerous strands of jute twine that are joined together with flat metal clips. All of this is exposed when the machine is hinged back on the base. The thread tensioner is located just prior to the needle position rather than the more typical location just past the spool pin. The original clamp is included, in fact, it is still in its original unopened packing. This sewing machine is not an easy one to come up with and in this condition it is a real find!

Very Good..........$225.00 SOLD!



Red Liliputian Toy Sewing Machine Advertised as "The Smallest Sewing Machine in the World", this tiny German pre-WWII machine stands just 3" high with a base that measures only 1" x 2 1/2". This super example, in the seldom seen red color, has been lovingly cared for. It's sure to be a highlight of any TSM collection!

Very Good..........$425.00 SOLD!



Green Casige "Tulip" Toy Sewing Machine If you sometimes get tired of all those black ones, here is a toy sewing machine that is sure to excite your senses and enliven your collection. This exposed mechanism pre-WWII Casige is decorated with red tulips and gold geometric floral designs on a wonderful green background. It's in very nice overall condition---just add a needle and you are ready to go!

Very Good..........$225.00 SOLD!



Casige Model 16 With Bright Flowers This pre-WWII exposed mechanism toy sewing machine is decorated on the base and body with bright yellow, white, orange and green flowers. This example is in nice overall condition with just a bit of nickel loss on the handwheel. The handwheel also exhibits a tight factory casting crack across one of the cutouts---I say factory because it is not a break as is evidenced by the nickel plating which coats it, and it is stable.

Very Good..........$145.00 SOLD!



Martha Washington Sotoy TSM Toy Sewing Machine This is a cute little toy sewing is in near mint condition and so is its original box. This machine is rarely found in this condition with a near perfect picture of Martha Washington, and the name ID tag from the maker still intact. And I have never seen one with an original box. A super machine in super condition

Excellent .......... $395.00



Full Body German TSM Toy Sewing Machine The collector who we are selling these toy sewing machines for was very particular about the condition of the machines in her collection. She only bought the best, and took care that they remained that way. This style is what we refer to as a full-body steel, as opposed to either a single thick sheet metal, or cast iron models. This one has great decoration of geometric flowers and vines spreading up and across the body. The sew plate is marked with the Casige Eagle. A very nice example.

Excellent . . . . . . $195.00 SOLD!



"La Queen" Toy / Travel Sewing Machine This interesting looking miniature sewing machine is marked La Queen Brevete S. G. D. G. on the sew plate. That inscription basically means it is patented, and "S.G.D.G." (Sans Garantie Du Gouvernement) is a disclaimer required by the government of France stating that it does not guarantee enforcement of the claimed patent.

The base and body appear to be a combination of stamped, bent and formed steel or brass. It is a great looking design, but of dubious functionality.

References I have seen attribute the inventor to be the same S. A. Rosenthal of Berlin who also holds the American patent for the Moldacot sewing machine, a well known and much more commonly seen machine. It is not known how many of these were produced or made it to the US. One informational site I read claimed they were very rare. I could not find any reference to this machine having an American patent. Very unusual, and a must for any advanced collection.

Good+. . . . . . . $795.00 SOLD!



"The Pearl" Toy / Travel Sewing Machine The Pearl is very similar to the Tabitha, and Bob Campbell notes they were probably made by the same company and fell under the same patent. The pearl is a slightly heavier duty model with cast brass parts instead of all stamped. It is a rare and hard to find machine.


Good+. . . . . . . . $695.00 SOLD!



"Liliputian" TSM Toy Sewing Machine This is one of the smallest toy sewing machines that can be found. They were advertised as being a machine that could be threaded and used to really sew, unlike those known as "penny toys". They date from the first quarter of the 20th century. I have seen, and will be listing one in its original box in the coming weeks. They are considered rare as few survived.

Good + . . . . . . . $195.00 SOLD!




This is just a sample of the many antiques we have sold. Click link to see other Sales Archive Pages on this Site.

We can help you sell quality Antiques Contact Us.

For further info on consigning / selling your antiques with us please see our FAQ page, the Appraisal / Selling Page and the Selling Your Collection Pages.


Our current offering of Antiques for sale are at our sister Website Patented-Antiques.com.




This website is Copyrighted
(1998 - 2009)
Larry & Carole Meeker