This is just a sample of the many antiques we have sold. Click link to see other Sales Archive Pages on this Site.
We can help you sell quality Antiques Contact Us.
For further info on consigning / selling your antiques with us please see our FAQ page, the Appraisal / Selling Page and the Selling Your Collection Pages.

Our current offering of Antiques for sale are at our sister Website Patented-Antiques.com.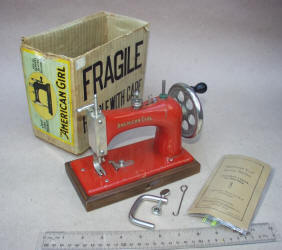 Red American Girl TSM Toy Sewing Machine in Original Box
The American Girl TSM is a cute little toy sewing machine. It dates from the 1930's and is made of sheet steel. It's in good shape and there is a paper label inside the base that says it was made by the National Sewing Machine Co of Belvedere, IL. It has its original clamp and an instruction booklet as well. A nice machine in nice condition!
Good + . . . . . . . SOLD!





Wera Danish Toy Sewing Machine / TSM w/ Box & Instructions The collector where this machine came from was very good at finding machines that are not typically found. I think she was such a good buyer that a network of dealers from not only in the US, but also Europe were feeding her special finds. The condition is very nice, and this one has the wooden base, the original clamp, and the instruction sheet in Danish. A rare opportunity to find a machine like this here in the States. It's the first one I have had or seen.
Good +. . . . . . . SOLD!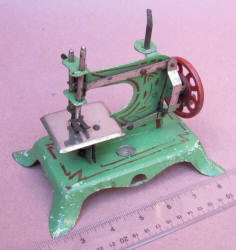 Ernst Plank Toy Sewing Machine / TSM Plank is a well known German maker of quality toys dating from near the turn of the last century and even earlier. Ernst Plank is most often associated with steam engines and workshop toys. His TSM's for the little girl market are not nearly as common.
Good +. . . . . . . SOLD!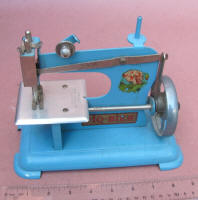 Piq-Bien French Toy Sewing Machine / TSM
One does not find these small French machines here in the states very often. I have only see a few in collections, or in the hands of European dealers. The condition of this example is great, and the robin egg blue paint is almost perfect. Very cute!
Good +. . . . . . . SOLD!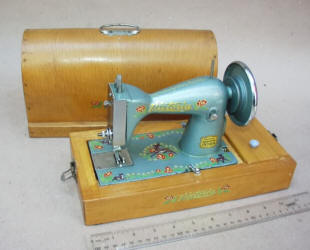 "Victoria" Japanese TSM Toy Sewing Machine w/ Wooden Case
This cute little toy sewing machine is in super condition. It is made of cast iron and has a great look to it with its colorful decorations and bright light blue metallic paint. The hooded wooden dome top case is very nice as well. This style sewing machine can be found w/ several other names including the Romance and the "Puppy" above. Some had rounded body styles, and others had square-ish ones. None are common, and they are seldom seen especially in this condition.
It would be interesting to know the history of the company, and if they were in existence before the war, or just appeared after the war when Japan was rebuilding its industry. Did they move on and up to make other things later on?
This is a very well made and precision made piece. It is a hand crank operation, and from the look of it this TSM has seen little to no use. A very nice and hard to find Japanese toy from just after the Second World War.
Excellent . . . . . . SOLD!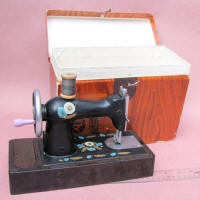 Russian Toy Sewing Machine w/ Original Box The collectors tag on the bottom of this unusual machine says it is not pictured in Thomas' books. That is true. It is an odd machine with the thick brown plastic base. It looks to have never been used. If I read the language I could probably tell you a lot more about this machine, but alas I do not. .

The overall condition is very nice. The box is very colorful and nice as well.. The instructions can be seen. This is a machine that only turns up occasionally and is the only one I have ever handled.
Fine . . . . . . .SOLD!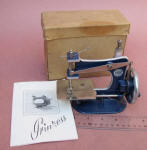 German Howeg "Prinzess" Toy Sewing Machine / TSM in Original Box This is an interesting cast aluminum toy sewing machine that I have never seen or had before. It is a well made, and nice looking toy. Glenda Thomas says it is German and made in Markt Schwaben. I was under the impression that it might be French, but I will defer to the expert.
Good +. . . . . . . SOLD!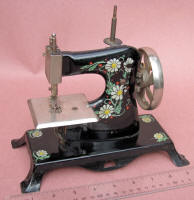 Casige Full Body TSM / Toy Sewing Machine This Casige TSM is is very nice condition. The decorations and paint are near perfect, and there is no rust or pitting on the exposed metal parts. A nice machine.
Good + . . . . . . . SOLD!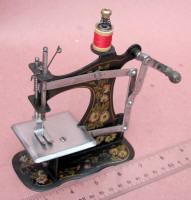 Muller # 1B Front Crank TSM / Toy Sewing Machine The Muller 1B TSM Sewing Machine is a very hard to find variation, much rarer than the similar looking Casige front crank machines found. Many casual lookers would never recognize the diff3erence, but it really is a rare machine.

The overall condition is very nice noting just some minor loss on the base where the clamp would hold it to the table.
Good + . . . . . . . SOLD!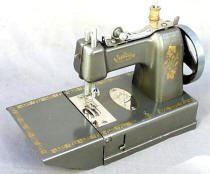 Vulcan "Featherweight" Toy Sewing Machine They say that imitation is the highest form of flattery and the Singer Featherweight was such a popular sewing machine that toy manufacturers no doubt wanted to get in on some of the action. This Made in England Vulcan model is perhaps the best "impersonator". Measuring just 9" by 4 1/2" by 6 1/2" this little chain stitch machine features the trademark "Featherweight" folding bed extension and perimeter gold decals. This example shows some signs of use because like many of its full-size counterparts it exhibits a bit of minor "fabric path" wear to the decoration, although it does not detract. Definitely collectible!
Excellent . . . . . SOLD!!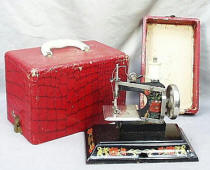 Casige Toy Sewing Machine in Carry Case
It appears that the child that owned this colorful toy sewing machine thought it was too pretty to play with! This Casige has beautiful and bright floral decals, and it is in super condition. It comes complete with its original "faux" leather carry case, which does show wear but makes for a great display piece nonetheless.
Excellent . . . . . SOLD!!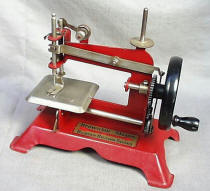 Buster Brown Shoes Advertising Toy Sewing Machine
For those of you who are too young to remember, Buster Brown and his dog Tige were popular comic strip characters of the early and mid 1900's. Buster and Tige soon became one of the favorite "celebrity" trademarks of the era for a variety of commercial products, the best known of which was probably "Buster Brown shoes". It is not known with any degree of certainty who the actual manufacturer of this toy sewing machine was, although there is speculation among collectors that it could have been made by Genero or Hoge. It sports a prominent gold decal that reads "Brownbilt Shoes BUSTER BROWN SHOES" and "Thread Straight" printed on an arrow with no other markings. This child's sewing machine was most likely a "give-away" with the purchase of a new pair of shoes, and from its scarcity today it was obviously produced only in very limited quantities and for a very short period of time. This example came out of a long-time New Jersey collection that I purchased about 7 years ago and it has been in my own collection ever since. What is missing from this machine is its under-stitchplate thread looper---most likely this machine was put up on a shelf and never played which helps explain why it is in such super condition.
Excellent . . . . . SOLD!!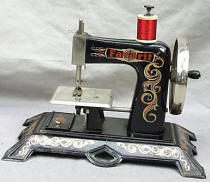 Casige "Favorit" Toy Sewing Machine
There is no question that this is one of the harder toy sewing machines to find, and this example is in the kind of condition you strive to find them in. Casige's Favorit is decorated with a generous portion of vivid and elaborate gold and red decals. Perhaps the most charming design feature of this model is the little storage compartment built into the base with its sliding lid, often missing but complete on this example. The base on this model measures just under 10" by 5 3/4", and it stands a lofty 8" tall to the top of the spool pin. The lines of the base give it a style all its own, and a certain unique eloquence. It is marked "Made in Germany", making it one of the pre-WWII models. You'll love the condition this one is in and it is guaranteed to be one of your "favorits"!
Excellent . . . . . SOLD!!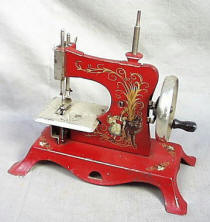 Red Casige Little Red Riding Hood TSM
These toy sewing machines depicting fairy tale characters are avidly sought, especially when they are found in colors as opposed to the more often-found black version. This red example is in super condition, with the metalwork retaining nearly all of its shiny nickel and the decals being nearly 100%. The machine is designed with an enclosed mechanism which operates flawlessly. These machines are really hard to come by, and in this condition this one is a real find!
Excellent . . . . . SOLD!!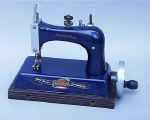 Blue Artcraft "Junior Miss" Toy Sewing Machine
The Artcraft Metal Products Co. of West Haven, Connecticut produced a variety of toy machines during the 1940's and 50's. This model they called the "Junior Miss". It is mounted on a wooden base and tilts backwards to reveal the drive mechanism. The original box is also included.
Excellent . . . . . SOLD!!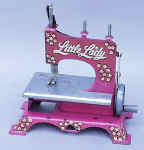 Pink Artcraft "Little Lady" Toy Sewing Machine
Here is an Artcraft model that is always a favorite, the hot pink "Little Lady". With its elegant shape and striking color it must have been every girl's dream to own one! Very 50's!
Excellent . . . . . SOLD!!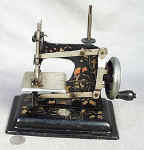 Solid Base Ernst Plank (EP) Child's Sewing Machine
This little sewing machine was distributed by Ernst Plank of Bavaria. It dates from the1930's and can be identified by the distinctive E.P. logo on the little plaque located on the base. Not an easy one to find, these TSM's are always a favorite among collectors. This machine is quite unique in its design---the base and the handwheel are distinctive in their styling. But the biggest difference between Plank machines and most others is that the reciprocating looper hook is located on the inside rather than on the outside of the vertical piece under the stitchplate. Ernst Plank is considered to have been a pioneer and a leader in the production of complex mechanical educational children's toys, including Magic Lanterns, toy steam engines, and alcohol burning live steam locomotives, as well as children's sewing machines. This example has some minor nickel loss on the metal and a few spots of wear here and there on the paint, but overall it displays well.
Excellent . . . . . SOLD!!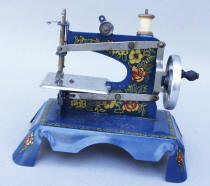 Blue Floral French "Ma Cousette" Toy Sewing Machine
This toy sewing machine was made in France and although it is unmarked as to manufacturer is does show some similarities to the Robert Wybo line to toy machines of the same era. This examples is boldly marked "Ma Cousette" on the stitchplate---unfortunately my high school French escapes me at the moment so I'll refrain from translating. In any case the machine is beautiful, painted in a deep royal blue color with spectacular red and gold flowers on both the front and back of the body. The base is also highly decorated on the edge as well as on each leg. Definitely an example that will add color and style to any collection!
Excellent . . . . . SOLD!!
This is just a sample of the many antiques we have sold. Click link to see other Sales Archive Pages on this Site.
We can help you sell quality Antiques Contact Us.
For further info on consigning / selling your antiques with us please see our FAQ page, the Appraisal / Selling Page and the Selling Your Collection Pages.

Our current offering of Antiques for sale are at our sister Website Patented-Antiques.com.
This website is Copyrighted
(1998 - 2015)
Larry & Carole Meeker