We can help you sell Surveying & Scientific Related Antiques!!
We deal in many different types and styles of antique surveying instruments and related accessories a surveyor, architect, engineer or builder would have used in his trade. In addition to this informational website we operate www.Patented-Antiques.com where we conduct our surveying instrument and other antique sales from. That website is one of the largest single owner antique sales websites on the internet dealing in surveying related antiques and other tool and technology related antiques.

If you have surveying instruments or other tool & technology
related antiques you would like to sell please visit that webpage to see how we conduct our consignment sales. If you would like to consign with us and have additional questions please see the FAQ page and other informational pages at either site or Contact Us.

The list of desirable surveying instrument makers is extensive, and starts with such famous makers as Rittenhouse, who made instruments during George Washington's time, for him, Thomas Jefferson, and others. More well known and prolific makers like W. E. Gurley, Lietz, Buff, Berger, Heller & Brightly, Keuffel and Esser, Roach, Sala, or Queen & Co. to name just a few are desirable and sought after as well. There are numerous early makers of surveying instruments that have normal given names that were in business for varying periods of time in the 18th & 19th century. The list of individual maker names is extensive and can not really be given here but there is interest in many of these lesser known instrument makers as well.
Wye, Dumpy, Railroad, Engineers, Architects & Other Surveying Levels
On this page I will briefly discuss surveying levels, their different forms, and give you a sense of different surveying levels values should you have one for sale.

Pictured
here is a Wye level or engineer's level made by W. L. & E Gurley of Troy NY. It dates from the late 19th century. Levels like this looked very similar for nearly 100 years with only minor changes. They came in lengths from under 12" to 26" or so. Just above is a very small Gurley Explorer's level. That ones scope is only 10" long or so, and is a very hard to find instrument. Wye level values can range from about $100 to $1000 or more for a rare variation by a early, rare and desirable maker. Most though fall in the $200.00 - $500.00 range in nice condition w/ box and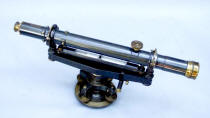 tripod. Examples of levels that would fall into the lower end of any range are later examples in a black or green crinkle finish like the one pictured here on the right. Dumpy levels are much the same. On the other hand, the level in the top left corner is in a black finish, but is a very rare "Precise" level made for the US Coast and Geodedic Survey and would sell for much more. It is all in the details.

Surveying Levels were designed and offered for different applications and oftentimes their names are an indication of that use. Examples are railroad levels, architects levels, farm or drainage levels, dumpy levels and more.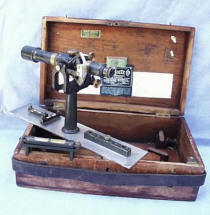 They were made and offered for jobs where the user does not have the need to shoot vertical angles but did need to shoot long lines.

On the right is what is known as an Alidade. It is a level scope mounted to a base plate. These were used in the field to help draw maps and were used in conjunction with a plane table & tripod. They come in different sizes, such as high post, low post, explorer, and others for different applications. They are not rare, and many are later as they were in common usage well into the 20th century. In general they sell in the 200 -300 range with a few bringing more.

Next is what is known as a convertible level. It could be set up as either
a standard level (as shown), or by using the pieces shown the instrument could be turned 90 degrees in the frame and was reinserted to be used as a basic if not crude transit to shoot vertical angles. These complex looking, but relatively simple survey devices were mostly aimed at casual or less professional users or home builders and were produced in large numbers. They do not usually command large sums of money in today's marketplace.
Selling Antique Surveying Instruments
Pictures of the instrument you want to sell and the amount you want to net would be a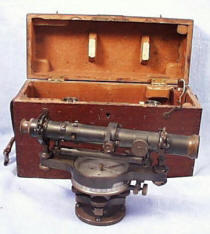 great help. Without that info it is going to be difficult to discuss or determine if there is a real interest in your piece.

Just telling me you have a Gurley, a Berger, or a David White, etc. and giving me the serial number is not enough information. Asking me what your instrument is worth without seeing it, and with that amount of info would be like me asking you what my car is worth, without me telling you anything more about it other than that it is a Toyota. In most cases it simply can not be done with so little information. At a minimum please have the instrument in front of you when you call.

If you are looking for a quick sale you might consider eBay, but if you want to try and net something approaching a r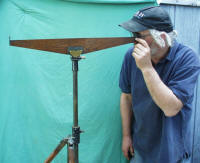 easonable retail you should contact me. I routinely sell instruments from our site for far more than similar pieces bring on eBay.

I am also interested in buying early tripods or staffs that came with most surveying instruments. They can come in a variety of sizes and configurations and there is always a market for them.
---
The surveying instruments you see here are examples of the caliber, condition and quality of these antiques that we primarily deal in and can help you sell. To see sales results of instruments and other antiques we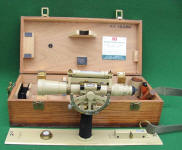 have sold in the past, please see the Sales Archive Pages in the right column.
If you have quality antique surveying instruments similar to those that you see on this page that you want to sell, please contact us at LCM@AntiqBuyer.com providing me with as many details as possible.
To see examples of antique surveying instruments and related equipment that I currently have for sale, please go to our sister site at www.Patented-Antiques.com and visit the surveying related sale pages you will find there.
Thank you!!
Larry & Carole