We Can Help You Sell Antique Tools or Collections of Antique Tools and Vintage Collectible Tools.
I deal in all types of antique and vintage tools including vintage antique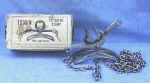 leatherworking tools Such as those used by saddlemakers, cobblers, and more. On this page I will picture and discuss some of the specific vintage leather tools that I typically deal in, am looking to buy, or can help you sell.
If you are looking to buy antique leather tools please visit our sales webpage at www.Patented-Antiques.com


If you have any quality vintage tools you want to sell, please contact me at LCM@AntiqBuyer.com and we can work out a deal.
Some of the most famous names of makers of leather tools are Osborne, Gomph, Rose, Lyle, Sauerbier, Dixon, Huber, Wiss, an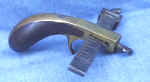 d a host of others. Many of these famous 19th century leather tool makers were concentrated in and around Newark, New Jersey during the heyday of production from the early to mid 1800's. Other makers hailed from different parts of the country, and some of those makers produced some very interesting and desirable antique leatherworking tools as well.

One type of leather tool sought is referred to as leather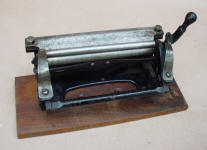 splitters, or skivers. These devices were used to make different thicknesses of material by passing them through a knife under pressure. Osborne was the most prolific and well known maker, and they offered several different versions like the one pictured in the top left corner with the twist handle set up to lock in the thickness. They also sold a version with a pliers-like adjuster. Pictured to the left is a Krebs Patent leather splitter which is a very rare precision piece of equipment and much harder to find than most other leather spliters.

On the right are two early versions of leather splitters. One is from NH and the second is marked Osborne so I assume they bought the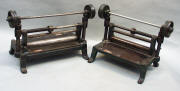 original patentee out. On these examples the table flexes to regulate the cut instead of the cutter moving. Different versions sell for different amounts.

The next leather tools pictured are draw gauges. These come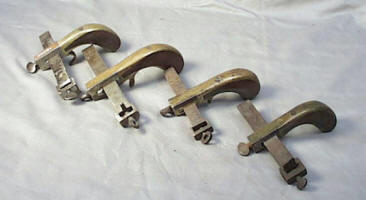 in a variety of different configurations. Draw Gauges were made by a number of different makers over the years. They were designed to cut strips or belts of leather. The most common variety are all steel in construction, then there are the steel and rosewood versions, up a notch are brass and rosewood examples.

Some draw gauges have unusual patented features like the twist head Latta's patent. Another unusual example has an operable trigger to release the bar. Finally there are homemade or blacksmith made examples that range in workmanship from crude and plain to works of art with inlays and file work.



I also deal in and can help you sell small leather tools like those pictured here for working leather. These are often referred to as saddle makers tools, but were used in other leatherworking trades such as the shoemaker or cobbler, upholsterer, and others. Some were specifically designed to shave soles of shoes, but there is cross over potential in the trades for almost any of these tools. Those that hold the most interest have rosewood handles and are usually stamped with the maker's name such as Gomph or Osborne. Later or more recent examples have hardwood handles and lack the feel, look and overall quality that these earlier vintage examples have.






Pictured here are further examples illustrating the types of antique Rosewood handled leather working tools that we are interested in and can help you with.


The above leather working tools are examples of the caliber, condition and quality of these tools that I primarily deal in. To see past sales results click the tools link in the right column.
If you have quality antique or vintage leatherworking tools similar to those that you see on this page that you want to sell, please contact us at AntiqBuyer@gmail.com providing me with as many details as possible. Thank you!!

To see examples of antique or vintage leatherworking tools that I currently have for sale please go to our sister site at www.Patented-Antiques.comand visit the misc tool sale pages you will find there.