This is just a sample of the many antiques & collectibles we have sold.
Click link to see other Past Sales Archive Pages on this Site.
We Buy Quality Antiques Contact Us at AntiqBuyer@gmail.com
Special Note Concerning Iron Prices: Sad Irons / Pressing Irons Prices are evolving:
After 20 years of steady increases in values, which culminated in a bubble burst, iron prices have now settled back to levels of the past.
Prices seen reflect actual recent sale results from this website or a general price that is more in line w/ today's market.
Irons pictured without prices represent earlier sales whose sale results are outdated and do not accurately reflect current market values.
Ebay results closely reflect current market values for many sad irons. Check eBay completed / SOLD results to see current values for many antique irons.

Our current offering of Antiques for sale are at our sister Website Patented-Antiques.com.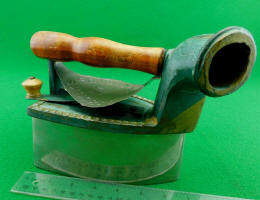 Bentrinfinish Scissors Brand Charcoal Iron
I've never seen this one before and it's certainly a curiosity. I could find no reference to the meaning of the word "Bentrin", and the symbolism of the scissors, embossed on the shield and cast into the top, eludes me as well. Perhaps having something to do with tailoring?? There's a bit of deterioration to the edge of the heat shield but looks to be in never fired condition. Very different!!
Very Good . . . . . . $25.00 SOLD!!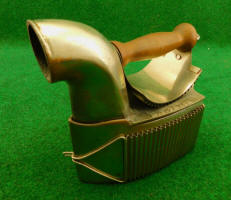 Pease Combination Charcoal Iron / Fluter Iron
Like new condition---a really fine example.
Excellent . . . . . . $95.00 SOLD!!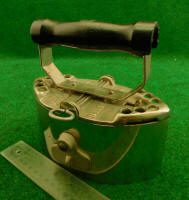 "OnlyOne" Self Heating Charcoal Iron
This iron is in minty nice unfired condition. It has two patent dates from 1914 and 1916. Meant to be used with a form of manufactured "clean coal" from that era. I think Donald is working with some manufacturers to bring this style iron back into production to create jobs and smog. All kidding aside note the lack of a chimney, but numerous vents to allow something to escape. We have come a long way, why go backwards?
Excellent . . . . . $95.00 SOLD!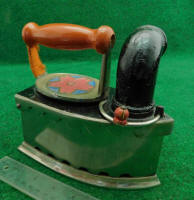 Asian Coal / Charcoal Iron
These unusual Japanese irons have a swivel style chimney. Note the decorated heat shield. Complete with trivet and in super condition!!
Very Good . . . . . . $75.00 SOLD!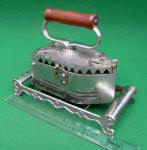 Zinn's #5 Charcoal Iron with Sled Trivet
This nickel plated charcoal heated iron hails from a little-known Milwaukee, Wisconsin manufacturer. Note the similarity of design between it and another desirable iron from that city, the Waterman patent Gem "thermometer iron". This particular iron has an interesting provenance in that it descended down from the family who owned the Euhlein Brewery of Milwaukee, which later became Pabst Blue Ribbon. The president of Zinn married into the Euhlein family, and it was given as a parting gift to the Euhlein family maid by the lady of the house. Such a sweet gesture!

Not only that---but this very iron is the one that was photographed and published in

Even More Irons by Irons

Figure 197(L). This iron is really handsome, complete with it's trivet, and in outstanding condition! Extraordinary!!
Very Good . . . . . . $695.00 SOLD!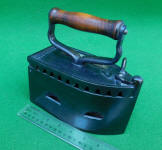 #7 Thermometer Charcoal Iron
This is a rare iron. Very few were made, and fewer yet survived. It was invented by Sarah Waterman of Milwaukee, Wisconsin. The design was granted a patent July 9th 1889. There is a mercury thermometer designed into the top to let you know you're about to scorch your delicates. I love stupid ideas! This example is in super nice condition. We have had this iron just a couple times in the last 30 years!! This one comes out of a long-time collection!
Very Good . . . . . . $995.00 SOLD!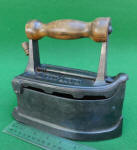 "BURNOT" Patent Fuel Iron
With a quick glance this charcoal iron might not look all that exciting---but give it the closer look it deserves. The name is great (although the first time I read it as "burn-out" not "burn-not"), and it is boldly cast into the top of the iron. I'm not sure if what it purportedly wasn't burning was your hands or the clothes. The lid swings open so you could refill it with charcoal for the fuel. The release to open it up is really different. There's a knob toward the back that swings to the side and operates a spring-loaded rod running across the top to lock and unlock the rod into an opening at the front. Apparently it is of English manufacture as the only reference I see to it is a William Cross & Sons, Ltd catalog excerpt in Glissman's book. There was also apparently a smaller version of this iron that they marketed under the name "Baby Burnot" A neat iron!!
Very Good . . . . . . $395.00 SOLD!
"QUEEN Carbon Iron" Charcoal Iron
This iron hails from Los Angeles, California. The maker name is F.W. Emerson Mfg. Co. The top heat shield is stamped with the maker info and name, and it says a patent is pending as well. A Google search turns up no info on the company. The top vent is opened and closed by means of a spring-loaded sliding design damper---which no doubt would have been prone to burning the operator's fingers. The two lower vents on either side of the base swing open to reveal two circular holes on each side. Irons from the early 1900s that were manufactured in California are few and far between. I know of only one or two other examples of this iron. Rare and noteworthy!!
Very Good . . . . . . SOLD!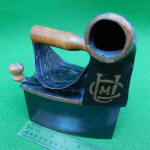 Mondragon UM #6 Charcoal Iron
Mondragon is both a small town on the southeast coast of France and a small
village in the Basque region of Spain. The condition of this iron is exceptional. It's hard to imagine it was ever fired up given all the original paint and stenciled decoration still remaining. I love to see them this way!!
Very Good . . . . . . $95.00 SALE PRICE . . . . . . $75.00 SOLD!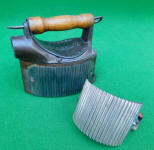 Economy Combination Fluter / Charcoal Sad Iron
This iron was granted a patent in 1906. By that time was fluted attire still all the rage? I don't think so! It's complete with the side fluter plate and rocker. Nice bold casting on the top!!
Very Good . . . . . . $145.00 SALE PRICE . . . . . . $100.00 SOLD!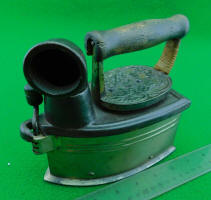 Japanese Charcoal Iron
The removable chimney revolves and can point in any direction. The cast iron heat shield is heavily decorated. An unusual and uncommon iron!!
Very Good . . . . . . $125.00 SOLD!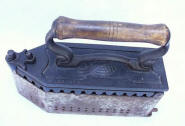 18lb. Universal Sad Iron Co. Charcoal Tailor's Iron
Some forms of tailor's irons are pretty hard to find. American charcoal heated versions are virtually unheard of, seldom seen, and are generally considered very rare. This unusual iron is a great looking piece of cast iron. It's18 lbs. in weight and about a foot in length and cast into the top under the handle is a bold rendition of the Earth cast in high relief. According to the info on the top, the Universal Sad Iron Co. hailed from Milwaukee. If you look at this iron you may see something of a resemblance to another great tailor's iron, the Waterman patent "Thermometer" Charcoal Tailor's Iron, whose maker also listed their location as Milwaukee. Is there a connection? I'm curious. This iron was a Northern California find, a rare occurrence these days as the supply of different irons available has certainly changed over the last few years!
Good . . . . . SOLD!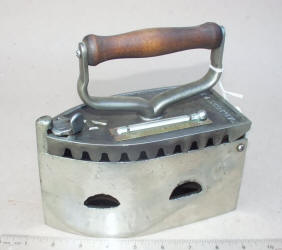 The Gem Patent Thermometer Sad Iron
This is a very rare iron. I have only seen or had 3 of these in 20 some years. I have only seen one other sold from a major collection at auction. I first found this iron about 15 years ago in upstate New York and sold it to Norm Kelley that winter when we came back to CA. He was one of the best buyers around back then, and we saved him some stuff each year to sell when we returned to CA for the winter.

The condition is superb with nearly 100% of the original nickel. The thermometer is original and good. It is marked with the patent date of July 9th 1889. The other two of these I had were marked "Pat Appl'd For", so we know that there were at least two d fferent production runs, but I doubt more than just a few were made either time. In addition to the patent date it is also marked #7 for the size. The patent holder was a woman from Milwaukee, and the patent number is 406,608 if you care to look it up. The patent calls for a different design of venting than this iron has, but the idea for the grate and rear door are the same.

This iron represents cutting edge technology for its time. Electricity was but a dream, and they were barely refining oil yet, and the supply of whale oil was running out. Charcoal was the way to go, and Sarah added a thermometer so you would know just how hot an iron you were working with. Here was a way to watch how hot the coal was burning just below your hand as you did the ironing chores. What a comforting and advanced thought.
Good . . . . . SOLD!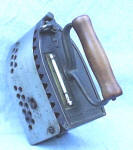 The Gem Patent Thermometer Sad Iron
This is a very rare iron.
At first glance it looks just like the one above, but this is the first model and marked Pat Appl'd For. The main difference that I see is the way the vent holes on the side are done.
Good . . . . . SOLD!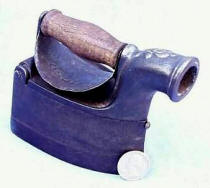 Child-size Charcoal Iron Marked "Mimoso"
You don't see too many child-size charcoal irons. This one must hail from South America as it is marked "Mimoso" and "S. Paulo" on the diminutive heat shield that would have protected the little fingers as they gripped the wooden handle. The base of the iron measures 4" long, and the decorative motif on the chimney and on the damper door are really nice touches. Rather than having a grate on the inside to hold the coals off the bottom of the iron, this one has a tubular air chamber built into the bottom that connects to the damper, allowing the air to circulate and creating the draft needed to keep the fires burning.
Good . . . . . SOLD!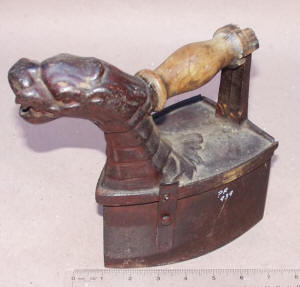 Dragon / Monster German Charcoal Iron
This is a real one. There have been some re-pops made over the years, but they are identifiable when compared to others. The most obvious tell of the newer ones is if the body and head condition are not similar. It seems there is a technique of applying newer heads onto earlier bodies. They are well done, but married up nonetheless. Not the case with this one. A fine example!
Good . . . . . SOLD!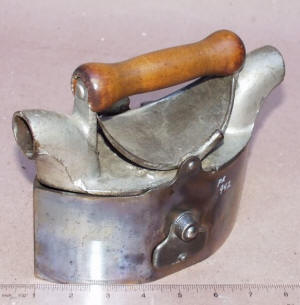 Double Chimney American Charcoal Iron
This is an unmarked and early version of the Finn patent "Ne Plus Ultra". It is simply marked "Pat Apld For" under the heat shield. It is in super original condition. These are a neat design with chimneys at both ends, and a unique clamp lock system for the top. A super nice example!
Good . . . . . SOLD!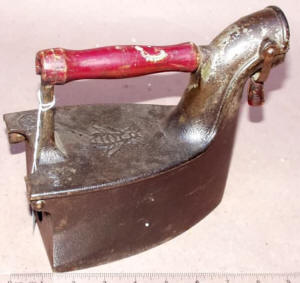 Portuguese Split Chimney Charcoal Iron
This is another seldom seen charcoal iron. It has a large Bee / Wasp logo cast into the design of the top. It is a split-apart design where the top half of the chimney lifts up when it is opened up to load or clean. Different by a factor of 5!
Good . . . . . SOLD!
Decorated Asian Charcoal Iron
This large iron has decorations and symbols one might expect to find on an Oriental pan iron. I am not sure what they represent, or exactly where the iron originates from. It is large, very large, and will make a graphic display / statement wherever you place it. A neat piece!
Good . . . . . SOLD!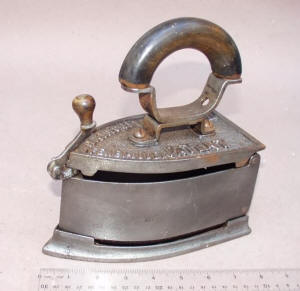 "Venus Patent" Decorated Asian Charcoal Iron
This is a great design charcoal iron that incorporates all sorts of "cutting edge" ideas to make ironing easier and more efficient. One almost needs a degree in mechanical engine ring to figure out the latch in the front. The top opens to load it and the bottom opens to empty it out. To open it you lift the knob and turn 1/4 turn in one direction and the top latch releases. You then have to turn the knob a 1/2 turn in the opposite direction and the bottom latch releases. To close it back up you go back and forth till it goes into place. Simple but complicated!

There is a lot of info about the iron cast into the top and it looks great. All of the small cast points in the bottom must have been designed for heat transfer and air flow. An elegant solution to an age old problem of getting coal to burn cleanly. The designer was so sure of himself that he felt no need to incorporate a chimney into the design. I wonder if it worked as planned.
Good . . . . . SOLD!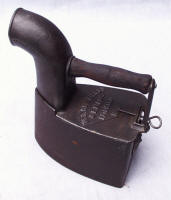 Patent 1852 Charcoal Iron
This is a great design charcoal iron .
Good . . . . . SOLD!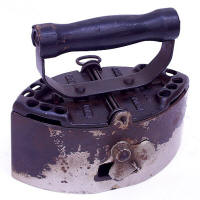 Finn Patent Charcoal Iron
This is a great design charcoal iron .
Fair . . . . . SOLD!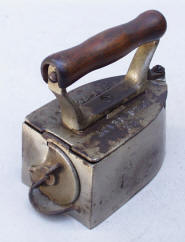 Eveready

Charcoal Iron
This is a great design charcoal iron .
Good + . . . . . SOLD!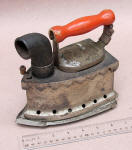 Oriental Charcoal Iron
This is a great design charcoal iron not found very often. Note that the chimney can swivel, and that the decorated heat shield is cast iron. .
Good + . . . . . SOLD!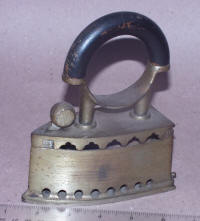 Small European Charcoal Iron
Another petite iron similar to the small one above but just a 1/4" longer and with a slightly different shape latch and handle attachment. This design iron was made in Germany and Austria.
Good . . . . .SOLD!
Nickel Plated German Charcoal Iron
A great looking iron that speaks to the quality of German workmanship. Not many of these were nickel plated. And it's in super condition! How often do you see them this nice?
Excellent . . . . . . . SOLD!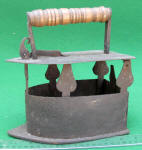 French Cutout Charcoal Iron
The French had a pretty unique design for their early charcoal irons with the high open sides to act as both the exhaust and intake. They are very graphic. Different!!
Fine. . . . . . SOLD!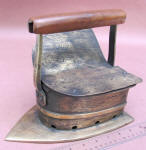 Side Load Brass Charcoal Iron
This style Asian charcoal iron usually has a hinged flip-top lid. Not so here! You just load it in the "always open" side of the lid, which also functions as a chimney. The top of the body is marked with a large S. Irons like this are usually referred to as Oriental irons, but also came from places throughout Southeast Asia, Indonesia and the Philippines. Different and very graphic!
Fine . . . . . . SOLD!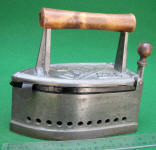 Dalli Charcoal Iron
This iron has an auxiliary plate that fits inside the top. I assume it is a heat deflector of sorts and is there to keep the handle cooler, thus explaining the logo and hand you see in the picture of the inside of the top. The condition is very nice!
Good + . . . . . . SOLD!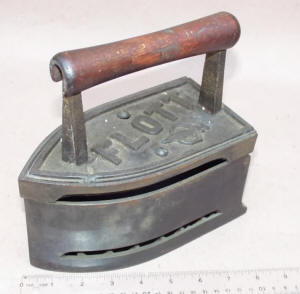 Flott Charcoal Iron
This charcoal iron has a logo of a Barracuda going through a loop that I have seen on Feldmeyer type gas irons, so they must have made a range of irons over a period of time. The top was cracked at one point and repaired. It has an interesting look to it. Nice!!
Good - . . . . . . . SOLD!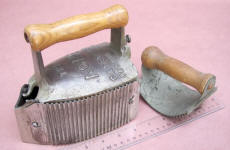 Acme Combination Charcoal / Fluting Iron
This is a very nice condition iron. It is called the Acme Carbon, and was patented in 1910. The end of the era I would imagine, burning coal or charcoal. By 1910 clean and efficient electric was on the verge of not only putting this idea to bed, but all of the other "cutting edge" gas fired irons that were on the market at the time as well. Not to mention that by this time fluted fashions were going out of style. Very nice!!
Fine . . . . . . SOLD!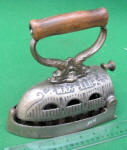 Max Elb Charcoal

Iron w/ Dolphin Handle Supports
This is a European iron that is not found very often here in the States. The design is rather unusual and the condition is good!
Good + . . . . . . SOLD!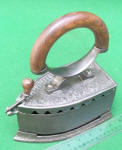 Venus II

Double-Open Charcoal Iron
This odd design iron opens at both the top and bottom. Be sure to see all the pictures. Very unusual, and a very hard to find iron. The condition is very nice!
Good + . . . . . . SOLD!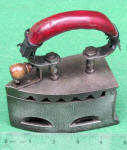 Unusual Small Charcoal Iron
This iron measures about 4 1/2" long and has a fringed leather handle grip. It is a very nice iron. Different!!
Very Good . . . . . . SOLD!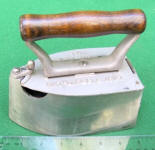 Ever Ready Charcoal Iron
This is a super piece in minty-nice never-been-fired condition. Very nice!
Excellent . . . . . . SOLD!
This is just a sample of the many antiques & collectibles we have sold.
Click link to see other Past Sales Archive Pages on this Site.
We Buy Quality Antiques Contact Us at AntiqBuyer@gmail.com
Our current offering of Antiques for sale are at our sister Website Patented-Antiques.com.
This website is Copyrighted
Larry & Carole Meeker