This is just a sample of the many antiques & collectibles we have sold.
Click link to see other Past Sales Archive Pages on this Site.
We Buy Quality Antiques Contact Us at AntiqBuyer@gmail.com
Special Note Concerning Iron Prices: Sad Irons / Pressing Irons Prices are evolving:
After 20 years of steady increases in values, which culminated in a bubble burst, iron prices have now settled back to levels of the past.
Prices seen reflect actual recent sale results from this website or a general price that is more in line w/ today's market.
Irons pictured without prices represent earlier sales whose sale results are outdated and do not accurately reflect current market values.
Ebay results closely reflect current market values for many sad irons. Check eBay completed / SOLD results to see current values for many antique irons.

Our current offering of Antiques for sale are at our sister Website Patented-Antiques.com.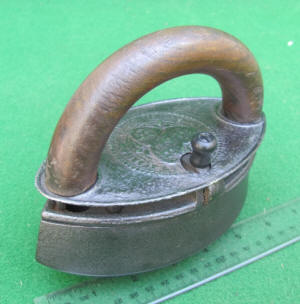 Kenrick Round Bottom Polishing Box / Slug Iron
Take a close look at all the pictures here, because this is not the standard Kenrick flat-bottom box iron. The bottom is rounded to the extreme in all directions, so much so that the iron cannot sit flat. The base is cast so that the inside profile is rounded as well. The heat shield has the A. Kenrick & Sons Limited logo---there is minor pitting on the shield but it's still quite readable. The lid opens to the side, and there are no issues with the spring-loaded latch or opposing hinge. It's complete with its double pointed slug.

There are not many polishers that I can think of that are slug irons, and none that I know of with this uber-rounded profile---this is definitely a little bit different!
Very Good . . . . . . SOLD!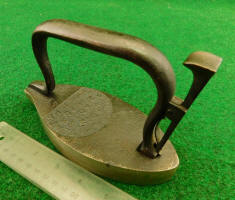 Weida Patent Sad Iron
The patented idea was to swing the handle off to the back while still attached so it would not overheat when heating on the stove top. Out of the way but still attached so it would not get lost. The release is oftentimes broken, but this one is not. Overall very nice, and a pretty hard iron to find.
Very Good . . . . . . $125.00 SOLD!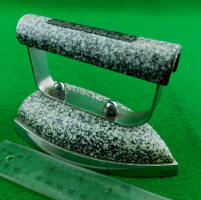 Granite Ware Rosieres Sad Iron
This is French with an interesting speckled enamel / graniteware finish. Nice condition!!
Very Good . . . . . . SOLD!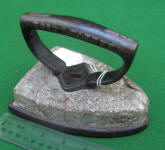 Hood's Patent Soapstone Sad Iron
There is one natural flaw in the soapstone, but it is overall a nice example with the name and patent cast into the handle. Every iron collection should have one!!
Very Good . . . . . . SOLD!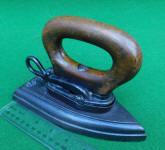 German / Eastern European "Mrs. Potts-Style" Iron
I'm not sure exactly where this one hails from, but almost certainly from Europe. The marking on it is "20 Ctm.3Ko". Another 2-piece removable handle iron that is much more complex in design than the equivilant US Mrs. Potts-style. To remove the handle you pull the lever up and lift from the front. to reattach it you pull the lever up, lower the back into the slot, drop the fron down first and snap the lever down to lock it in place. Life was so simple back then!!
Very Good . . . . . . SOLD!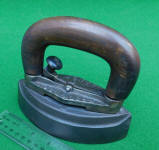 Patented Union #2 Removable Handle Sad Iron
Mr
s. Potts had a lot of competition in the way of detachable handle irons. Interestingly enough, while she seemed to strive for a simple design, others opted for something more complicated to achieve the task of latching the handle to the base. The Union is one of my favorite competitors. The casting is very graphic with the elongated diamond design of the stretcher bar boldly proclaiming the 1892 patent date, and the distinctive high relief letters on the base with the name. To release the handle you push down on the knob / lever which activates the spring to release the latch. To reattach the handle you do the same thing---set it on the base and push down on the lever. Clever!!
Very Good . . . . . . SOLD!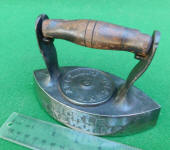 Queen's Laundry Removable Handle Sad Iron
This is an extremely unusual sadiron that I have never seen or had before! It's a double pointed polisher-type Canadian iron with a removable handle. The nickel plated base is marked on both sides---on one side is "Wicks & Co Guelph, Ont" and on the other side, appropriately, is "Nickel Plate Works". The raised round plate on the base is clearly marked with the name "Queen's Laundry". An advertising piece perhaps? It's odd for this style of iron to have a removable handle, but what is even more odd is the way it removes. The upright handle standards are fixed in place and only the wooden grip removes by means of a very unique spring-loaded trigger release. By pulling back on the wooden knob the metal rod that runs through the center of the wooden grip pulls back and releases out of the holder in the metal upright. Be sure to look at all the pictures. Highly recommend!!
Good + . . . . . . SOLD!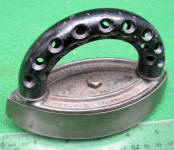 Enterprise Cold Handle Polishing Iron / Sad Iron
The finish on the "Swiss Cheese" handle is great. A little dusting and it will be a super iron.
Fine. . . . . . SOLD!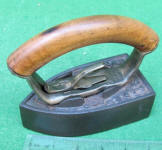 Unusual Spade Shaped Sad Iron
This square back two piece iron has a very graphic design cast into the top of the base as well as the number 2. Nice!!
Very Good . . . . . . SOLD!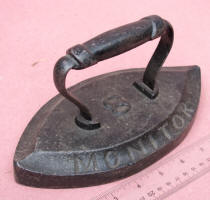 Monitor #8 Double Point Sad Iron This unusual double point sadiron was designed to look like the Union warship the Monitor so well known from the Civil War. It was made during that era and is a great looking iron with a lot of character and a great look. For obvious reasons there was not an iron named the Merrimac, although some early tailor's gas irons do resemble it and I am sure some Southerners pined for one. A nice iron!
Good + . . . . . . SOLD!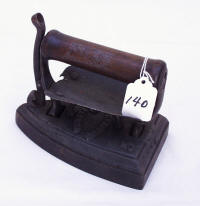 Unusual Webster Patent Removable Handle Flat Iron w/ Heat Shield
This is a good looking iron with a very unusual latching mechanism for the handle. The thumb latch release is spring-loaded by means of a wire running lengthwise through the handle grip. The patent date and the Webster name are marked on the base. Be sure to look at the additional picture. There is an interesting double loop design cast into the top that supports the heat shield as well. It is a pretty rare iron.
Good . . . . . SOLD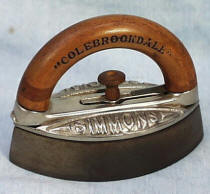 Simmons Special 2-Piece Sad Iron and Trivet
Far from an ordinary "Mrs. Potts style" antique sadiron, this one was sold by the legendary St. Louis, Missouri hardware company that also brought us the famed Keen Kutter line of hardware and housewares. This iron is really great looking and proudly proclaims the Simmons name in bold casting. The condition of this example is outstanding. It was purchased out of a California collection and looks to have spent most of its life in a nice dry climate that allowed it to keep its nickel plating bright and shiny and to remain rust-free. The wooden handle is also in very nice condition and is marked "Colebrookdale" on one side and "Registered in US Patent Office" on the other. It's nickel plating is equally bright. The matching trivet is marked "Simmons Special". I have seen this trivet before where the lettering was raised, but in this example it is actually incised into the bed. I guarantee you're not likely to find a finer example!
Good . . . . . SOLD
P.W. Weida's Patent Swinging Handle Flatiron
The mid-1800's saw numerous innovations aimed at producing irons with cooler handles. One Peter W. Weida of Philadelphia, PA patented his solution on March 12, 1870. His unique idea was a hinged handle, the front of which could be disengaged from the base and swung around and out of the way in order that the iron be inverted and placed upside down to get hot. This design served the dual purpose of keeping the sole clean as well as the handle cool to the touch when the iron was turned back over into its working position and the handle reconnected. It was a brilliant idea, but like so many other good ideas, in actual use I found it to be more than a little cumbersome. And I wasn't even trying to maneuver it while hot! Nonetheless the form is great and unlike that of any other iron, which probably means the design didn't go over very well with the public, which would explain the scarcity of these pieces. This example is marked the Model 1, which is the version with the swivel latch. Apparently the later Model 2 was redesigned with a spring-loaded release lever that eliminated the serious problem of burning your thumb that would have been inevitable in trying to release this one if the iron was anything but fully cooled off. Another brilliant example of American genius gone awry!
Good . . . . . SOLD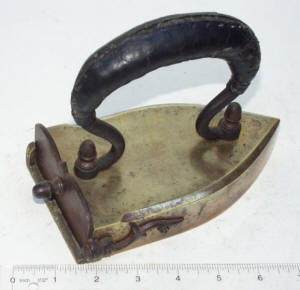 Leather Handle Brass Box Iron
This is a very well made and finely crafted brass box iron with some very nice details that went into its construction and design. In addition to the super condition leather handle, note the nicely turned acorn finials on the handle and door. Note the c amfered edge on the body edge from the point to near the tail. There is also the iron serpentine embellishment that serves as a decorative hinge, another very nice added touch. It is a very nice iron in nice condition.
Good . . . . . SOLD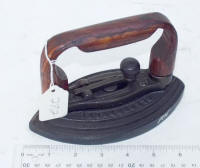 Bless & Drake Bentwood Handle Sad Iron
This removable handle iron has great form and handle design. Because of the nature of the design the wooden handles of these irons are usually broken and cracked, but not this one.
Good . . . . . SOLD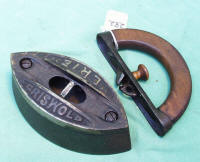 The Erie "Griswold" Removable Handle Sad Iron
They made cookware and they also made sadirons and fluters. Griswold---the Kind of Cast Iron! This is a nice example.
Good . . . . . SOLD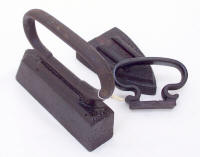 2 Dovetail Handle Irons
This style of slide-in handle iron are earlier than most that you find, and very unusual. Typically they are found with the handle and base rusted together to never separate again, if you even find one at all. I have broken a few trying to loosen them up, but that is not going to be a concern here. I have never seen a tailors or seam iron with this feature before, like the one on the left. Hard to FIND!!
Good . . . . . SOLD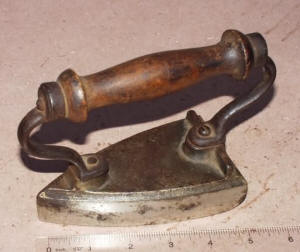 Rare Special Purpose Flat Iron
This unusual iron has all sorts of interesting features. It is an iron I have never seen before and looks like it should have a patent on it, and it may well, but it is unmarked. Note the graceful sweeping cast iron handle supports. They are wonderful! The handle with its bulbous flairs at each end is a nice design and in great condition. The handles are attached with threaded bolts, one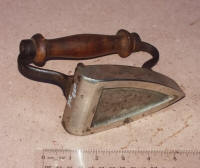 with a screw head and one looks like a pin, but they are both threaded.

The most unusual aspect is the design of the sole with an ironing surface running all the way around the perimeter and the center being recessed and having a slight texture cast into it. The tail end of the iron is rounded up and would be considered a polisher. The nickel plating is about 80% with just minor flecking or spots missing. A rare iron, a rare opportunity!
Good . . . . . SOLD
San Toy Button Iron
Take a close look---it's not just your typical Mrs. Potts style iron! This is an unusual specialty iron. It was meant to impart that perfect finish to those hard-to-get-to areas right close to the buttons on your shirts or pants or other garments. To accomplish this it was designed with an angled slot at the rear to go around and over top of the button. I do not think the idea was well received, or that it was very popular, as it is a very hard to find iron. I would further venture that it probably melted or would tear off more buttons than fix. A crazy design, a nice piece!
Good . . . . . SOLD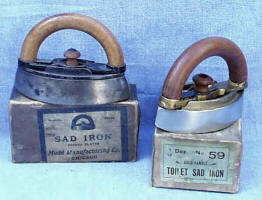 Antique Mrs. Potts Style Sad Irons in Original Box
Take a close look. Common irons in uncommon condition.
Excellent . . . . . SOLD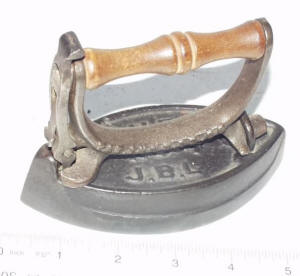 J.B.L. Toilet #4 Sad Iron
I believe this iron is from Canada. It is smaller than most full-size irons but a bit larger than a typical child-size. The handle is marked with a patent date, but it looks remarkable similar to a Streeter's Sensible iron. Hum............ I am not sure if there was a connection or not, and have never read any info on it. How does that saying go about copying being the highest form of flattery? It is a great looking iron in its own right!
Good . . . . . SOLD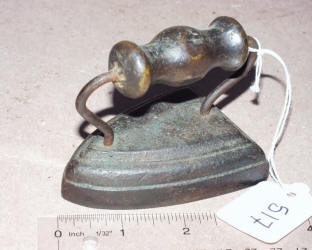 Brass Handled Child's Sad Iron
This chunky handled little flat iron is very graphic with its bulbous contoured cast brass grip and iron base. It has a great patina, testifying to its age. We have not cleaned the brass, but it would polish up if that is the way you like them. A choice piece---lots of character!
Good . . . . . SOLD
American Patent 1886 Removable Handle Sad Iron
Would this be referred to as a Mrs. Potts style handle? It is later than her idea, and far stranger looking. I have only seen this iron a few times, and each example had a square nail holding the hollow grip cast iron handle to the iron like this one has. I found a patent for a sad iron handle granted in November of 1886 to a fellow named Oren from Erie, PA. That patent number is 352.975, but it operated nothing like this design. A nice iron with an unusual patented handle!
Good + . . . . . . SOLD!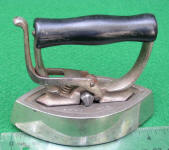 Larger Myers Patent Double Point Lace Iron
You'll love the condition of this center mount iron!! This example is a bit larger than the one you typically see, and much harder to find. A real beauty!!
Fine. . . . . . SOLD!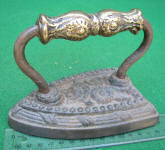 Brass Handle Decorated Sad

Iron
This is an unusual iron. It has an interesting cast brass handle design and a high relief flower decorated casting on the body of the iron. Note that even the edge of the iron has decorative touches. Nice!!
Good + . . . . . . SOLD!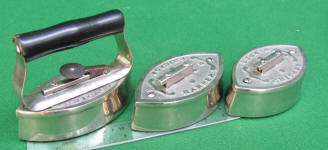 Harper #25 1 - 2 - 3 Sad Irons
Condition / Condition / Condition! Each is a different size!! As close to mint as they get!
Fine + . . . . . . SOLD!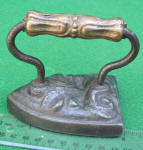 Brass Handle Decorated Sad Iron
This is a very pretty iron with a cast brass handle and decorated base. Highly recommend!
Good + . . . . . . SOLD!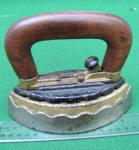 Patented XX Removable Handle Sad Iron
This is a rare iron with an odd latching mechanism. To remove the handle you press down on the lever---the opposite of the way most were designed. To latch it you simply set it in place and it latches almost by itself. I believe the wood handle grip is original and proper, clunky as it looks. A good one!
Good + . . . . . . SOLD!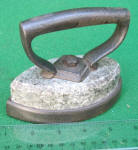 Hood Patent Soapstone Iron
This is the small hard to find double point polishing version. No apologies and very nice!
Good + . . . . . . SOLD!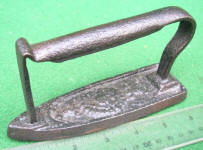 Unusual French Iron
Long, narrow and different!
Good + . . . . . . SOLD!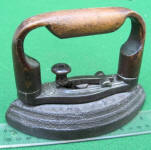 Bless & Drake Removable Handle Pressing Iron
This example has the correct handle. Looking at the design it's no wonder they often broke. Nice!
Good + . . . . . . SOLD!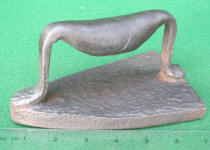 Blacksmith Made "Slave" Sad Iron
This is a nice iron with a bell type handle and a "ring". The condition is very nice!
Good + . . . . . . SOLD!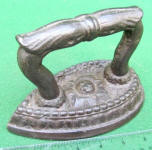 High Relief Decorated Tear Drop Shape Sad Iron
Very graphic and very nice!
The handle is terrific!
Good + . . . . . . SOLD!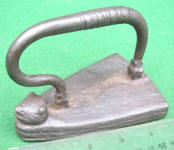 Bear Head Primitive Iron
Check out the figural head on the front of this primitive sad iron. WOW!! A super piece we have never seen before.
Good + . . . . . . SOLD!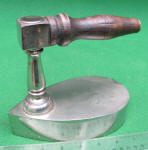 High Long Handle Nickeled Belgian Teardrop Shape Iron
This is a super pretty iron!!
Fine. . . . . . SOLD!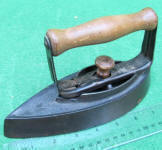 Extremely Unusual Detachable Handle Sleeve Iron
I've never seen this unusual sleeve iron before. Take a look at the pictures---the shape of the base is almost an elongated double point rather than just the normal roundback. An unusual variation on a Mrs. Potts!!
Very Good . . . . . . SOLD!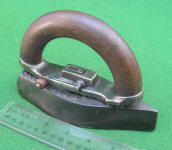 Fawkes Patented 1903 "Safety Lock" Sleeve / Polishing Iron
This iron has an interesting and unique body shape. It's a variation on the theme of the typical sleeve iron, with a rounded up back end for polishing. The base is marked with the patent info and maker name. The handle locks on by flipping the lever 180 degrees---must have thought he had a better idea than Mrs. Potts. Super nice!!
Very Good . . . . . . SOLD!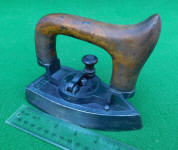 Blitz-Platte Germanic Mrs Potts Style Sad Iron
This 2-piece iron has a very unusual handle lock design. Much more complex of a design than the regular Mrs. Potts in fact. To remove it you lift the lever knob and swing the handle 90 degrees. To attach it you just drop it down and twist 90 degrees and it's self-locking. It has a great look and is quite hard to find!!
Very Good . . . . . . SOLD!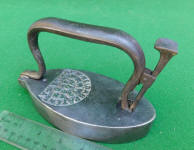 Weida #3 Patent Sad Iron
This "cold handle" iron was patented by PW Weida of Philadelphia, PA on March 12, 1870. It was designed with a very unusual handle that releases to swing back and out of the way while the base was being heated. I would classify the Weida as unusual but not rare, however more times than not, because of the fragile nature of the design, they are found with broken handle release latches. This example is in excellent condition with no latch or hinge issues. And the patent info is clearly marked on the base. You'll never need to upgrade!!
Very Good . . . . . . SOLD!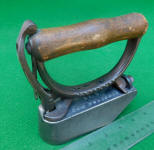 Mrs. Streeter's No. 2 Gem Polisher
This unusual polisher is one of Streeter's most sought after irons for collectors. It has the signature Nelson Streeter lever-activated patented removable handle. Look at how odd the shape of the body is with a gracefully rounded front and steeply angled back. There is a little pitting on the base, but it's a good one!!
Very Good . . . . . . SOLD!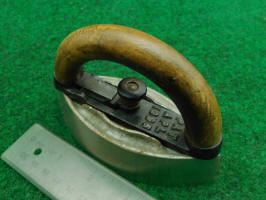 Banwell Patented Mrs Potts Style Sad Iron
The petite size iron truly was a better idea with it's very secure and positive 2-prong handle lock mechanism. Complete with trivet.
Very Good . . . . . . $25.00 SOLD!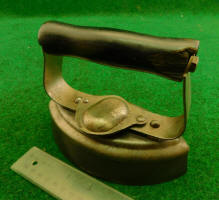 Unusual Latch Mrs. Potts-Style Sad Iron
I have never seen this before, and it is not in Eric Marshall's book on Mrs. Potts style irons. You can't see it when the top is in place but there is a slot that moves under that swinging cover that allows for the top to be tightened to the bottom. A better idea from an early, but unknown entrepreneur!
Very Good . . . . . . $225.00 SOLD!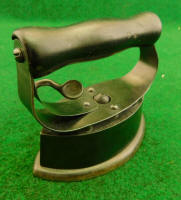 Patented Release Sad Iron
The patent info is lightly stamped on the handle release spring---August 28 1906. A pretty rare iron that was developed toward the end of this style iron's life. The top is removed by pushing on the thumb release to unlock it. One of the rivets holding it in place is loose and so it tends to swing.
Very Good . . . . . . $45.00 SOLD!
This is just a sample of the many antiques & collectibles we have sold.
Click link to see other Sales Archive Pages on this Site.
We Buy Quality Antiques Contact Us at AntiqBuyer@gmail.com
Our current offering of Antiques for sale are at our sister Website Patented-Antiques.com.
This website is Copyrighted
Larry & Carole Meeker