This is just a sample of the many antiques & collectibles we have sold.
Click link to see other Past Sales Archive Pages on this Site.
We Buy Quality Antiques Contact Us at AntiqBuyer@gmail.com
Special Note Concerning Iron Prices: Sad Irons / Pressing Irons Prices are evolving:
After 20 years of steady increases in values, which culminated in a bubble burst, iron prices have now settled back to levels of the past.
Prices seen reflect actual recent sale results from this website or a general price that is more in line w/ today's market.
Irons pictured without prices represent earlier sales whose sale results are outdated and do not accurately reflect current market values.
Ebay results closely reflect current market values for many sad irons. Check eBay completed / SOLD results to see current values for many antique irons.

Our current offering of Antiques for sale are at our sister Website Patented-Antiques.com.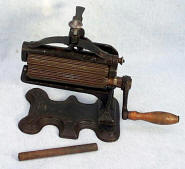 "Crown Jewel" Antique Fluter
The Crown Jewel is another machine fluting / crimping iron with a fancy base that attests to its Victorian-era pedigree. It has a unique lever mechanism to raise and lower the upper fluting roll, and a fair amount of original gold decoration remains on the scalloped-edge base, including traces of the name "Crown Jewel
Good . . . . . SOLD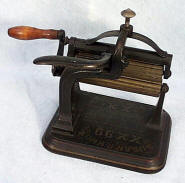 Susan R. Knox Patent Machine Fluter
Mrs. Knox was a prolific inventor of fluting machines, and there are numerous variations of her designs to be collected. This example is the version that was manufactured by Lowerre & Tucker of Newark, NJ. It is in extremely fine condition with most of the original gold stenciling remaining. I have included several close-up pictures so you can see just how great all of the decoration is, as well as all of the lettering of the patent information that is stenciled on the base. If condition is important to your collecting focus, this 125-year old antique fluter is certain to please!
Good . . . . . SOLD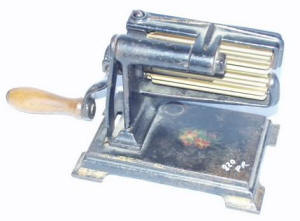 Miniature Eagle Machine Fluter
The dimensions of this, the smallest manufactured machine fluter, measure just 5 1/2" x 3 3/4" x 4 1/2" tall. The rollers are only 3 1/2" long. It's diminutive size and uniqueness make it a must-have for the serious collection. As good as the little Sauerbier machine fluter that sold at auction last year for an unheard of sum, though just a little bigger, and a whole lot cheaper! And the condition of this little Eagle fluter is super to boot!
Good . . . . . SOLD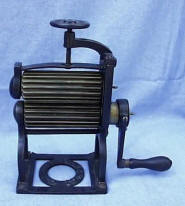 The Osborne Patented Machine Fluter
The C.S. Osborne Co. of Newark, NJ is a name that is familiar to collectors and users of antique leatherworkers tools. The same company was also the manufacturer of this unusual fluting machine, recognizable by it unique "steering wheel" fluter roll tensioner. This model is the earlier of the two produced by Osborne, the later one having a lever tensioning device instead of the wheel. This early example is in super condition and exhibits the quality workmanship the Osborne company is known for. It is complete with both of its original slugs, which measure about an inch in diameter, considerable larger than most other typical machine fluter slugs. Another nice detail is that the rollers are designed with hinged brass end caps, which help to retain the slugs themselves and the heat that they would have radiated. And they are nicely marked with the manufacturer's info and the early 1866 patent date. This fluter is one that is rarely offered for sale except out of long-time collections.
Good . . . . . SOLD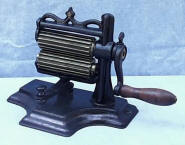 Peerless Machine Fluter
Here is an example of a hand-crank machine fluter that combines fancy Victorian design with an unusual roller tensioner. Rather than applying pressure from above onto the top roller in the manner of many of the fluters of the day, the inventor of this machine devised a spring that presses against the bottom roller by means of a screw that is tightened down against the fluter base. Brass rollers measure 4" long, and in good overall condition, this one is yet another example of the many inventive designs that characterized this short-lived period of ironing history.
Good . . . . . SOLD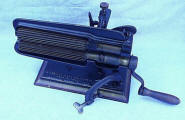 Star Machine Fluter
It is rare these days to find a machine fluter that still retains most of the original gold and red paint that makes it such a pleasure to look at and display. This is a piece for the discerning collector who realizes just how important condition is. It is one of those few that somehow managed to not just survive the past 120 years, but to survive and retain its excellent original condition. The base still shows the gold band with red trim as well as the gold highlighting on the raised cast lettering along with decorative gold pinstriping here and there. This great looking machine fluter is marked with the Star name as well as the star symbol, and it sports four different patent dates. The 6" brass rollers feature unusually fine corrugations used to make extra-fine flutes. If you are looking for one you can proudly display, I guarantee you won't be disappointed with the condition of this one.
Good . . . . . SOLD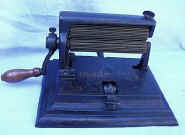 Champion Machine Fluter
Numerous machine fluter patents were issued in America during the later part of the 19th century, each inventor thinking he or she had a better idea. In fact, many were quite similar to each other in general design and concept. The Champion Machine Fluter, on the other hand, was conceived with an interesting and unusual tensioning device that sets it apart from many of the others of its day. This good-looking hand-crank fluting machine features a lever-activated tensioner in the base of the fluter, which uses the lower roller to put pressure against the upper one rather than the more typical arrangement with the upper roller putting pressure against the lower. You can see the spring tensioner only when you turn the machine upside down, as the tensioning device is located on the underside of the base---the lever that controls it extends out through the top side of the base to allow the tension to be easily applied or released and locked into place. A thumbscrew affair on the opposite side of the base was used to increase or decrease the tension. This example is in real nice condition still retaining some of its decorative gold and red pinstripe decoration including the Champion name. It's a good one!
Good . . . . . SOLD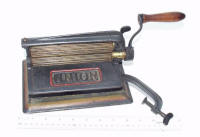 Union Machine Fluter
This Union machine fluter is in super condition. Note the design with the unusual auxiliary table to support the work. It has a built in clamp as well. A nice fluter in nice condition!!
Good . . . . . SOLD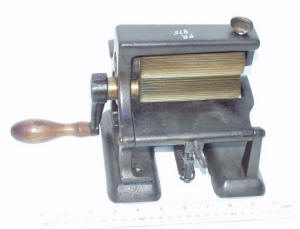 Small Adams Patent Machine Fluter
This is a very unusual machine fluter. The tension between the rollers was designed to be activated with a cord and was foot operated. I have seen this fluter in a larger size with "Adams Patent" stenciled on the top rail. This one has 4" rollers and a very fine profile to the flutes. Nice and different!
Good . . . . . SOLD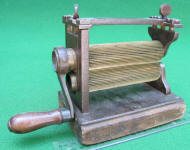 Primitive Machine Fluting Iron
This is a fluter we have never seen or had before. It is very early looking and has the interesting feature of a folding built in-clamp constructed within the wooden base. Its other unusual features include very fine rollers and hand forged clover leaf-like decorated / cut nuts. It is unmarked as to maker. The condition is very nice! Highly recommend!
Good + . . . . . . SOLD!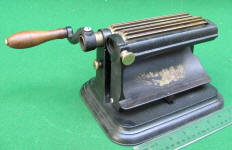 Side-by-Side Fluting

Iron
This is a very rare and hard to find variation on the theme. You fed the material in from the top instead of from the side. I can imagine that might have been a bit awkward and poorly received by the consumer who was thinking she might need a third hand to do that. Nice condition with lots of decoration remaining. I know of only a few top collections with an example of this iron. RARE! RARE! RARE!!
Good + . . . . . . SOLD!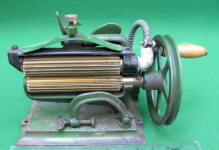 Crown Electric Fluting Iron
These are still being used today in the film and costume industry. Operational and ready to go!
Good + . . . . . . SOLD!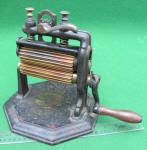 Eureka Machine Fluter
A rare one! This is a very graphic design, having an octagonal base and an unusual geared pressure lever, which on this example has been repaired. I'm not sure if there is something missing or not as the geared lever seems a bit loose in its housing. Still nice!
Good + . . . . . . SOLD!
This is just a sample of the many antiques & collectible we have sold.
Click link to see other Sales Archive Pages on this Site.
We Buy Quality Antiques Contact Us at AntiqBuyer@gmail.com
Our current offering of Antiques for sale are at our sister Website Patented-Antiques.com.
This website is Copyrighted
Larry & Carole Meeker