This is just a sample of the many antiques & collectibles we have sold.
Click link to see other Past Sales Archive Pages on this Site.
We Buy Quality Antiques Contact Us at AntiqBuyer@gmail.com
Special Note Concerning Iron Prices: Sad Irons / Pressing Irons Prices are evolving:
After 20 years of steady increases in values, which culminated in a bubble burst, iron prices have now settled back to levels of the past.
Prices seen reflect actual recent sale results from this website or a general price that is more in line w/ today's market.
Irons pictured without prices represent earlier sales whose sale results are outdated and do not accurately reflect current market values.
Ebay results closely reflect current market values for many sad irons. Check eBay completed / SOLD results to see current values for many antique irons.

Our current offering of Antiques for sale are at our sister Website Patented-Antiques.com.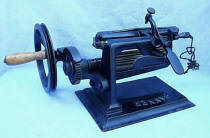 "Banner" Electric Fluting Iron by Maxant
From the 1860's thru the 1890's numerous pleaters, hand fluting irons, and hand-crank machine fluters were granted US patents, each using one of several methods to heat the fluter rolls or plates. Most incorporated iron lugs or slugs which were heated in the fireplace or on a coal, wood or oil stove. A few other fluting devices were made to be heated over a kerosene or gas burner, or over an alcohol lamp. The Maxant Button & Supply Co. of Chicago, according to the late and great antique pressing iron researcher and author Esther Berney, was the first to insert an electric element into their fluting iron to provide the heat source. The year was 1921 and electricity was on the way in---unfortunately by that time the pleated and ruffled fashions and styles that required the job of a fluter were quickly going out of style. The Maxant slogan that appeared in their ads for electric fluters, "Built for years of perfect fluting", was wishful thinking on their part. Comparably few of these "new" electric fluting irons were ever produced and sold, explaining their relative scarcity today. This particular Banner fluting iron is not one of the examples pictured in any of the reference books on irons. It has the characteristic V-belt groove in the wheel, enabling it to be power-driven as well as cranked by hand. It utilizes a heating element that runs through the upper 7 3/4" roll and included are the remnants of the original electric cord and a wonderful black porcelain plug that connects to the element. But what is most unusual about this electric fluter is the gearing device that increases the efficiency of each turn of the crank and controls the speed. It is a triple-geared affair that is attached to the frame and the effortless cranking of the handwheel that it provides is a textbook study of applied physics in action!
Good . . . . . SOLD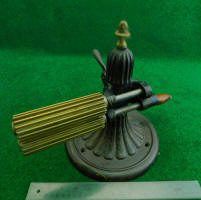 Manville Fluting Iron
The machine fluter has "outboard" rolls, with a stylish round fluted base and neck, topped off by a decorative acorn shaped brass finial.
Very Good . . . . . . $250.00 SOLD!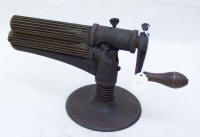 Patented Pedestal Base Machine Fluter
This is a great looking machine fluting iron with a very unusual pedestal base. A few years ago this type of flutter was virtually unknown and only a few have appeared at auction or on eBay since. There are a couple of different versions available, and the maker / inventor must have been trying to come up with the perfect configuration. The most notable differences I have seen are the way the large spring on the base is dealt with.

This example is in nice condition, and there is no damage or casting problems. There is still some of the original black japanning and remains of the pinstripe highlighting as well. A rare machine fluter!
Good . . . . . SOLD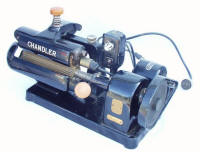 Chandler Motorized & Electrically Heated Machine Fluter
This has to be one of the latest and largest of all machine fluters ever made. I am guessing it is from the 30's or later and that it was made for use in the movie studios or film industry. Or perhaps for use in a wig factory or something like that. Surely by the time this was made women were done fluting hubby's shirts before he went off to work.

This is the second time I have seen this fluter. I have never seen another. Hummmm???? Well that is because this fluter originally came from the Glissman collection which we bought a number of years ago, and Al Russell was the lucky buyer at the auction we had in Indianapolis. Now I am selling it again. He had driven there, so carrying it home was not a big deal on that trip as this thing must weigh 70 lbs or so. Taking it with him on the next journey was not an option and probably not an option for many of us. He enjoyed it immensely, and now it is your chance to as well.

This piece is in near mint condition and turns along at a nice even pace when plugged in. It has a gear system and transmission that gives it all the power it needs to run off the little Chandler motor seen. A super piece of Ironing history and technology that was way ahead of its time, and yet seems out of time. RARE!!!
Good . . . . . SOLD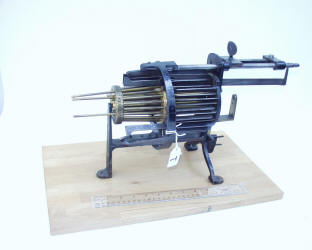 Belgian Electric Goffering Iron
These unusual goffering irons almost never show up in the US. This is the first example I have ever seen in person. It would revolve with the arms holding the material while the small rods would make the formed ruffle when the operator pushed the top arm back and forth. There is no cord. Very Rare!!
Good . . . . . SOLD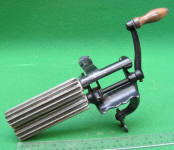 Companion Clamp-On Fluting Iron
This example has been re-painted. Still nice!
Good + . . . . . . SOLD!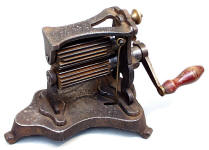 French / Belgian Triangular Base Fluting Iron
This is the only one of these that we have ever seen or had. There is no markings or patent info on it, but a similar one is shown in Dave Irons book and it is identified as being French. Given that we got it near the Canadian / NY border i guess that would explain how it ended up here in the US. A Very Rare Fluter!!
Good . . . . . SOLD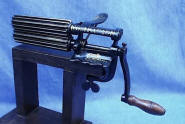 Clamp-On Companion Fluter
The Companion Fluting Iron is unique in two regards. It is one of just a handful of machine-type crank fluters designed with an integral clamp to securely attach it to the edge of the worktable, thereby attempting to solve what undoubtedly was the problem of the "roaming" tabletop fluter. And the second unusual feature is that rather than having the more typical brass rollers, on the Companion Fluter they are all cast iron. This particular example is in extra nice condition, still retaining most of its original black paint and much of its pretty gold decoration and scrollwork, including the "Companion" name on the top bar. On the handle, stenciled in gold, are traces of the names of the patentees, or perhaps it is the manufacturer; it reads, ".....Shipman ...... Holly ...... etc." In both rarity and condition, this one is a true "top shelf" piece!
Good . . . . . SOLD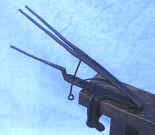 Clamp On Fluting Tongs
We found this unusual fluting iron in a shop in Upstate New York and we were not even sure exactly what it was, but it looked a little different and I could afford it, and the rest is history. This unusual fluting iron is an prime example of the value of joining one the many collector clubs that revolve around any given category of antique or collectible that you are interested in. In a short time, and with just a few queries, we were in possession of a copy of the patent papers which showed this gem to be exactly what we had hoped---an early clamp-on, foot-operated fluting tong iron. A rare example that I am pretty sure that not many of which were made, as it was one of the more impractical patents ever pulled for a fluting iron. In operation, you were supposed to have a small lit flame going at the end, heating the small rods as you were moving the fabric along. Different to say the least!
Good . . . . . SOLD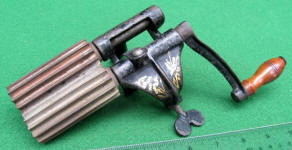 "Princess" Clamp On Fluting Iron
This is a hard to find clamp-on fluting iron
. It is the smallest size of this style iron---smaller than the one known as the Companion, and much smaller than the Empire. A rare iron in great condition and priced very reasonably!
Good + . . . . . . SOLD!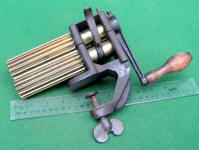 Empire Clamp-on Fluting Iron
These are not easy to find. Rather stocky and substantial compared to a lot of the clamp-ons. This one still has traces of pinstripe and stenciling on the top.
Good + . . . . . . SOLD!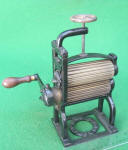 Osborne Fluting Iron
This quality machine fluter was manufactured by the famous Newark, NJ maker of leather tools. This would be referred to as the steering wheel model. The tensioning mechanism differs on different models of Osborne fluters, and the one on this one is different from those pictured in Iron's book. Nice!
Good + . . . . . SOLD!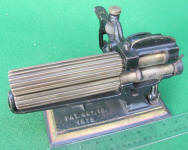 Star Fluting Iron
This is a nice looking machine fluter manufactured by the American Machine Co. The condition is second to none!
Good + . . . . . . SOLD!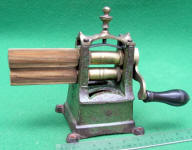 English Fluting Iron
This English machine fluter is a rather unusual design with its sturdy, compact, footed base and a top tension device that resembles a pagoda. Different!
Good + . . . . . . SOLD!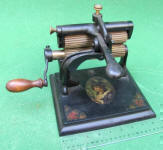 Fluting Machine with Goffer Collared Image
This fluting machine is unmarked. What is really interesting is that the figure depicted on the decal has a ruffled goffered (not fluted) collar. Very unusual, not seen before, straight from the collection, fresh to the market, first time offered!!
Very Good . . . . . . SOLD!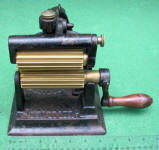 Sauerbier & Sons Machine Fluter
The rollers on this fluter measure just 4" long. It seems to be missing the tension spring. A nice piece!!
Very Good . . . . . . SOLD!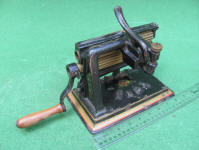 "Penn" Machine Fluting Iron by American Machine Co.
This Penn (as in Pennsylvania) machine fluter hails from Philadelphia and is in super nice original condition and will clean up to be even nicer!
Very Good . . . . . SOLD!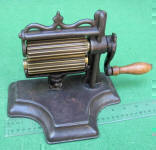 Peerless Machine Fluter Iron
This isn't marked but other examples are found with the name "Peerless" stenciled in gold. The unusual thing about this fluter---besides the decorative casting at the top---is that the roller tension is adjusted on the bottom roller rather than on the top. Great looking!!
Very Good . . . . . . SOLD!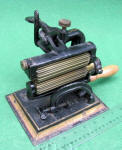 American Machine Co. Crown Fluter
This machine fluter is in all-original condition with lots of original paint. The rollers are only 4 1/2" long. It does have the tension spring though the picture doesn't show it in place. Nice condition!!
Very Good . . . . . . SOLD!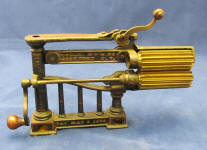 Rare Holly Patented Fluting Iron
The name of inventor Birdsill Holly first appeared in Upstate NY directories in the late 1840's. In 1948 Silsby, Race, and Holly Co operated in Seneca Falls, NY. His first endeavors were patents for metal-bodied carpenter's planes. He was in the planemaking business for only 10 years or so. (We have several of these rare and unusual patented planes listed for sale in the tool section of our site.) He went on to invent and produce many other useful, and perhaps some not-so-useful, inventions. He held over 150 patents in his lifetime. He tried to design a steam heating system that would service all of the town of Lockport, NY. From that came his ideas and patents involving fire hydrants. Edgar P. Holly, who patented this machine fluting iron, was the son of Birdsill Holly. He too was bestowed the inventor gene.

There are several different variations of this fluting iron to be found, although none in any significant quantity. This petite example was designed with 4" fluter rolls. This is only the second one in this size we have seen. The length of the roller on every other one has been 6's or 8's. The original condition of this example is exceptional. Check out all the original red and gold decoration. No repaints here, no apologies, and no damage to the fragile casting. An outstanding piece!
Very Good . . . . . . $1250.00 SOLD!
This is just a sample of the many antique irons we have sold.
Click link to see other Sales Archive Pages on this Site.
We Buy Quality Antiques Contact Us at AntiqBuyer@gmail.com
Our current offering of Antiques for sale are at our sister Website Patented-Antiques.com.
This website is Copyrighted
Larry & Carole Meeker