This is just a sample of the many antiques & collectibles we have sold.
Click link to see other Past Sales Archive Pages on this Site.
We Buy Quality Antiques Contact Us at AntiqBuyer@gmail.com
Special Note Concerning Iron Prices: Sad Irons / Pressing Irons Prices are evolving:
After 20 years of steady increases in values, which culminated in a bubble burst, iron prices have now settled back to levels of the past.
Prices seen reflect actual recent sale results from this website or a general price that is more in line w/ today's market.
Irons pictured without prices represent earlier sales whose sale results are outdated and do not accurately reflect current market values.
Ebay results closely reflect current market values for many sad irons. Check eBay completed / SOLD results to see current values for many antique irons.

Our current offering of Antiques for sale are at our sister Website Patented-Antiques.com.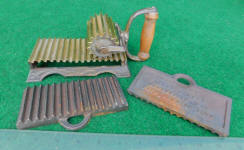 The Doty Fluter
Patented by Henry Doty of Janesville, WI in 1872, this is one of the harder to find roller fluters, and this one includes two heating slugs. It's a unique design in the way the slug slides underneath the brass fluting plate into the cast iron base.
Very Good . . . . . . $95.00 SOLD!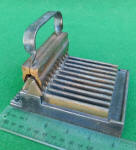 Ansel Hecht Patent Fluting / Plaiting Machine
Rare, rare, rare! This is only the second one of these unusual ironing devices I have ever seen, the only other one being close to 20 years ago. There is info on it in the Glissman book (pg. 119, Fig. 245) that indicates it was designed to crimp fabric after it had been sewn into a garment, in between ruffles. How exactly you would use it is still a little fuzzy to me, but basically there are two different sets of brass corrugations, a typical horizontal set and another unusual set that is vertical, crimps a tighter more angular pattern, and has it's own special crimper. A regular rocker or roller was to be used on the horizontal portion with the typical corrugations. I tried reading the patent but that was really confusing! I have a feeling most other potential users found it to be confusing as well, because from the lack of those that have been found I would surmise that it never went into widespread production, though a patent was granted for it on April 27, 1875. Highly recommend!
Very Good . . . . . . $2500.00 SOLD!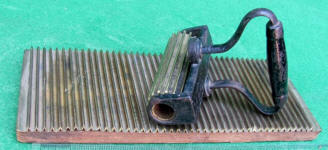 Ogden Patent Roller Fluting Iron with Original Board
This is very hard-to-find fluting iron. It is only the second one we have offered in many years of selling irons. The condition is very nice. Remains of the patent info can be seen on the top of the roller. A rare piece!!
Fine. . . . . . SOLD!!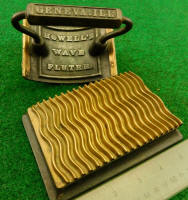 Howell's Wave / Wavy Fluter Iron
By Geneva, maker of the most prolific of all rocker fluters, they also put out this one known as the Wavy, one of the most unusual design fluters. For those wanting their fluted attire to have that extra special wave look.
Very Good . . . . . . $125.00 SOLD!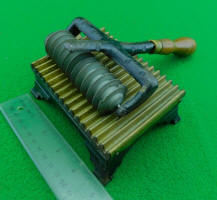 Norton Cross Roll Fluting Iron
This unusual fluter is in good condition noting a chip on one of the pot metal rollers of the handle. Complete with marked trivet and the heater slug. Not an easy one to find!!
Good . . . . . . $75.00 SOLD!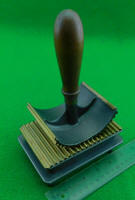 "Upright" Pat Apl'd For Fluting Iron
Complete with all four pieces---the stand, heating slug, fluter plate and rocker. The brass flutting plate is marked "Pat Apl'd for". The condition is super noting that a casting line can be seen in the stand, but it is not a crack. An unusual fluting iron that is not often found complete like this. Don't miss out on this one!!
Very Good . . . . . . $275.00 SOLD!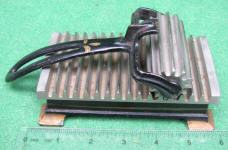 North Bros. Mfg. Roller Fluter Iron
Condition, condition, condition!! This is one of several variations of fluting irons made by North Bros. This one has the all metal handle. The paint is original and the condition is outstanding!! None nicer!
Very Good . . . . . . SOLD!
Top Half of Rare Dion Fluting Iron
Do you have the bottom? Rare, rare, rare!
Good + . . . . . . SOLD!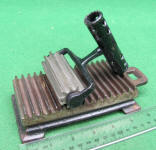 Roller Fluting

Iron
The condition is pretty nice and the price is right!!
Good . . . . . SOLD!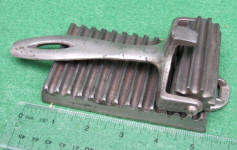 Nickel Plated Roller Fluter
Nicely designed---the handle has a built-in lifter to move the hot base from the stove.
Good . . . . . . SOLD!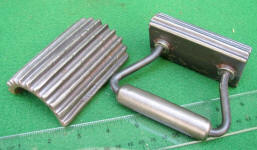 Convex / Concave Fluting Iron
This is a pretty uncommon flutter that must have been designed for a specific purpose given the design. Different!!

Very nice!
Good + . . . . . . SOLD!
Johnson Cross Roller Fluting Iron
This one has all 4 of the correct pieces---trivet base, fluted slug, fluter plate, and cross roller. The idea was that you got to flute a wider width of fabric with the cross-wise orientation. A hard-to-find fluter that will clean to be very nice---it deserves it!!
Good . . . . . SOLD!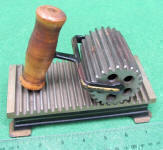 North Bros. Mfg. Co. Roller Fluting Iron
This Philadelphia tool manufacturer produced several versions of roller fluters. This example has the big fat roller with the wooden grip. The condition is second to none!!
Very Good . . . . . . SOLD!
The "Upright" Fluter
This fluter is pretty hard to find and has a neat appearance. The handle is straight up, and it has a single post handle. It is also called the Potato Masher by some because of the style. The cast iron base is on footed feet with a a hollow for the slug, which is marked HEATER. A seldom seen fluter, and rarely in this condition.
Very Good . . . . . . . SOLD!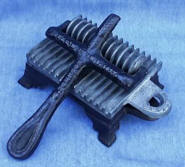 Johnson's Cross-Wise Roller Fluter Here is another example of an inventor who went to great lengths to devise a fluter variation of imaginative design but of questionable utility. In the late 1800's most manufacturers were producing roller fluters with lengthwise orientations. This fellow revised the design of the flutes on the roller itself so it could be rolled across the wider dimension of the fluter plate rather than along the narrower length. If the idea was to allow a wider area of fabric to be fluted with each roll, the concept was brilliant but one fatal flaw was overlooked---the width of the roller was not correspondingly increased to the wider size, so there would have been no significant gain in productivity! Nonetheless the fluter was marketed as Johnson's patent, probably with little more than marginal success as they are infrequently found. This example is marked with the Johnson name both on the handle of the roller and on the tab of the fluter plate. The fluting portion of the roller is a lead-based metal, the handle itself is black japanned iron, as is the matching and decorative trivet. The roller plate is also of a lead-based material, and the underside of it is ribbed to accept a likewise-fitted heating slug, which in this example is no longer present. The opportunity to own this unusual style fluter comes few and far between.
Good . . . . . SOLD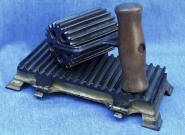 Unusual Hinged Roller Fluter
This unmarked example remains somewhat of a mystery as to its manufacturer. It is unusual in that the design and construction of its base and fluter plate are hinged together without pins. Instead, there are two slots cast into the base that accept the two tabs which are cast into the design of the plate. The 2 1/4" diameter roller is somewhat Shepard Hardware Co.-like in appearance, but that is just speculation on my part and could probably be disputed. What won't be disputed is the fine craftsmanship of the piece and the outstanding condition. It has not been over-cleaned and boasts a wonderfully mellow surface appearance, with the base still retaining 95% of its original gold wash. The slug has long since been left behind, but that in no way detracts from this unusual piece.
Good . . . . . SOLD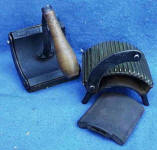 The Dion Patent Rocker Fluter
The Dion Fluting Iron is considered one of the hardest to find and most desirable of all rocker style fluters. It is a very unusual design with its curved raised base, and an opposite curve single post handle. Both the top and bottom have a swing away door with slug. Only the luckiest collectors have found one unless they have been willing to pony up the price they bring at auction. It's a nice one!
Good . . . . . SOLD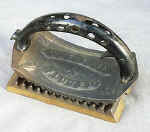 Griswold's "The Erie Fluter" 3-pc Fluting Iron
The Griswold Manufacturing Company of Erie, PA produced some of the finest quality cast iron housewares of any manufacturer of it's day or ever since. Perhaps best known for their cast iron cookware, they actually produced a wide variety of other cast iron kitchenware and other household necessities, including irons, trivets and this 3-piece fluting iron. In keeping with the high quality of workmanship of their entire line, the casting on this removable handle rocker fluter is flawless. This fluter was available in two different finishes, a nickel plated version and this one, the model with the iron finish. Unlike most examples that are found, this one looks like it was never used and never heated, still retaining all of the original gold striping on the base and traces of it on the rocker top as well. There is very slight evidence of wear to the black japanning on the removable handle, but it appears to be more from age than from use. It latches with a tight, secure fit to the rocker top. The Erie Fluter name and decoration that are cast into the rocker top are strong and crisp. The top plate has the proper #298 pattern number and the bottom plate is marked with it #297. This fluter displays really well!
Good . . . . . SOLD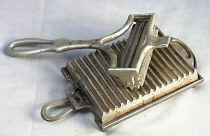 Patented Indicator Fluter with Temperature Gauge
At first glance this piece looks like a typical roller fluter, but when you look closely you see there is a pointer built into one end that indicates whether or not you are about to scorch your good shirt. Not a thermometer per say, but within the fluting base is a piece of steel that moves as it gets hot to make for a heat-activated gauge. This same fellow also manufactured an indicator spade-shaped flatiron under the same patent, but I don't imagine either were very much of a commercial success given the few of them that you come across. It was kind of a goofy idea as it probably didn't tell you the fluter was too hot until it was too late to matter. This fluting has been in our collection for a number of years---we were happy to find it one day at Brimfield, just a few steps ahead of the four other die-hard iron collectors who were there.
Good . . . . . SOLD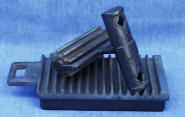 Shepard Roller Fluter
The Shepard Hardware Co. was prolific, and you could make a career out of just collecting their fluters to acquire all the numerous variations. This model is not marked with their name, but the roller, designed with their trademark diamond-shaped vent holes and marked with the "Patd 1880" date is theirs. The "Patented Dec. 17, 1878" mark on the bottom of the base is a Shepard patent date. Not one that frequently turns up, this base is rather unique being comprised of a fluter plate and heating slug that are cast separately and then riveted together. This roller fluter still retains much of its original finish.
Good . . . . . SOLD
Fluting Iron
This 3 piece roller fluter is nice condition. The nickel top lifts off the base to be heated and acts as the slug. Nice form to the cast iron wavy design base and the handle too. It is unmarked as to maker.
Good . . . . . SOLD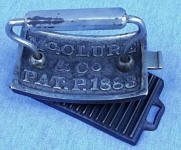 The McClure Patent Rocker Fluting Iron
This rocker fluter is nice condition and one of but a handful that have ever turned up. It has a great look, and the maker wanted there to be no mistake as to the ID boldly putting as much info as he could on the top. We got this off of eBay during a lull in the action there when the old crew that had been driving the market had stopped, and before the new buyer had showed up. That is the nature of auctions. You never know what is going to happen.
Good . . . . . SOLD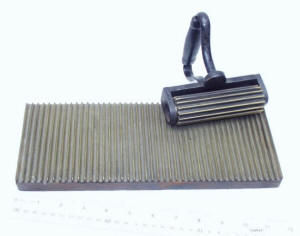 Ogden's Patent Fluter
This is only the second one of these I have seen in 15-20 years. We found one back then in an out-of-the-way backwoods shop in the Midwest and have not seen another since then. Boy do I miss those days of turning stuff up! Now it seems most of these hard to find irons are all in long time collections like this one.

This example is unmarked, and I am getting the name Ogden from Dave Irons' book, where he shows one he says is marked "Patent Applied For". That could make this an even earlier model. Or perhaps it was marked in stenciled lettering that has worn off, although there is still a good amount of original paint remaining. (Or perhaps even the patent model missing its tags!)

The condition of this fluter is very nice. The roller handle is hollow to accept a heating slug. Amazingly it has not gotten separated from its proper and original fluting board. The walnut back board is nice, and the brass fluting board looks great.
Good . . . . . SOLD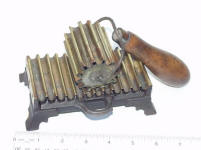 Elgin

Patent Fluting Iron w/ Heater Slug
The slug is corrugated and slides in under the brass fluting plate from the side. This one has a different handle design than is typically found, when it is found as it is a pretty hard to find flutter.
The slug has the same patent date as the Doty, but is marked differently.
Good . . . . . SOLD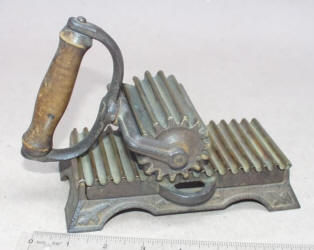 Doty Patent Fluting Iron w/ Heater Slug
The slug is corrugated and slides in under the brass fluting plate from the side.
Good . . . . . SOLD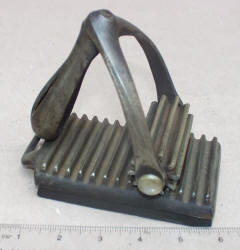 Sundry Patent Fluting Iron
Good . . . . . SOLD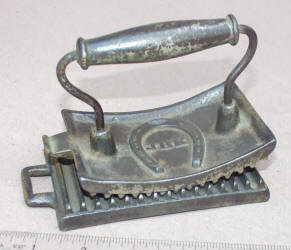 JBK Horseshoe Logo Rocker Fluter
Much harder to find than the "Good Luck" horseshoe rocker fluter!
Good . . . . . SOLD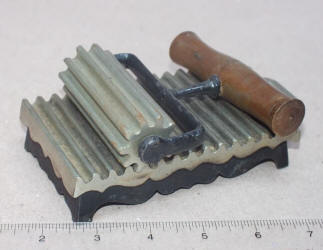 Saxton & Amidon Fancy Base Roller Fluter
A rare roller fluter with a name I have never seen before.
Good . . . . . SOLD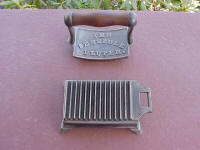 Sensible Wood Handle Rocker Fluter
A rare rocker fluter with a well known name but never seen in this form before. A competitor playing off name recognition for sales?
It is a rare one!
Good . . . . . SOLD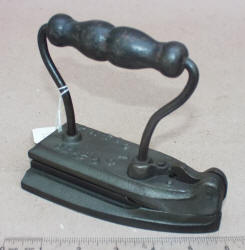 Knapp Patented Combination Fluter / Sad Iron
This is Myron Knapp patent combination fluting iron. It has the patent info cast into the top. It can be found marked several different ways. The fluting ridges of Knapp iron are cast right into the body rather than as separate plates the way Monroe and Myers did it. A very nice example.
Very Good . . . . . . . SOLD!
Decorative Roller Fluter
This one is a bit different. You slip the heated slug into the roller handle rather than into or under the base. The decorative casting of the handle is nice, and so is the footed stand. Different!
Very Good . . . . . . . SOLD!
Globe Rocker Fluter Iron
This is a hard to find rocker fluter!! This fluter was patented by Robert Young of Geneva, Ohio in 1883. The casting is extremely nice. Take a look at the pictures and note how the top acts as a base lifter. A neat feature!!
Very Good . . . . . . . . SOLD!
Doty Roller Fluting Iron
Complete and nice!!
Good + . . . . . . SOLD!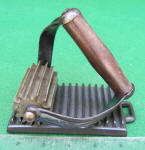 Twist Handle Fluting Iron
This unusual fluter has a very unusual and graphic handle design. The base is "married" but they look good together. The handle alone is worth the money. The condition is very nice!
Good + . . . . . . SOLD!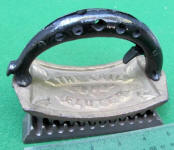 3 Piece Erie Fluting Iron
Super condition on a hard to find fluter by Griswold, the best known maker of American cast iron cookware. Nice!
Good + . . . . . . SOLD!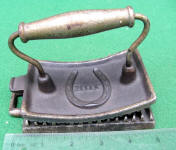 JBK Horseshoe Rocker Fluting Iron
Finely cast and still retaining a lot of original nickel plating.
Good + . . . . . . SOLD!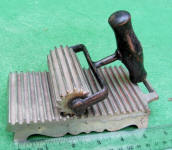 Nickel Plated Roller Fluter Iron
This unmarked fluting iron is in super condition. Note the decorative scalloped edge on the base. Complete with all four pieces!
Fine . . . . . SOLD!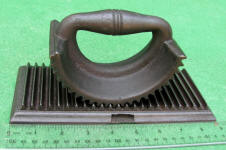 Rare Cast Iron Rocker Fluting Iron
This fluting iron is in super nice original condition. It is unusual in that the rocker is a one-piece casting. Both the rocker and the base are elongated compared to most---the base is 9 inches long and the whole thing is quite hefty in weight and appearance. We have only had this model one time before. It is a seldom seen example!!
Fine . . . . . SOLD!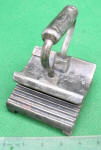 J. Onton Patent Fluting Iron
This is an unusual patented rocker fluter. I've had only a very few of these, and the lettering cast into the top of all of them always seems to be a bit messy. Different, hard to find, and very handsome!
Good + . . . . . . SOLD!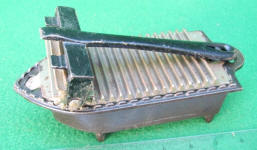 Rare 4 Piece Fluting Iron This is a very rare fluting iron, and a very unusual design. The bottom is a deep dish design that holds a slug. The top flutter plate has a tab that fits into the base. The handle looks like those that came with Dean or Streeter fluters, but the tabs on the end make it unique. Very nice and complete!
Good + . . . . . .SOLD!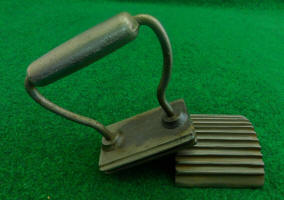 Concave / Convex Fluting Iron
The roller fluter is always unmarked as to manufacturer but utilizes a rather unusual design that undoubtedly deserved a patent.
Very Good . . . . . . $95.00 SOLD!
This is just a sample of the many antiques & collectibles we have sold.
Click link to see other Sales Archive Pages on this Site.
We Buy Quality Antiques Contact Us at AntiqBuyer@gmail.com
Our current offering of Antiques for sale are at our sister Website Patented-Antiques.com.
This website is Copyrighted
Larry & Carole Meeker