This is just a sample of the many antique pressing irons we have sold.
Click link to see other Sales Archive Pages on this Site.
We Buy Quality Antiques Contact Us at AntiqBuyer@gmail.com
Special Note Concerning Iron Prices: Sad Irons / Pressing Irons Prices are evolving:
After 20 years of steady increases in values, which culminated in a bubble burst, iron prices have now settled back to levels of the past.
Prices seen reflect actual recent sale results from this website or a general price that is more in line w/ today's market.
Irons pictured without prices represent earlier sales whose sale results are outdated and do not accurately reflect current market values.
Ebay results closely reflect current market values for many sad irons. Check eBay completed / SOLD results to see current values for many antique irons.

Our current offering of Antiques for sale are at our sister Website Patented-Antiques.com.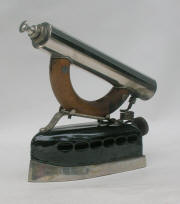 Acorn Mfg. Co. "Tank in the Handle" Gas Iron
This is probably one of the most unusual and graphic of all gas irons! Manufactured by the Acorn Brass Mfg. Co. of Chicago, Illinois, and patented in 1913, this gas powered clothes iron claims the unusual feature of having the fuel tank designed as part of the handle. How well it actually worked might be debatable, but what is undeniable is that it has a wildly streamlined "modern" look. Can you imagine the feeling of pushing around an iron that resembled a rocket or missile---that must have appealed to the more adventurous consumers of the day but frightened away just as many! Given how few of these irons are found I would guess it was not a huge marketing success.

This example is in very nice condition. There are a few minor chips in the black enamel finish, which do not distract and are hardly noticeable. Like every other one of these irons I have ever seen there is a small amount of soot on the underside of the handle, which must have been inherent in the way it was designed---and I imagine many women simply stopped using them after the first flare up, which just adds another layer of desirability to the story of these unusual and rare irons. What I haven't ever seen before on the other hand is the original parts list / instruction sheet / directions for operating which is included with this iron. My favorite part of it reads: "After following the directions given and you find that you are still unable to secure satisfactory results, do not become discouraged.........as the irons are correct in mechanical construction, and it may be some little trifling trouble that must be overcome.
Good . . . . . SOLD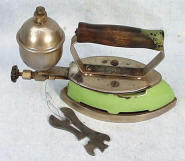 Coleman No. 5 Green Enamel Gasoline Iron
According to Carol and Jimmy Walker's research on the history of the Coleman Company, the Model 5 was made between 1930 and 1932 and was the last of the torch-lighting non-pressurized Coleman irons. This example, which features the elongated ball-shaped nickel plated tank, is in nice overall condition. There are a few chips in the enamel which you can see in the photos but it still looks good overall, and this one has its original wrench included.
Good . . . . . SOLD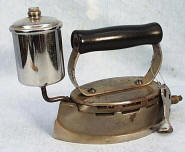 Coleman No. 1 Gasoline Iron
The Coleman Company of Wichita, Kansas manufactured over 30 different models of iron over the their long production period. The Coleman No. 1, the first iron to bear the Coleman name, was manufactured around 1924 according to longtime iron collectors and researchers Carol and Jimmy Walker. Obviously in those early days the company had no idea of what was to come in terms of successive models---although this model has become known as the Coleman No.1 the iron is not marked with the model number but simply says "The Coleman Iron". This example is complete with its wrench, trivet, and original instructions.
Good . . . . . SOLD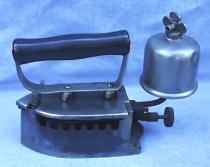 Unusual Gas Iron with Bell Shaped Tank
This unusual iron is unmarked thus it's maker remains a mystery. The unique shape of its rear-mounted tank with its decorative wing nut screw-top gives it a most distinctive look. The release latch at the front end of the iron, which allows for the removal of the top, reveals the nicely dovetailed construction design that holds the top to the base at the back end. Another unusual design feature is the use of the pronged pieces that enable the handle assembly to stand up off the iron top to provide an effective means of heat dissipation far superior to the more typical asbestos solution. I don't believe this iron is pictured in the iron books, and it is not one that I have ever previously had the opportunity to own. Here's your chance to make it yours!
Good . . . . . SOLD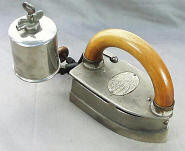 Noel Self-Heating Fuel Iron
John S. Noel of Grand Rapids, Michigan got his name on this liquid fuel iron, which shares the same Feb. 28, 1911 patent date as several other gas irons of the same exact design. Obviously a situation where one company sold the rights to manufacture it to another, and then another, not unlike the bank I used to deal with that changed their name so many times in one year that it used to make me wonder who really had my money! The condition of this iron guarantees you a good investment!
Good . . . . . SOLD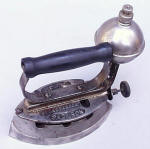 E-Z Sad Iron Gas Iron
This liquid fuel iron is boldly marked "E-Z Sad Iron Hydrocarbon" and features a round rear-mounted fuel tank. Research uncovered by Carol & Jimmy Walker indicates that was manufactured by the Enterprise Tool & Metal Works of Chicago, IL in the late 'teens, and is the "progenitor" of The Coleman Company's early "Hydro-Carbon" iron. The condition of this example is fine, and it's one that will add variety to your fuel iron collection.
Good . . . . . SOLD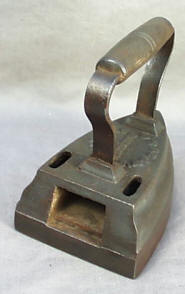 W. F. Shaw's Patent Gas Jet Iron
Though at first glance it looks like just another sadiron, closer examination reveals a more complex design. The body of this iron is unusually thick, and there is an opening in the back end that opens up to a hollow cavity within. There are two channels on either side of the cavity walls which are vented to the outside, as you can see by the slots on the top side of the base. Gas jet irons were made to be heated by inverting them over a wall-mounted gas outlet, and were marketed as a cleaner alternative to the blackened soot that was inevitable when irons were heated on the stovetop. This iron is clearly marked with a nice early patent date of Sept. 1 1857.
Good . . . . . SOLD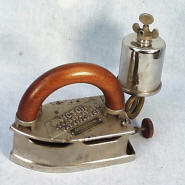 "Victor" Logansport Indiana Liquid Fuel Iron
This handsome gas iron looks to have seen little if any use on the ironing board judging from the condition, and it exhibits several noteworthy features. The manufacturer's name and location is boldly and clearly cast into the top, along with the words "Pat Appld For". Beneath that a brass tag was applied by what appears to have been the iron's distributor or marketing company stating that it is guaranteed by the "Munybak" (as in money-back) Company of Bluffton, Indiana. I have a feeling they might not be in business anymore, but I will honor that guarantee and you can send it back to me for a full refund if you don't like the operation of this iron! With nearly all of the nickel plating remaining I know you won't have any complaints about the condition.
Good . . . . . SOLD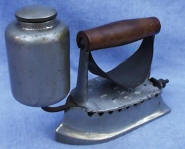 Early Patented Front Tank Fuel Iron
Here is an example of a unusual fuel iron that is not pictured in any of the available reference material on antique irons. It is boldly marked under the heat shield with a patent date of July 11, 1893, one of the earliest patent dates for a liquid fuel iron that I am aware of. It features the design and construction that was initially used with the first gasoline irons, where the fuel tank is mounted at the front end of the iron, somewhat obstructing the ironer's view. This was a common problem with early fuel iron design that was to be improved upon by moving the tank to the back end of the iron in the decades that followed the turn-of-the-century. But in these early years that was yet to be figured out. This iron is in outstanding original condition and a great looking example a yet-to-be researched iron patent.
Good . . . . . SOLD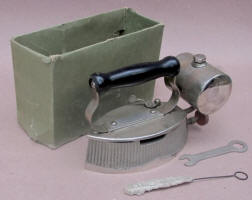 Patented Rear Tank Gas Iron
This iron is in outstanding original condition and a great looking example
Good . . . . . SOLD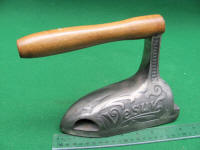 Vesuv Long Handle Decorated Gas Jet Iron
The decoration makes this a great looking iron, and it's in outstanding condition.
Fine. . . . . . SOLD!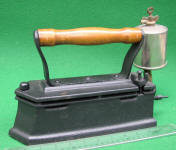 Gas Powered Tailors Iron
It's big, it's unmarked, it has been refinished, and it looks great!
Fine. . . . . . SOLD!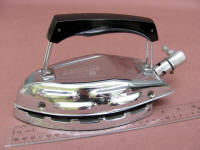 Tilley Gas Iron
This is marked on the top. Most Tilleys that you find are finished in enamel. I have never seen this chrome plated version before, have you? Unusual and in outstanding condition!!
Fine . . . . . . SOLD!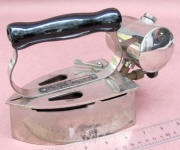 SUN IRON by Modern Specialties of South Bend Indiana
This iron has a 1909 patent date on it. Electricity and electric irons may have made it to the cities and nearby population centers, but out in the country in states like Indiana other forms of power were still king, and electricity to every home was just a thought. Gas irons like this still had an audience and consumer base in places out in the country. This gas iron is in super condition!!
Fine . . . . . . SOLD!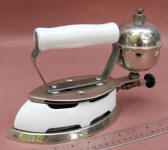 White Coleman Gas Iron
This is a re-creation. White is a color I have never seen before on a Coleman iron. Close examination would lead one to think it has been re-enameled. A one-of-a-kind that looks fine and will make for a nice addition to the otherwise complete collection. Unique!
Fine . . . . . . SOLD!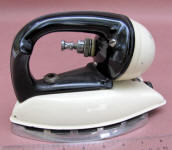 Tilley Gas Iron
These futuristic design gas irons have a great look and shape that is all their own!
Fine . . . . . . SOLD!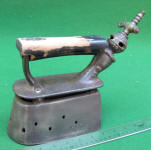 Hatters Natural Gas Iron
The only marks on this are on the gas fitting on the tail. There is patent info, and a swastika which probably meant good luck as opposed to it having anything to do with the German version that came later. Has a beveled toe on the sole. Different and nice!
Good + . . . . . . SOLD!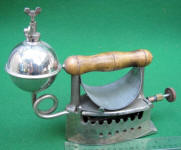 Lamb Gas Iron
Very unusual and the condition is very nice!
Good + . . . . . . SOLD!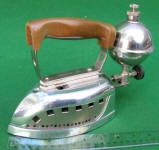 Model 538 Liquid Fuel / Gas Iron
This piece is in great condition as in mint never fired. The only marking is under the handle where it says Model #538. English---maybe. Very nice---definitely!
Excellent . . . . . . SOLD!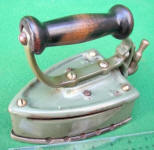 Green Enamel Natural Gas Iron
This is an unusual English natural gas iron in very nice condition. The green enamel coating is near perfect!
Good + . . . . . . SOLD!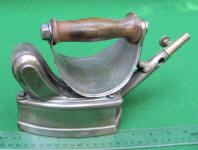 Patented Fletcher, Russell & Co. English Natural Gas Iron
The design has a lot of different features. It is a natural gas iron with a chimney and heat shield. Both the heat guard and the chimney are marked with the maker's name and patent info. The condition is super nice!
Good + . . . . . . SOLD!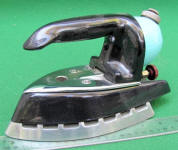 Canadian Coleman 615 Gas Iron
How often do you see this model? I like the way the tank just kind of grows out of the back of the handle. Different!
Good + . . . . . . SOLD!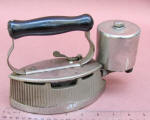 Liquid Fuel Gas Iron
This iron is called The Improved Easy.
Good + . . . . . . SOLD!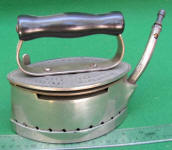 Johnson C P & R Natural Gas Sad Iron
This natural gas iron is very nice and an iron I have not had before. Note that it is taller than the typical varieties. The casting and condition are super. It hails from Racine, Wisconsin. Highly recommend!!
Good + . . . . . . SOLD!
Feldmeyer Style Liquid Fuel Iron
This was a popular design iron in its day. They can be found in a variety of sizes and having different features or tank shapes. This example is in particularly nice condition. Collect them all!
Good . . . . . . SOLD!
Rare "La Rue Nu Styl" Weighted Iron

Iron
Complete with the auxiliary weight, which converts the iron from a 6 pounder to an 8 pounder. Very unique design!
Good + . . . . . . SOLD!
Prometheus Revolving Gas Iron
This is a great looking design for an iron.
Good + . . . . . . SOLD!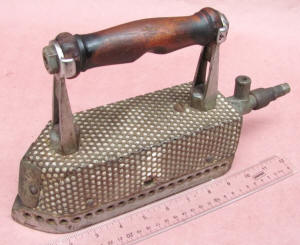 Wire Cage Gas Iron
This is a great looking design for an iron.
Show them the asbestos through the wire mesh cage. It is also very rare.
There is a short story to go with it. A few years back we catalogued an auction for an outfit in preparation for their iron auction. We did that, and cataloged this iron for that auction. Long story short, the auction was postponed. The auction company moved. A year later they held the auction and this was not in it. Who knows what it would have bought in that venue or why it was not sold that day. The rest of the auction was a disaster save a few key pieces. We were there and bought about 10% of the volume for 50% of the total. They were almost giving the others away near the end. Those irons that were not cataloged, or did not sell were later auctioned as a lot somewhere, and sometime I never heard about. About a year later I was at a flea market and a storage unit dealer had several hundred irons out. $20.00 / choice. I think he sold about 2 that day. This one to me. It resides in Romania now. There is one or more morals in there if you can figure it out.
Good + . . . . . . SOLD!
Minty Nice Feldmeyer Patent Alcohol Travel Iron w/ Case
Check out all the paperwork. It appears it was given as a gift prior to the recipient's vacation on the first class cruise ship "Minnitonka" in 1903. A great piece of history. Very complete and minty nice!
Good + . . . . . . SOLD!
This is just a sample of the many antiques & collectibles we have sold.
Click link to see other Sales Archive Pages on this Site.
We Buy Quality Antiques Contact Us at AntiqBuyer@gmail.com
Our current offering of Antiques for sale are at our sister Website Patented-Antiques.com.
This website is Copyrighted
Larry & Carole Meeker