This is just a sample of the many antiques & collectibles we have sold.
Click link to see other Past Sales Archive Pages on this Site.
We Buy Quality Antiques Contact Us at AntiqBuyer@gmail.com
Special Note Concerning Iron Prices: Sad Irons / Pressing Irons Prices are evolving:
After 20 years of steady increases in values, which culminated in a bubble burst, iron prices have now settled back to levels of the past.
Prices seen reflect actual recent sale results from this website or a general price that is more in line w/ today's market.
Irons pictured without prices represent earlier sales whose sale results are outdated and do not accurately reflect current market values.
Ebay results closely reflect current market values for many sad irons. Check eBay completed / SOLD results to see current values for many antique irons.

Our current offering of Antiques for sale are at our sister Website Patented-Antiques.com.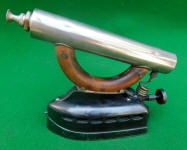 Acorn Brass Mfg Co Tank-in-Handle Fuel Iron
This is probably one of the most unusual and graphic of all gas irons! Manufactured by the Acorn Brass Mfg. Co. of Chicago, Illinois, and patented in 1913, this gas powered clothes iron claims the unusual feature of having the fuel tank designed as part of the handle. How well it actually worked might be debatable, but what is undeniable is that it has a wildly streamlined "modern" Buck Rogers look. Can you imagine the feeling of pushing around an iron that resembled a rocket or missile---that must have appealed to the more adventurous consumers of the day, but frightened away just as many. Two different variations of this iron were manufactured. On one version the base was enameled: on the other, of which this is an example, the base was blackened steel. The iron is in very good condition with clear manufacturer's marking on the end cap of the tank. Definitely an eye-catcher for the collection!!
Very Good . . . . . . $895.00 SOLD!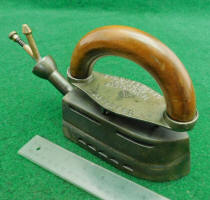 Invincible Iron Co. Natural Gas Pressing Iron
I've never seen this iron before and I don't believe you'll find it in any of the iron books or in any past iron auction results. A rare opportunity to acquire---highly recommend!!
Very Good . . . . . . $750.00 SOLD!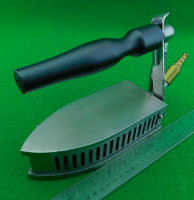 Prometheus Revolving Gas Iron
Named after the Greek deity who stole fire from Mt. Olympus and gave it to mankind (so we could iron). Marked on the handle upright post with the name. The mechanics work perfectly. A great looking iron!!
Very Good . . . . . . $275.00 SALE PRICE . . . . . . $195.00 SOLD!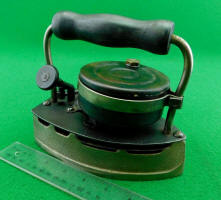 Under Handle Round Tank Gas Fuel Iron
This is an unusual variant and one of the many different attempts to move the fuel tank out of the way. Not bad as long as the idea of pushing a small lit bomb around concerns you.

Gas irons came about as energy technology was developing and progressing. First hot rocks were used, then irons set on the stove, then when coal was king charcoal irons were all the rage, but soon after liquid fuel gas irons or natural gas irons made coal as an energy source seem antiquated. The days of gas irons were short-lived with the introduction of electricity, and so the progression continues. Or does it? Now, with the idea backed by our current leaders of the re-introduction of coal, dubbed "clean coal", perhaps that line of progression is really just a circle, and we are now headed backward. And perhaps gas and coal irons will make a comeback!!
Very Good . . . . . . $95.00 SOLD!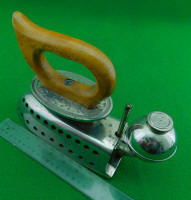 Feldmeyer Patent Alcohol Iron
The tank is marked with the Barracuda swimming through a ring logo. This example is in fine condition still sporting nearly all of its original nickel plating. It is substantially larger than the smaller size ones you typically see. Nice!!
Very Good . . . . . . $125.00 SOLD!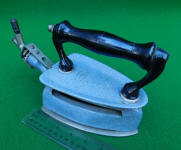 Davis Gray Speckle Enamel / Graniteware Gas Iron
This is an English natural gas iron, and in very nice condition. My pictures make the color look a little blue-ish but it's more towards a light gray tone, with white speckles. Very pretty!!
Very Good . . . . . . $75.00 SOLD!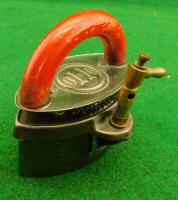 OTTO Natural Gas Iron
This is English and in exceptionally nice condition.
Excellent . . . . . . $95.00 SOLD!!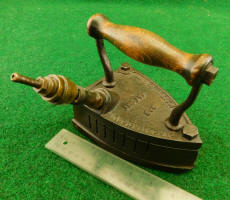 English Natural Gas Sad Iron
The cast top has the name James Keith, and the company name Blackman Co. Ltd.. A handsome iron in nice condition.
Very Good . . . . . . $95.00 SOLD!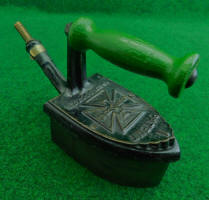 Hot Cross Natural Gas Iron
Hailing from Great Britain this iron shows supurb casting and is in outstanding condition.
Very Good . . . . . . $75.00 SOLD!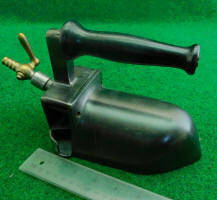 Capwell Natural Gas Iron
The casting indicates it received a patent, but I wonder how commercially successful it was, given that the way the handle is set up you have to pull rather than push it across the ironing board.
Very Good . . . . . . $85.00 SOLD!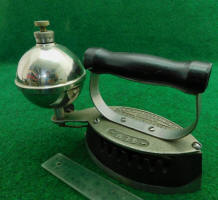 Gem "Bright Lite" Gas Iron
A lesser known manufacturer from Albert Lea, MN t
his iron is not one you see very often. Note the slightly offset fuel tank.
Very Good . . . . . . $95.00 SOLD!
Salters Gas Iron
A good looking English natural gas iron, complete with it's unusual trivet having rear "feet" of different heights so when resting on it the iron tilts back and to the side.
Very Good . . . . . . $75.00 SOLD!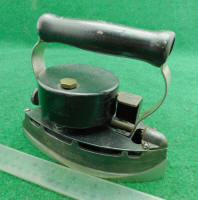 "Tuna Can" Tank Under Handle Gas Iron
I've seen this referred to as The Standard Iron but I don't believe it is marked. The unusual shape of the fuel tank reminds me of a tuna fish can!
Very Good . . . . . . $125.00 SOLD!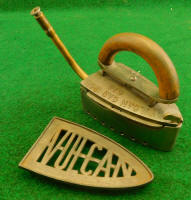 Vulcan Natural Gas Iron with Trivet
The cast iron top has all the name and maker info cast into it. The trivet is a cut-out design that spells the name. A great looking iron in super condition.
Very Good . . . . . . $95.00 SOLD!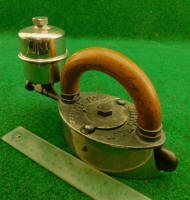 Jubilee Gas Iron
Hailing from Omaha, NE t
he condition of this patented liquid fuel iron is second to none.
Excellent . . . . . . $125.00 SOLD!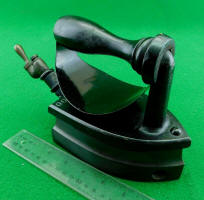 Cannon-K700 Natural Gas Iron
This iron has a single upright handle post design supporting the heat shield and a very strange model number designation. English and unusual!!
Very Good . . . . . . $145.00 SOLD!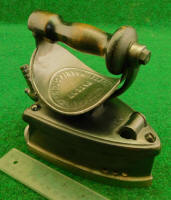 Fletcher & Russell Patent Natural Gas Iron on Trivet
This is an English iron, complete with a very distinctive trivet. The condition is wonderful. An impressive iron that is seldom seen here in the states!!
Very Good . . . . . . $295.00 SOLD!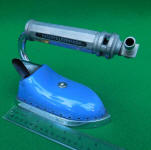 Keith & Blackman Enameled British Gas Iron
This natural gas iron is in super condition. The condition of the enamel is just about as good as it gets! The manufacturer's name and the words "Patents Pending" are cast into each side of the handle. Note the unusual design in the way the gasline is incorporated into the handle, and also how the rear exhaust is most definitely right-hand-centric. A charmer!!
Very Good . . . . . . $495.00 SALE PRICE . . . . . . $375.00 SOLD!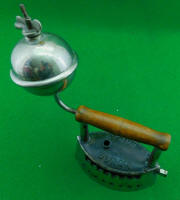 Doran Gas Iron
An unusual iron and quite rare! A lot of different ideas were used to try and get the fuel tank out of the way on gas irons so the user could have a better view of the garment being ironed, and be able to better use this new idea of fuel powered irons. While other makers went low or tried every other imaginable location one could think of---to the left, or right, underneath or as part of the handle etc. etc., Doran's idea was to go high. Really high. Sadly, like Hillary he lost the race. Many of the other ideas and designs were more appealing to the crowds than this odd looking thing and won the day. Not many of these to be found!!
Very Good . . . . . . $795.00 SOLD!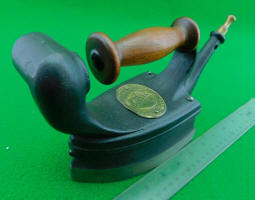 Beet-All Gas Iron
An English gas iron that has a long sweeping charcoal iron-style chimney. The brass plaque is marked "Beetall Mfg Co Birmingham, England" and depicts a reclining lion on the globe. Super nice condition!!
Very Good . . . . . . $350.00 SOLD!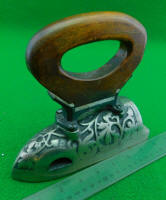 Decorated German Gas Jet Pressing Iron
This nickel plated European gas jet heated iron has a great decoration in the casting. Very pretty!!
Very Good . . . . . . $125.00 SOLD!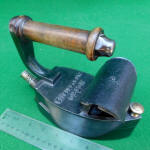 "METRO" English Natural Gas Iron
This is a really handsome natural gas iron that hails from across the pond. The design is quite unique, having an open-front handle and a semi-circular shield over a semi-circular air vent of the same shape, which is located at the front of the iron. "Metro Pat No 8513/12" is cast into the top. Different!!
Very Good . . . . . . $795.00 SOLD!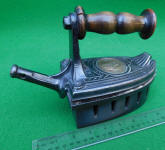 "The Crownall" Gas Iron
This is an English natural gas iron. It has an interesting design with a rear post open handle. The brass tag on the base, depicting a reclining lion on the world, identifies it as being made by "The Beetall Mfg Co" of Birmingham, England. The condition is great---a very handsome piece!!
Very Good . . . . . . $275.00 SOLD!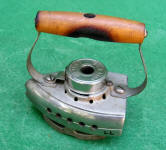 Patented July 4th 1893 Sultana Gas Jet Iron w/ Stand
You don't find this one very often anymore. And this example is complete with a small stand that holds the iron upside down to use as a heating pad / stove. It can also be used as a trivet. Minor scorch to the handle that just adds character and illustrates how it was used / heated. A nice looking little iron!!
Fine. . . . . . SOLD!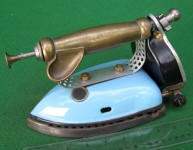 Australian Aladdin Kerosene Enameled Gas Iron
This is a great looking iron and one we have seen just a couple of times but have never had one to offer for sale. I believe this one came from the Walker collection / auction. Very unusual!
Good + . . . . . . SOLD!
Liquid Fuel / Gas Iron with Decorated Top
No identification---just a great looking iron in outstanding condition. The big round tank and taller-than-typical body make it very eye-catching. Nice!!
Very Good . . . . . . SOLD!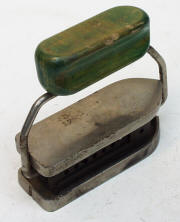 Solid Fuel Revolving British Boudoir Iron
This antique iron is delightfully different. It is marked "British Boudoir Iron", and I guess it was marketed to the "upper crust", so that the lady of the house could iron in the privacy of her room. Just to do a few little things of course---I'm sure she had hired help to do the bulk of the it. Anyway, this iron is heated by means of a pellet of flammable solid fuel. The handle revolves and both sides are usable to iron with---since heat rises whichever side was on top would always be heating while you were using the bottom side. To get it heated initially you could turn the iron completely upside down and rest it on the wooden handle, which served as a stand. Pretty clever! There is a little bit of "slop" in the revolving mechanism as there is nothing to actually lock it into position.
Good . . . . . SOLD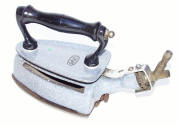 Davis Porcelain / Enamel Natural Gas Iron
I think this vintage natural gas iron is English but it could be Australian. Tell me if you know. The gray speckled porcelain is in great condition and I love the form of the handle and the star wheel regulating screw.
Good . . . . . SOLD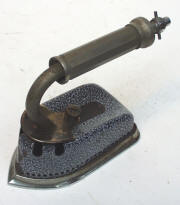 British Patent Graniteware "Metro" Natural Gas Iron
This is an iron I haven't ever seen before and it has a great look to it. The tag on it says it's called the "Metro". From the shape of it I think the idea was to convey the sense that it was modern and sleek and would allow you to work with lightening-fast speed. Don't you agree that there is something about it that just makes you want to push it around on the ironing board! It has a great looking speckled gray and white graniteware finish, and it's in super condition with almost 100% of the nickel plating remaining and looking like it was hardly ever used.
Good . . . . . SOLD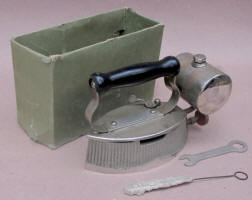 The Easy Gas Iron
This unusual gas iron has a great looking ribbed cast iron body and a horizontally oriented tank. The condition is second to none. Light her up and go!!
Very Good . . . . . . SOLD!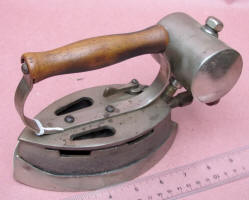 Rear Tank Gas Pressing Iron
This looks similar to the "Sun" brand, but is unmarked as far as I can see. It has a very unusual burner design with a cast iron bowl-like design for the burner that I do not recall ever seeing before. Be sure to check out all the pics to see that. Overall a very nice iron sure to be a standout in the collection.
Good + . . . . . . SOLD!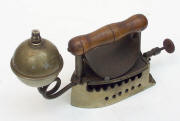 Unusual Gas Iron with Front Mounted Fuel Tank
This iron is different because the fuel tank is mounted at the front rather than the more typical placement at the rear. This was a short-lived design because the general consensus was that having the tank out front blocked the ironer's view of the work. And I have to admit, when I was pushing this thing around on the tabletop to check it out I did find myself concentrating or focusing more on that ball of fuel than paying attention to what I was doing. I have heard collectors refer to this iron as "The Lamb", but what is actually marked on the base is "Mfd by Imperial Brass Mfg. Co. Chicago". It's in really nice condition and will shine with just a light cleaning.
Good . . . . . SOLD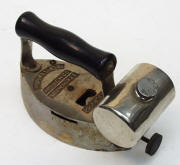 Milwaukee "Marvel" Patented Fuel Iron
This is a neat looking antique liquid fuel iron that shows some resemblance to the Sun Mfg. Co. gas iron. This iron also has that distinctive horizontal fuel tank. It says on it that it was manufactured in Milwaukee by A.J.L. CH Co. and there is also the word "gasoline" stamped into the screw-on fuel tank cap. There is an interesting lever that releases the tank and burner assembly. The iron is in super condition and will clean up nicely with just some fine steel wool. This is one you'll be proud to have on display!
Good . . . . . SOLD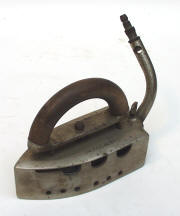 Patent Applied For Natural Gas Iron Marked "Wright"
There is no pretense about this iron. Just a simple design, clean good looks, and probably did the job every bit as good as irons costing twice the price. From the way the writing is inscribed it looks to be of early manufacture. It's in great condition with lots of nickel plating remaining and will clean up to display well.
Good . . . . . SOLD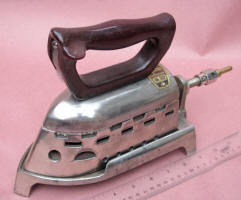 Brano Natural Gas Iron w/ Gas Burner Trivet
There is some damage to the handle, but it is otherwise a nice iron and one that is seldom found complete with its burner trivet!
Good + . . . . . . SOLD!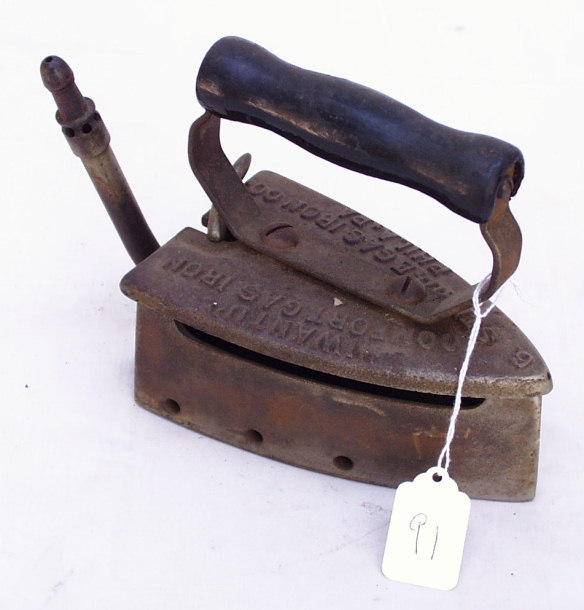 Strausse Gas Co. "IWANTU" Natural Gas Iron
This natural gas iron hails from a manufacturer in Philadelphia, PA. The lengths that makers went to in order to come up with catchy names to entice consumers during this era is matched only by those of today!
Good . . . . . SOLD
Humphrey Patent Antique Natural Gas Iron
I imagine the patent on this one was for the unusual shape of the heat shield and the ergonometric handle. Different than most!
Very Good . . . . . . SOLD!
Colt Carbide Gas Flatiron
A lot of people think this iron was produced by the famous gunsmith, but according to Esther Berney it was not. Same name, different maker.

There is a minor break in a portion of the gas line that is inside of the rear housing, but it does not show when the gas line is screwed in.
Very Good . . . . . . SOLD!
American Gas Machine Co. Side Tank Gas Iron
This side tank gas iron hails from Albert Lee, MN and was made by the American Gas Machine Co. This one is in super condition and is marked "Pat Appd For", which I assume indicates it was an earlier version. Where to put the tank seemed to present a problem or challenge for the different makers, and this firm decided that on the side was a good solution. I am not sure if they made a left and right version. Something to watch for!!!
Very Good . . . . . . SOLD!
This is just a sample of the many antique irons we have sold.
Click link to see other Sales Archive Pages on this Site.
We Buy Quality Antiques Contact Us at AntiqBuyer@gmail.com
Our current offering of Antiques for sale are at our sister Website Patented-Antiques.com.
This website is Copyrighted
Larry & Carole Meeker