This is just a small sample of the many Antique Pressing Irons we have sold.
Click link to see other Sales Archive Pages on this Site.
We Buy Quality Antiques Contact Us at AntiqBuyer@gmail.com
Special Note Concerning Iron Prices: Sad Irons / Pressing Irons Prices are evolving:
After 20 years of steady increases in values, which culminated in a bubble burst, iron prices have now settled back to levels of the past.
Prices seen reflect actual recent sale results from this website or a general price that is more in line w/ today's market.
Irons pictured without prices represent earlier sales whose sale results are outdated and do not accurately reflect current market values.
Ebay results closely reflect current market values for many sad irons. Check eBay completed / SOLD results to see current values for many antique irons.

Our current offering of Antiques for sale are at our sister Website Patented-Antiques.com.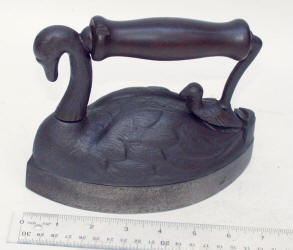 Rare Barnes Patent Swan-on-Swan Box Iron
The Swan-on-Swan Barnes patent box iron is the single most desirable and sought after of all American patented irons! It is such a great piece that its true value and appeal is not limited to just iron collectors. Its appeal extends to Americana / Folk Art collectors who want only the best and rarest of pieces. It is truly a great piece of Americana---not just an iron!

There are other irons that are sought after and bring big dollar at auctions, but none have the presence, fame, or curb appeal as the heralded Barnes Patent Swan-on-Swan box iron.

The condition of this example is super and a nicer one will be hard to ever come by! There is lots of original nickel left on the base portion, and the top portion is clean and rust or pit free. The one small apology is the small chip in the handle, but in relation to the overall condition this is so minor as to not affect the appeal or value at all.

The quality of the casting of this iron are second to none. Few irons I have ever seen or handled show the detail and craftsmanship that this iron does. The detailing is so exact you can count the veins in the feathers on the larger swan's back

The smaller swan at the rear acts as the latch to open the iron. It works properly, and is a nicely detailed aspect as well. The iron opens to reveal the original slug.

Last year when Carole and I were at the American River with Madison our Black Lab we witnessed this very thing, as a mother swan ferried her young upstream and away from the danger. A couple of the chicks made the crossing by themselves. But for the others the mother swan went back and they jumped right up on her back, one at a time, and she swam them upstream, through the rapids to their waiting brothers and sisters and safety. It was quite a sight!

The Swan-on-Swan iron was only made for a few short years, but Mr. Barnes put out a few different variations in that time. Most of the differences are in the length and quality of the casting, and this is the 7 1/2 inch version and as far as I can tell the best casting job and the hardest version to find.
Good . . . . . SOLD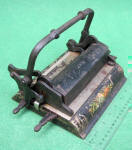 Rare Plaiting / Pleating Machine / Iron
Rare, rare, rare---this is the earliest and most unusual mechanical plaiter I've ever offered. In fact I've never seen another example of this one in any of the many, many iron collections I've viewed. I don't believe there are any others known.

Plaiters fit well into pressing iron and fluting iron collections. Quoting Mark Durham in his book

More American Fluting Iron Patents from the 19th and 20th Centuries

, plaiters "are used to impart a sharp-edge fold, or plait (pleat) in fabric." Compare this with fluters, which "impart a series of rounded grooves or waves in cloth or a sharp, shallow crimp." Durham explains that there are two categories of plaiters: 1) plaiting boards that rely on manual setting of the plaits and then pressing by a sad iron, and 2) machine (or mechanical) plaiters.

This mechanical plaiter has a complex and elegant design, with two stepped sawtooth arms that slide back and forth underneath to adjust both the size and spacing of the folds. Each of these sawtooth / stepped arms can be adjusted independently of the other to create just the right plait or pleat.

This plaiter is unmarked as to manufacturer or inventor. The patent that most closely resembles it is the June 19, 1877 patent # 192,216 by Barrow & Solter, which can be viewed using Google Patents, although the unique adjustment mechanism is not mentioned. A later improvement?

The overall condition is very nice. There are some losses to the paint decoration but much of it still remains bright and colorful. The entire machine was nickel plated and parts are very nice but again there have been some losses. The mechanical mechanism operates properly and smoothly. The adjusting bars operate properly. This rare plaiter didn't come out of an iron or any other collection, it's fresh from a New England barn found by a picker who primarily dealt in large artifacts. Highly recommended!!
Very Good . . . . . . SOLD!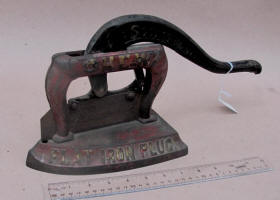 Scotten Dillon Chew Flat Iron Tobacco Cutter
This is one of the hardest to find of all iron collecting related pieces there is. It is a cast iron figural plug tobacco cutter from the well know maker / producer / distributor, the Scotten Dillon Tobacco Co.
These can be found with tails or handles out the rear at the base, but I am unsure if this one ever had one. There is no indication of a break at the end of the iron, and there are even traces of red paint there. It could have been filed and cleaned up at some point and the red paint re-applied, but I can not tell. If it was done it was done extremely well. The overall condition of the rest of the cutter is nice and there is lots of original paint and decoration remaining. A rare piece.
Very Good . . . . . . SOLD!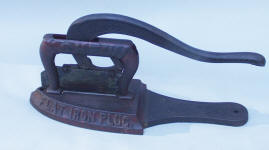 Scotten Dillon Flat Iron Tobacco Cutter
This figural plug tobacco cutter is from the well know maker / producer / distributor, the Scotten Dillon Tobacco Co. is in super condition. This is the tailed or handled model and is all proper and nice.

A rare piece.
Very Good . . . . . . SOLD!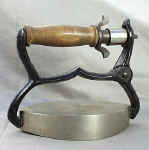 Patented Removable Handle Revolving Iron
I would guess that this is the rarest American patented iron that I have ever owned. There are a number of irons that I think most collectors would agree are to be considered rare---the Dion and the Goat Fluters come to mind, the Gem Thermometer iron would be another, the Swan-on-Swan would fit the category, etc. But all of those mentioned are irons that I have either owned at one time, or have seen in other long-time collections. I would be really curious to know if there is another example of this iron known, as the only reference I have ever seen to it was in Esther Berney's collection as shown in her out-of-print Collector's Guide to Pressing Irons and Trivets, and I cannot trace where that exact iron is located now that she has passed on. In any case, her research indicated that the December 25, 1877 patent on this iron was held by Oliver Avery, Jr. of Groton, New York (home to another famous iron inventor, Nelson Streeter). This revolving iron consists of a solid base with 4 ironing surfaces---a wide convex polishing side, two narrow sides, and a flat side. The handle detaches for heating the base, but for when it was in use it allows the base to revolve to all four sides without completely detaching it by means of a wing-nut release on the grip that allows the legs of the handle to loosen or tighten against the sides of the base. Like many other great ideas that look good on paper, this one has its problems in actual operation, and from the way it works I would venture to guess that more than once the hot and heavy base of this iron inadvertently detached from the handle and landed on some poor soul's toes. Its cumbersome operation must have made have doomed it from being a widespread marketing success, undoubtedly explaining its scarcity. Another great California find!
Good . . . . . SOLD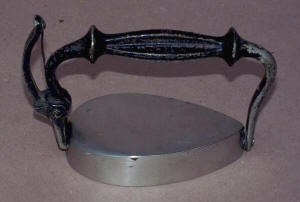 Rare Revolving Myers Patent Combination Flatiron and Polisher
Rare, Rare, Rare! Frederick Myers patented a series of irons and is best known for his combination fluter / sadirons, of which there are probably five or six different ones, including the Goat Fashion Fluter and the Combination Embossing / Fluting iron with its interchangeable plates. The common combo irons / Fluters turn up pretty regularly. The Goat is represented in most major collections but is otherwise scarce. There are only a handful of the Embossing irons known. And this revolving combination iron by Myers ranks right up there in rarity with those two. In fact, I have seen or know of fewer of this iron than those other two. The US patent office granted Myers patent #133245 on Nov. 19, 1875 for this iron.

This iron is in really super condition. The body is nickel plated and very nice with just minor spots. It revolves / rotates with one side being a flatiron and the other side being a polisher. The spring is strong and it locks securely as it should. It appears that the entire iron body and handle were originally nickeled, and then Myers painted the handle and latching mechanism to create a contrasting effect. The black that you see is original, and I would say approximately 80% remains. The grip is cast iron as well, and ribbed. The body is almost heart-shaped. It has a very pleasing look.

One of the rarest of American patented irons! I don't believe any have ever been offered in any of the iron collector club meeting auctions. This is an opportunity to fill out the Myers, the revolving, and / or the combo portions of your collection with just one purchase that won't likely be available again for a long time to come.
Good . . . . . SOLD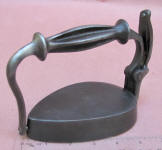 Rare Myers Patent Revolving Combination Flatiron and Polishing Iron (2)
I know, I did a big write up about how rare this iron was just above, and here is another one. The correct observation would be, don't expect the 3rd or others to do quite as well. Note that this one is not nickel plated as the one above is. For the fellow that has to have every variation!!
Good . . . . . SOLD!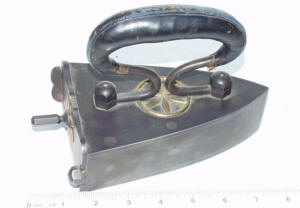 Decorated Iron Box / Slug Iron
This is a wonderful looking iron. It is a slab type construction and very nicely done. The original leather handle is in great condition. The brass decoration in the form of a star or leaf petals is repeated on the top in a circle and again on the rear door. The blued steel sides show the halos of the pins and posts used in the construction of the iron after it was finished and are used a part of the decoration. It has a neat look I have not seen before.
Good . . . . . SOLD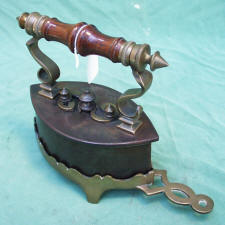 Rare and Elegant Scottish Box Iron
Scottish irons by nature and design are exquisitely designed and detailed, and this one is no exception. This iron is truly a work of art as much as a utilitarian object, which explains why this style iron was often given as a gift from a man to his beloved. Of course nowadays it would be an insult to give your fiancé an appliance as an engagement present, but things were different back then. The construction of this iron is second to none and the workmanship is superb. The main body is cast iron and the elaborate handle posts are finely cast brass. The turned and machined finials that make up the end caps of the grip and the locking mechanism are finely machined brass. The lathe-turned handle grip is a lovely richly-colored exotic hardwood. The top of the iron removes by loosening the threaded center finial knob so the S-shaped latch can swing back away. Many times these irons have been separated from their trivets but this one has amazingly managed to stay complete with its perfectly fitted brass companion stand for the last 200 years. This piece was the highlight of our consigner's collection and is sure to stand out in yours! He purportedly purchased this iron from Carol Walker, which lends to its provenance and authenticity. There is one "apology" to note---close inspection reveals a crack in the narrowest portion of one of the brass end caps, and there is a tiny crack in the trivet. Even at that it's a top shelf antique for anybody's collection!
Good . . . . . SOLD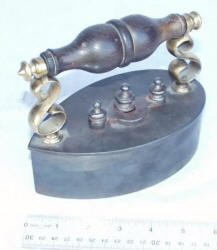 Ornate Scottish Box Iron
The Scottish box iron is one of the most desirable forms of early sad or pressing irons made. These irons are almost all unique and one of a kind works of art and craftsmanship.

The story for most Scottish Box Irons is rather than being manufactured or mass produced that they were hand built as projects by apprentice machinists and trades people about to enter the world as journeymen craftspersons. Different examples show different levels of craftsmanship, and / or different focuses on different manufacturing techniques or skills.

The design of this irons is based primarily on different castings, while some others are more focused on machining. The body on this example is a very nice casting and has visible ribs inside the base on the bottom. The top is an exact fit. The S standards, or upright S posts, on this one are a very graceful and delicate cast brass as opposed to turned or machined as found on some examples. Only the brass end caps with spiral knurling are machined.

Many Scottish Box Irons were never used and were made as pieces of art from their inception. Other were put into service and utilized for their intended purpose. That was the case with this example. It was used.

The latches on these are usually set up to swivel on a pin, and this one has indications in both the body and the latch of a pin, but it is not there. The entire latch comes off when slid from it locking position under the center post. There is a halo of where the pin was on the latch, and its location is also evident from inside the top of the iron. The latch is not attached but works as it should when put into place. Replacing this pin would be an easy and appropriate fix for a competent machinist home hobbyist.
Good . . . . . SOLD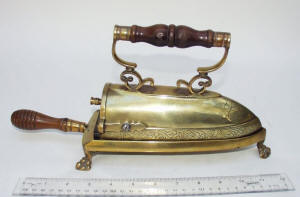 German Brass Chisel-Point Decorated Ox Tongue Iron w/ Iron Base & Matching Brass Trivet
This is a super nice iron that has some great design elements. From the finely engraved decoration along the base and edges, to the finely crafted cast brass standards, to the well designed and turned handle, this iron has it all. The trivet design is a growing plant that resembles a sunflower and it has great looking paw feet. The iron has a steel base which is another very unusual attribute. The swing gate is extra thick and designed very well.
Good . . . . . SOLD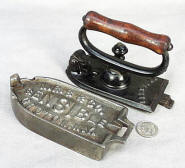 Rare Child Size Streeter's Sensible #5 Box Iron
Nelson Streeter of Groton, NY began manufacturing irons in 1876. His creativity, inventive genius and marketing savvy are evident in the amazing variety of irons that he produced. One of the hardest to find Streeter irons is his full-size solid-base removable handle "Sensible" box iron. An even rarer Streeter piece is this, the child-size version of that box iron. Known as the Sensible #5, this is an iron that is rarely found and usually seen only in long-time collections. This example will take your breath away! Measuring only 4" in length, it is a scaled-down version of the larger model exhibiting the same design details of the patented Streeter handle and cover release mechanism as well as the characteristic front and rear latches. If this model was produced as a "child-size" iron rather than as a salesman sample, it's intent most certainly was to win over the child's heart to the Streeter brand, so she would never forget which iron to buy when she grew up. This one is in outstanding condition retaining nearly all of its original nickel plating and black japanning. The casting of the lettering is crisp and the release mechanism is tight and works exactly as it should. It exhibits the characteristic front notches in the lip of the base.
Good . . . . . SOLD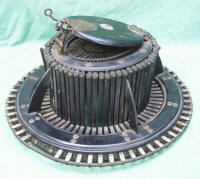 Hat Makers Conformateur
This is a French Conformateur or hat makers hat sizing tool. It is made of ebony and has mother of pearl highlights. These are about the most unusual looking devices imaginable, but they are said to be the best tool for the job of properly sizing hard hats such as top hats or Stetson-type hats that were in vogue in the 19th century for the prospective customer. He must have felt very important being fitted with one of these on his noggin. I know I felt pretty.........big headed I guess would be the word.........when I put it on.

There is some minor damage to a few of the segmented articulated arms, but it could be repaired easily enough, or will never be noticed if displayed properly.
Good . . . . . SOLD
German Double Rocker Gas Jet Heater w/ Decorated Ox Tongue Irons
This double rocker gas jet iron heater is in fine condition as are the irons. Rarely seen in the US!
Good ........ SOLD!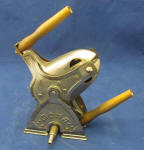 MORA Gas Jet Rocking Heater with Irons
This is a super piece. It is German and marked "Mora" on the side of the rocking heater cradle. The condition is great. The two ox tongue hollow-body gas jet irons pictured are included. The heater would have been connected to a natural gas line and the burner would have heated first one iron and then, when rocked to the opposite position, the other. Be sure to look at all the pictures to see the close-ups. A handsome piece in amazing condition!
Excellent . . . . . . $695.00 SALE PRICE . . . . . . . . $495.00 SOLD!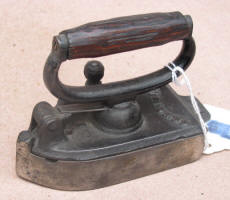 Child Size Sensible Sad Iron
This is a rare little iron. We have only had a few of these over the years. The handle shows some wear and tear, but the latch works fine and the top of the iron is nice.
Good . . . . . SOLD!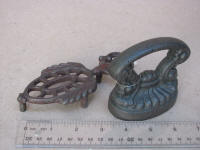 Ornate Child Size Belgian Cap Iron
The iron is elegant and ornate. The matching trivet is exceptionally hard to find. Very unusual!!
Good + . . . . . . SOLD!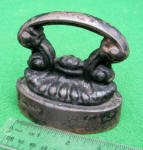 Fancy English Oval Cap Iron
The decorative casting of this cap iron is lovely. It has a base that is thicker than normal, and it's 4" long, so it's quite substantial in appearance. In his first book Dave Irons labeled this style iron as French (as did Politzers in their books), but in the later editions of the Irons' book they are listed as English. There is some rust on the sole of this one that will clean. Elegant and stately!
Very Good . . . . . . $250.00 SOLD!
Belgian Decorated Cap Iron
This style Belgian cap iron is pretty uncommon. They came in a series of sizes and this being one of the smaller at about 3" overall and a hard size to come by. In general they usually have a rougher looking casting than one would expect, but that is normal. This is a nice looking iron and very graphic.
Good . . . . . . SOLD!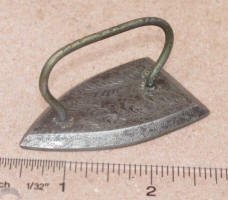 Engraved Amazoc Iron
These little engraved irons are nice. I imagine they were made as decorative pieces for tourists or rich folk in Mexico. Some are very detailed, even inlaid and signed. This one has some very nice engraved designs!
Good . . . . . . SOLD!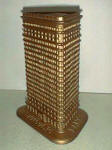 Flat Iron Building Cast Iron Bank
This cast iron bank got its name from the building in downtown NY that it is named after. I assume because the footprint of the building resembles an iron. These banks came in a series of sizes, and this is the medium size one at 6" tall. Condition is critical to value, and this is in nicer condition than most!
Good . . . . . . SOLD!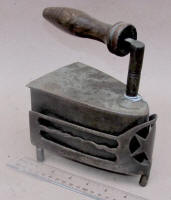 Drop in the Back Sad Iron w/ Cutout Trivet
This European slug iron is in nice condition. It has a great trivet with a cut out star in the front.
Very Good . . . . . . SOLD!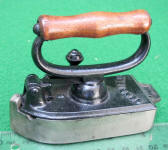 Nelson Streeter / Sensible Miniature Removable Handle Iron
This is the nicest condition one of these hard to find little irons I have ever seen! You'll never have to upgrade!!
Fine . . . . . . SOLD!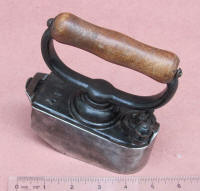 Streeter's Patent "Gem" Box / Slug Iron
This version is even more rare than the simple removable handle solid bottom Gem #2. I assume this to be the earlier of the two---more complex in design and probably more expensive to produce. This is only the second example of this iron we have ever offered for sale. It's in super nice condition and complete with its distinctive slug. Like all of Nelson Streeter's irons it's beautifully designed and finely cast. Highly recommend!!
Good + . . . . . . SOLD!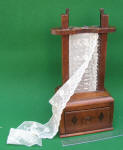 19th Century Miniature Stacking Plaiter
This is an example of a very rare and early miniature stacking plaiter. This example is in especially nice condition. Our consignor purchased it a number of years ago from the Carol Walker iron auction, so it has about the best pedigree you could want. Stacking plaiters can be found in many different sizes, but the little ones like this are particularly nice and display really well. Very finely made and a great looking addition for the advanced collection!!
Fine . . . . . . SOLD!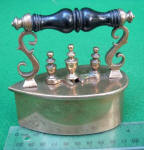 Miniature Scottish Iron
Look carefully at the ruler in the first pic. This iron is only 4" long and just over 1/2 the size of nearly all other irons of this design. The workmanship and quality of the castings and machining of the different parts is second to none. As with most it is unmarked but the consignor of this irons family were all Scottish with a colorful background. A super piece.
Good + . . . . . . SOLD!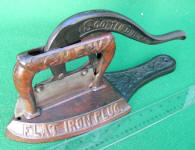 Scotten Dillon Co. Flat Iron Plug Tobacco Cutter
The Scotten Dillon Co. Flat Iron Plug Tobacco Cutter is one of the most famous and graphic of all ironing collectibles. It is a great figural casting of a sad iron shaped tobacco cutter for cutting a chew tobacco by the name Flat Iron Tobacco. The condition of this example is exceptional. It is easily the nicest one we have ever had the pleasure of selling. Very nice!
Good + . . . . . . SOLD!
Unusual Myers Patent Sad Iron
T
his is a patented iron that has been previously unidentified, and as far as I recall is not known in any collections. When we first saw this little iron we noted the "cutout" design of the metal handle and the hollowed out body. We also recognized that the pins coming out the back were to be used as a stand or trivet, so the iron can be tipped back and left standing upright. Initially I didn't think too much more about it.

But something familiar about the handle got me to thinking. And then I looked at the iron more closely and found the tiny stamp on the heel that reads "Myers Pat". Then the similarity of the handle to that of the Myers patent "Goat fluter" handle really made sense. Twenty minutes later, after conferring with Google, I found the answer---just run "patent number 123,120 January 30 1872" in a Google search to see the patent. It's really a great looking little iron, and no collection of Frederick Myers' irons would be complete without it!
Very Good . . . . . . $395.00 SOLD!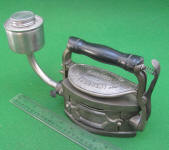 Howler Mfg. Co. / Montgomery, Alabama Revolving Liquid Fuel Alcohol Iron
I believe this is the only known example of this iron. Nor do I know of any other antique irons hailing from the state of Alabama. The Howler name and location are boldly cast on the cast iron heat shield. The heat shield is attached to the handle in such a manner that it revolves with the handle when revolved.

Wesley E. Cochran was granted a patent for this design in 1909. The patent number is 948,982. The patent mainly describes the burner and the use of alcohol as the fuel to better heat pressing irons. The patent drawing of the burner and valve is a bit different from the tank on this iron. The patent shows a controlling valve as part of the design, and the patent specifically states that the tank is not shown in the patent drawings. This iron was originally found without the burner valve assembly and tank, and so some artistic license was taken when this tank was made. There was also a repair to the thumb latch.

Cochran was granted a number of other patents for lighting devices, including one for a combination light and license plate holder---for carriages and before batteries became commonplace no doubt.

A rare and interesting iron that has a great look!!
Very Good . . . . . . $1995.00 SOLD!
This is just a sample of the many antiques & collectibles we have sold.
Click link to see other Sales Archive Pages on this Site.
We Buy Quality Antiques Contact Us at AntiqBuyer@gmail.com
Our current offering of Antiques for sale are at our sister Website Patented-Antiques.com.
This website is Copyrighted
Larry & Carole Meeker