We will buy, or can help you sell, Antique & Collectible Pencil Sharpeners!!
If you have quality antique or vintage pencil sharpeners similar to those that you see on this page that you want to sell, please contact us at AntiqBuyer@gmail.com providing me with as many details as possible.

Thank you!!
Antique pencil sharpeners / pointers are a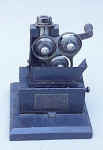 very popular antique office collectible. The market for vintage pencil sharpeners has changed over the years, mainly because of the effects eBay and the internet have had on supply and demand. Ebay initially drove prices for early pencil sharpeners to record highs, but over time, as the limited pool of collectors got filled up, demand eased, and the constant supply overfilled the market, prices dropped. Today many pencil sharpeners sell for half or less of what they once sold for.

I have bought & sold hundreds of pencil sharpeners over the past 15 - 20 years. We have helped disperse several collections of antique pencil sharpeners, and have helped collectors add some of the rarest and hardest to find examples to their collections. We use to have a good supply of harder to find sharpeners listed for sale on our sister website www.patented-antiques.com.

Here is a perfect example. Below is the Gould & Cook pencil sharpener. It is a hard to find and desirable pencil sharpener. Before eBay and the internet they sold for a couple / few hundred dollars on the best of days.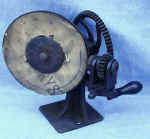 In the hey-day examples were being offered for, and were selling on eBay and privately for $1000-1500 on a good day. The truth was that much of that buying and selling was going on between dealers helping to drive the price up further. After a period of time, and after most serious collectors had it, not once, but 2 or three times sales began to slow, and prices tapered off. The final price correction happened after 6 of them were listed on eBay the same week and it became obvious what was going on. They started selling for no more than a couple / few hundred again. Today, nice examples typically sell for 300 - 500 when offered and sold on eBay. You might see them offered for more, but little happens. That same price history has happened for almost all specific sharpeners you might have.
That is the truth. No matter what you think or want to believe, it is still the truth.
Pencil Sharpeners are not alone in experiencing this sort of price adjustment. It just happens. Just like it did with Beam bottles, beanie babies, lunch boxes, Griswold and every other collectible that got hot and then cooled off after those driving the market left.
Antique Pencil Sharpener History
The race to design and market the "best" pencil sharpener seems to have begun in the 1880's to about 1910 or so. There were a few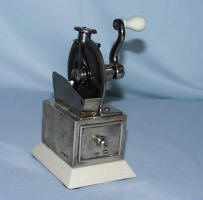 interesting collectible versions designed coming from the popular deco era, but that is the general time frame for most good examples. In general unusual and rare Pencil sharpeners that date from before or near the turn of the century are the ones that are the most collectible and have best held their value. After that outfits like Boston and Dexter dominated the market with their roller burr cutter models, and the era of design ended.
The following pictures are of some of the earlier and harder to find styles of vintage mechanical pencil sharpeners. Values for these patented pencil pointers can range from under $100 up into 4 figures even today. There are a few truly rare and desirable patented and mechanical varieties that occasionally pop up and sell for record prices.
Mechanical pencil sharpeners that perform their job through the use of knives or other unusual methods rather than the later more typical ones using roller mill cutters / burrs such as Bostons & Dexters, are more desirable and valuable.
The pencil sharpener on the left is called the
Little Shaver or Handy, and it comes in a number of variations both in finish and in simple design changes to hold the cutter, the pencil, or the make-up of the swinging arm. Note the condition of that one with the original label from a shoe store still affixed. Details like that greatly affect value. Most sharpeners like this sell in the 100-200.00 range on eBay these days, depending on condition and other variables.
The relatively common U.S. Automatic Pencil Sharpener, is pictured on the right. This sharpener was patented in about
1906, and several different variants of it exist. The example at the top of the page is a one-of-a-kind presentation piece made by Asprey of London, which is England's equivalent to our Tiffany & Co. There is no value range for that sharpener as I obtained it through a trade, and no other one exists that I know of. The typical model U.S. Automatic pictured on the right generally brings $100 or less today in so so condition. They use to bring $200 or more depending on condition.

Other variations of the Automatic that are known include a leather covered model, or those with different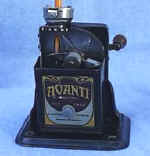 labels or decals on the front. Some had different labels advertising businesses. There are also some with different bases as well. The same company also made the pencil sharpener called the Jumbo which was the same basic design, but a bit bigger and a bit more complicated, and it used a slightly better design to turn the pencil instead of using the blade to accomplish this task. Jumbos sell for approx twice what a US Automatic would.

There are also a number of foreign versions that are based on the same design of a revolving knife blade that are available as well. The Avanti on the left is an example of this type. There are a number of other sharpeners that are identical to this with different names or housings on them. I have been told Avanti sharpeners date from the 60's or later. In general these sell for less than US models, and most foreign sharpeners are also selling for a fraction of previous levels in today's market.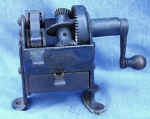 The next picture on the right is of the patented Planetary Pencil Sharpener which is a very graphic sharpener that comes in a few different versions as well. The one pictured is a later model. The earlier models legs are attached at the base by a bar between them, making the foot portion one cast piece. This pencil sharpener was designed to be either a table or wall mount and you swung the legs around to accomplish this after removing a screw. These unusual antique pencil sharpeners never had a cover and are proper as shown. They are also often missing their shaving drawers. They typically sell in the 200.00 range today on eBay and use to bring twice that easily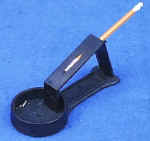 This next sharpener is interesting because you had to provide your own blade, as in a pocket knife to perform the operation. It is marked the Johnson's Perfect Pointer and I have never seen another, or seen reference to one in any literature.

It is interesting to read the marketing blurbs that accompanied these types of devices, all touting themselves to do the perfect job and usually twice as fast as other devices. There were literally hundreds of different versions of pencil sharpeners that were patented and marketed back during their heyday near the turn-of-the-century and a bit before.

Some of these sharpeners originally cost as little as $1 or less and were targeted at the masses, or students. Other more complicated and dressed-up models, most notably those pictured in catalogs for draftsmen and surveyors or the like could cost upwards of $20.00 and were targeted toward the wealthier segment of the population. In general these are far less common and sell for a premium today. The names of some of these are the Quail, President, The Right, Dixon, L. E. B. Perfection, Lakeside, and a host of others.

Another interesting antique pencil sharpener is the Rockford Pencil Pointer pictured on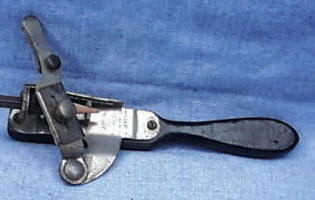 the right. This sharpener was named after where it was made in Illinois. It is an over designed contraption. It is hard to imagine that this one could outperform a pocket knife, but that is what the ads for it claimed, and its complicated yet simple design is what makes it a good one. Want to have a contest? I will put my razor knife up against most any of these sharpeners pictured and be willing to bet it that I would win.

This sharpener has also seen a large drop in value from what they sold for in the hey-day. It is still a desirable and pretty hard to find one, and in the near mint condition this one is in would still sell for a few hundred on a good day I would imagine.
PLEASE NOTE!! We do not buy, sell, or deal in small figural die-cast sharpeners that were made in Honk Kong, Japan or China. EVER - - - - NEVER
---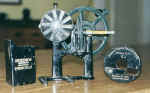 The above pencil sharpeners are an example of the caliber, condition and quality of these devices that I am primarily interested in. To see past sales results click the Office Antiques link in the right column.
If you have quality antique or vintage pencil sharpeners similar to those that you see on this page that you want to sell, please contact us at AntiqBuyer@gmail.com providing me with as many details as possible.
To see examples of antique and vintage pencil sharpeners and office antiques that I currently have for sale please go to our sister site at www.Patented-Antiques.com and visit the office & scientific sale pages you will find there.