We Buy or Can Help You Sell Antique Patent Models and Salesman Samples!!
We are active full time antique dealers. Over the years we have bought & sold many U.S. Patent models, antique salesman

samples, and other detailed antique models of washing machines, vintage ironing devices, other collectible laundry related antiques and much more. Some of the laundry related pieces and washers we have previously sold have appeared on the Antique Roadshow with their happy new owners.

We are interested in any original U.S. Patent Models, early salesman samples of washers, toy washers, and other detailed antique models or salesman samples related to those categories of antiques that we specialize in.

We conduct our internet antique sales from our sister site www.Patented-Antiques.com Please visit that site if you are in the market to buy, or want to see how we conduct our consignment sales of various antiques. If you want to learn more about our antique consignment sales program, please read the FAQ page as well.
Our internet Antique websites are one of the largest and most visible sources for information about and actual sales of salesman samples and patent models on the internet.
Patent Model Washing Machines
It is amazing how many different patent models and salesman samples of early washing machines that were produced. The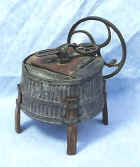 number of patents given out for these devices during their heyday spanning from the the mid to later parts of the 19th century up until the first part of the last century must number in the thousands and a lot of them have survived.

For Patent models to be complete and proper they should have their original patent tag and usually their receiving tag from the Patent Office. For more info on the history of Patent Models see our Patent Model page.

This picture depicts a very detailed example of Yankee ingenuity running wild in the form of a patent model for an unusual plunger type washing machine. A mechanical plunger / washer must have seemed like a pretty advanced concept to this fellow, even though he hailed from San Francisco. One can only wonder what his world experience was or if he had ever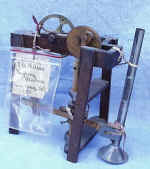 seen what the competition was offering when he came up with this idea. This 1885 patent was granted for an idea whose time was already past---by 1885 when this patent was issued there were already much more advanced and practical washers on the market to impress the American consumer who was already falling into the pattern of "I need a bigger and better one" way of life that still seems to drive our culture today. One can only wonder if the inventor was married and if his wife encouraged this, or what he was thinking.

The next picture is of a patent model of an antique washing machine that is in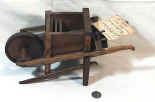 the form of a wheelbarrow. It is our favorite for several reasons. This was an idea that was so absurd that Mr. Maytag's idea was sure to be a winner some years down the line. But hey, this is America, the place that was built on ideas, and where you can sell most anything. This model was set up to be operated either stationary, or when it was pushed around the yard. The inventor must have had to push one some where in his past to have come up with this wacky idea. I have spent 20 some years looking for the full size version, but fear this is an example of a better idea that never made it into production.
Please Note:

What we are looking for are patent models and salesman sample washers, from the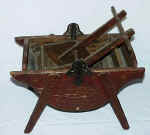 absurd and unworkable ideas, to those you recognize. We are not in the market for the full-size one your neighbor gave you, or that your mother never called the scrap guy to come pick up, or was left in the basement of the house you just bought. We also do not buy Mangles or Ironrite ironing machines either.
In general we do not buy or deal in full size washers because of size constraints, cost of shipping, and lack of demand. Some are great, and I love the designs and action but I do not buy them. Let me illustrate the reason so you can more fully understand. If you box it, crate it, ship it to me, pay for storage, all at your cost, I will sell it for you for far more than you can get locally. I sold 5 full size antique washers a few years back for 5,000 - - - far more I imagine than you can get locally. To date nobody has taken me up on that offer and I bet none will. Get the idea.
Salesman Sample & Toy Washing Machines
In addition to the many patent model washers of antique washing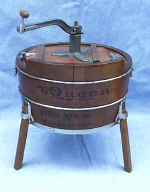 machines that are available there are also salesman samples and small size toy washers that resemble their full size counterparts. We are interested in any quality examples that you may know of.

Generally speaking, if they have the manufacturer's location and other information stenciled on them, we consider them more likely to be salesman samples or display models rather than toys, as demonstrated by the Queen Washer on the left. In that picture, and the one on the right I am showing you a graphic example of the difference between what we consider to be a salesman sample and a toy washer, and you can easily see this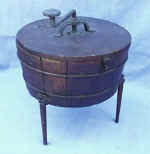 for yourself. The difference in quality and craftsmanship are clear and evident when comparing these two machines. The early salesman sample / display model on the left is a much more valuable and desirable than the typical toy washer on the right. We can help you sell either, but as can be seen there is a big difference, and there is a 5 - 10X difference in value as well.
The sample & Child size washers seen above, described here and on the archive sale result pages are examples of the caliber, condition and quality of these antiques that I am primarily interested in buying and can help you sell.
If you have any antique patent model or salesman sample washing machines similar to the examples shown that you want us to help you sell and consign to our sales pages at www.Patented-Antiques.com, please contact us at LCM@AntiqBuyer.com
To see examples of antiques that I currently have for sale please go to our sister site at www.Patented-Antiques.com and visit the numerous sale pages you will find there.