Sewing clamps or sewing birds were devices used by a seamstress to assist with hand mending and fancy needlework. They acted like third hand, if you will. These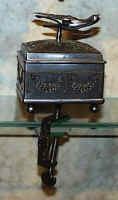 vintage and oftentimes patented devices were typically fastened to a work table by a thumb-screw or other clamping action. The working portion was designed to hold the fabric so that it could be held taut with one hand and her other hand would be free to do the stitching. They are sometimes referred to as "third-hands" even though some were designed to help with numerous sewing tasks beyond just a third hand holding the fabric. Some were multi featured and had pincushions, thread cutters, small drawers, scissor sharpeners or other features to help with the sewing related tasks at hand. Some can be quite elaborate, others very plain and utilitarian.

Below are just a few examples of some unusual & figural sewing clamps we are always looking for, can help you sell, and are currently offering for sale at our sales site www.Patented-Antiques.com. These include examples made of ivory, wood, brass, silver, steel, and cast iron. We are especially seeking unusual and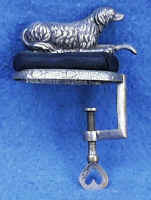 elaborate figural examples, or those with attached holders or boxes to store threads, wax, needles, emery, thimbles, etc.
Note: There are currently a flood of reproduction sewing clamps on the market, most notably the brass bird with the 1853 patent in its wing. You can always find them listed for sale on eBay if you care to look. Be Aware!!
Some of the rarest, most desirable and hardest to find are figural examples in the shapes of animals, bugs or other critters. Pictured just above is a "sewing dog", who obediently lays on top of his pincushion bed and helps out by gripping the fabric in his mouth. It can be found in either a nickel or lacquered brass finish. It is a very desirable piece.

The fabulous figural elk clamp show here is all cast iron with two thread-winding spools made of bone on either side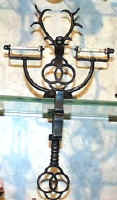 of his incredible rack. To hold the fabric you gently pull back on his delicate antlers to open up his jaw, insert the fabric, then release. This figural clamp is extremely rare, probably a one-of-a-kind, and crosses over from the category of sewing into the realm of Americana and rare American folk art.

If you have sewing clamps of this caliber you would like to sell we can help you sell them and help you realize the most value for your collection. There is no other site on the internet that has as nice a selection, and gets the volume of traffic or search engine positioning that our sales site does.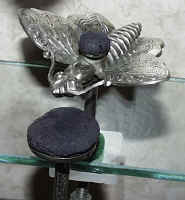 Another great figural animal sewing or needlework clamp is the butterfly clamp shown here. It is an example that is rarely seen. In addition to the butterfly body opening and acting as a clamp, this figural butterfly clamp also has 2 pincushions to hold either the fabric, or additional pins or needles.

The cherub clamp at the top of the page is another nice figural sewing clamp. It also has a pin cushion and clamping feature as additional features. Cherubs were a favorite during the Victorian era, and that is when this clamp and most of the others shown on this page date from.

Manufacturers of the day promoted the health-related benefits of these needlework tools, claiming they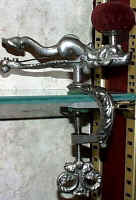 eliminated rounded shoulders and stooped backs developed while sewing. But clearly for the lady of comfortable means, who could afford it, these needlework tools were pieces of art that were treasured symbols of status and were often given and received as tokens of love.

Some sewing clamps were made as almost little portable work stations and a very interesting and desirable model that we are looking for is known as the "Lady's Companion". It has all sorts of accessories and features that the typical clamp does not. Some of these devices came equipped with their own thimbles while others had scissors or thread cutters incorporated into their design. We have several of these multi feature clamps for sale on our sales page www.Patented-Antiques.com Another favorite image or theme for figural antique sewing "birds" / sewing clamps is that of the fish, dolphins, or

other mythological underwater critters including dragons and monsters. Some are so elaborate and detailed that the scales show. At left is a neat one that we have seen a lot of different variations of, some with pincushions and the tail wrapped around the post, some without a tail at all. Others with just the face or head, with some more grotesque and others simpler and more stylized.

Not all sewing clamps were designed with a clamp or "vise" for holding the fabric. The example shown here is designed to be a thread winder with 4 individual spools that the seamstress could use to keep 4 different colors of thread within easy reach. The pincushion on top could be used simply to hold extra pins, or the fabric being worked on could actually be pinned to it to serve the same function as the vise-style sewing clamps. A clamp like this would be very handy for embroidery.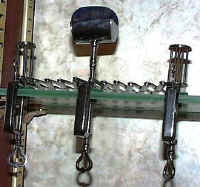 All of the different styles we have shown so far can have their origins in either America or Europe. The butterfly and the dog sitting on the bed are American origin that were a patented design, while in general most of the other figural monsters and creatures are considered to be European.

Another unusual sewing clamp is this unique design, which actually consisted of three clamps. The center one is a pincushion and the two on the ends are thread winders. All three are attached to each other, and could be adjusted in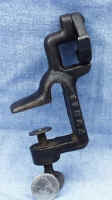 width with an accordion-style mechanism. There are many different styles of these antique needlework devices, even ones that have a place for a pair of scissors, or ones that have a thread cutter or sharpener worked into the design. The variations are about endless.

Sewing clamps can range from incredibly ornate and elaborate to very simple and plain. The clamp pictured above on the right uses a simple swinging arm mechanism to secure the fabric. This particular one is a bit bigger and heavier-duty than the typical light duty swing arm Victorian design clamps you can find, and it was probably used for leather, wool, canvas, and other heavy materials.
The sewing birds and clamps that you see pictured on this page are from the collection of Robert M. Soares, an extraordinary collector and friend.
* * * * * * * * * * * *
We can help you sell your Antique & Vintage Sewing Collections!
If you have antique sewing clamps, Victorian needlework tools or very early antique sewing machines that you want to sell, please see the FAQ page or email us at AntiqBuyer@gmail.com for more info
We are active dealers of sewing birds / clamps and other antique and Victorian sewing and needlework accessories---such as pinking machines, chatelaines, tape measures, fancy scissors, darners and more. We are always interested in helping you sell your collections through the Consignment Program we offer.
We are currently handling three different collections of antique sewing related accessories for different consignors, and have those collections listed for sale on our antique sales website www.Patented-Antiques.com