We buy and can help you sell your Antique Patent Models and Vintage Salesman Samples!!
Introduction
We buy, sell, and deal in antique salesman samples, and detailed antique models related to tools & technology.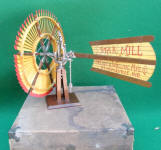 Vintage models or salesman samples from a host of categories are of interest and many of those have their own pages on this site including Salesman Sample Washers, Patent Models, and Salesman Samples of Farm Machinery. Please see those info pages linked on the left for more info. Past sale prices / results can be found on the linked pages to the right.

Our 2 websites combined are one of the largest and most visible sources for information about, and actual sales of salesman samples and patent models on the internet. We conduct our internet sales from our sister site www.Patented-Antiques.com Please visit that site if you are in the market to buy similar antiques, or want to see how we conduct our consignment sales of antiques.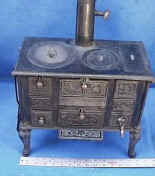 If you want to learn more about our consignment sales program, please read the FAQ page as well. To see examples of Past sales results with descriptions and prices click the appropriate link in the right column.

On this page, we will show you some examples of the types of antique inventor built shop models and manufactured salesman samples that we are interested in, have sold in the past, or currently have listed for sale on our sales website.

The picture on the left is a coffee bean or other seed / bean drying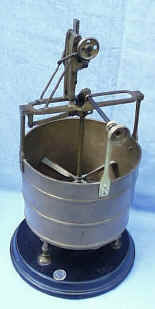 machine that would probably date from the later part of the 19th century. The idea was that the beans were cooled in a device like this to prevent them from overcooking after the roasting process. Cool air was fed into this device from the bottom, and by blowing cool air through the material as you stirred it with the paddle and operated the up and down mechanism at the top, you evenly cooled and dried the product after roasting it. You can still see similar machines in use at your favorite coffee roasting house if they perform this process in view for their customers. This example stands approx. 16" tall and appears to be a manufactured piece but is unmarked.

We are also interested in, and buy / sell and deal in small table top coffee grinders or mills as well as wall mount coffee grinders. I have another page under the Americana Heading to cover Coffee Mills you can check out.

The term salesman sample is often misused and I try to explain this in more detail on the Stove Wanted Page. We are interested in buying both toy and salesman samples of stoves, washers, and other pieces, but there is such a huge difference in values between the two that it is oftentimes difficult to understand. Many sellers assume their toy stove, washer, sewing machine or other object is a salesman sample when in fact it is just a toy, and then proceed to grossly overvalue /overprice their mass produced toy.

This same dilemma also arises with early steam toys. It is oftentimes hard to differentiate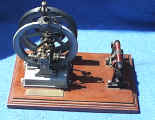 between what are obviously toys by such outfits as Jensen, Weyden, Plank, Marklin and others, and what are obviously shop built machinist made models of steam engines. These toys are often found in shops with tags mistakenly identifying them as salesman samples, or claiming toys from the 1980's are antiques from the 1880's. The Germans made some very detailed and exacting toy steam engines that look just like full size steam engines, but they are still toys. Then there are the detailed models of actual steam engines that have been made ever since the engines were made. On the left is a contemprary model of a steam engine and generator made in the 1990's by a model maker and sold through auction houses like Christies. As art I suppose as they hardly mention or address the contemporary nature of what they are selling in the catalog. Again, they are contemporary models, being made today and sold in the large auctions houses as art. They are not true salesman samples. They are neat, well done, and can be quite expensive, but are still just models. Similar things are being produced here in the states as well. Miniature one lung engines, farm machines, hog oils and more. All models.

Lastly there is the class of small steam engines like the Creator steam engines that were used in popcorn machines or to power other small machines during the era before the introduction of electricity. These are a favorite with collectors.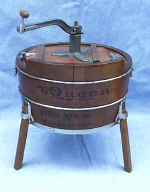 Another antique oftentimes identified as salesman samples are models of or toy washers. We have a page devoted exclusively to these interesting Sample / Toy washing machines that you should visit if you have one of those to sell or want to see other examples and learn more about them.

Another category that is often confusing to determine what is what is toy and salesman sample stoves. I have a separate page dealing specifically with these on this site, (linked in the left column) and have a collection of toy and sample stoves currently listed for sale on our site www.Patented-Antiques.com. Past sales results with values can be found on the appropriate page linked on the right.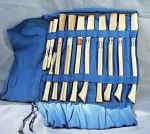 In general salesman samples can come in all shapes and sizes. We are primarily concerned with mechanical examples dating from the late 1800's and in some cases extending into the 1900's. Many people argue that in order for an object to be properly called a salesman sample it must have a case or box that it would be carried in that the door-to-door salesman would utilize. This is not always true. It might be an indication, or be useful as a negotiation ploy if what you have is in one, but the fact is many salesman samples never had a box and were not intended to. The roll of tool handle on the left is a good example.

Think about the models you see on retail counters of stores acting as advertising and salesman samples today They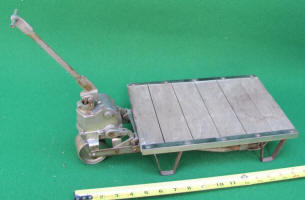 do not have boxes, and there have been store / countertop displays as long as there have been general or country stores. That is the problem with making blanket statements. On the right is a salesman sample Pallet Jack by Yale & Towne from the 20's or so.

Another category of antiques / collectibles that we deal in in a big way and that are oftentimes misidentified as salesman samples are toy sewing machines or TSM's. I have never seen a salesman sample sewing machine, from any era, but half or more of all toy machines listed for sale on eBay are identified as salesman samples, especially Singer toy sewing machines. There are a lot of small but full size machines that were produced and offered over the years that are also identified as salesman samples that are in fact just small machines designed for travel or for other reasons. We deal with sewing machines on their own separate page.

We are active and serious buyers, sellers and dealers in antique salesman samples and many objects that are identified as them. If you have salesmen samples or models, miniature toys, or or other science & technology related items, that you want to sell please let us know by contacting us at AntiqBuyer@gmail.com
If you have additional questions about our consignment sales program please see the FAQ page.
To see many other examples of antique salesman samples that I currently have for sale please go to our sister site at www.Patented-Antiques.com. and visit the sale pages you will find there.