We Can Help You Sell Your Toy or Salesman Sample Size Small Stoves and Other Related Antiques!!
We are full time active antique dealers in Antique & Vintage small child size, miniature or salesman sample size stoves. To see stoves we currently are selling please visit the Stove sale page at www.Patented-Antiques.com Note: We are currently Sold Out!!
Small antique stoves are one of the most widely misunderstood of all collectibles in the
antique marketplace today. Even the "experts" often times cannot agree on what constitutes a salesman sample, display model, a simple toy, or even an outright fake. I have heard some even argue that salesman sample stoves do not exist. They do. Some will call a legitimately old small stove a salesman sample, while others call it a toy, and still others call that same stove a display model or display piece that would sit in the store window. The truth is one stove might fit two or more of those descriptions as the stove to the left does. At 70 some lbs. it is doubtful it was being carried door to door by the salesperson. And all of this from people that supposedly know and understand antiques.

Many less knowledgeable sellers call relatively new toy stoves antiques and salesman samples, innocently or intentionally. Most of those stoves are nothing more than new toys offered as old making them outright fakes and frauds.
I am not an expert, or the final word, but I will try and not confuse the issue, and at the same time describe the types and styles of small vintage stoves that are of interest to us and those that are not.
Please Note: We do not buy, sell or deal in full size gas, electric or wood fired stoves!! I do not have parts, or know what they are worth, or where you can sell yours.
Salesman Sample & Toy Stoves
We are seeking, and can help you sell genuine salesman samples of stoves, quality early toy stoves, or vintage display models of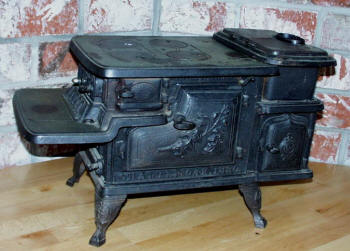 early wood burning or gas fired cookstoves and early kitchen ranges.

Pictured on the left is the #503 Charter Oak. It was made or offered by a well known real stove company, and I suppose it could be called a salesman sample, but we consider them to be toys, or store displays. Full size examples of this stove were available for sale. That does not always, or definitively make a small model or toy size stove a salesman sample. There is room for discussion or differing points of view on stoves like this.

I have been told that those who bought a full size stove, could buy, or were given, one of these stoves. There would be a few marketing ideas or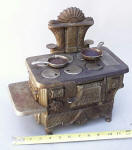 concepts that would explain this such as building brand loalty, and I do not doubt it. This stove weighs in at 70 some pounds, measures over 24" across and I seriously doubt anybody's grandpa or distant relative was carting one around door to door peddling them across the countryside.

Small Charter Oak stoves came in several sizes and different finishes with the 503 being the largest. In general they sell in a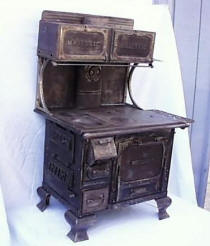 wide range. Roughly from under $1000, to I have seen people asking 3000 or 4000 for examples in antique shops or at large antique shows. I have no doubt that they have brought that kind of money somewhere sometime, but I know they are slow movers at the upper end of that range.

I have seen many legitimate salesman sample stoves in their carrying cases. Many were gas or electric stoves or ranges. These were a size and makeup that the salesman could have carried around while attempting to convince the shopkeeper or leery early housewife of the marvels of gas or electricity over that hot and labor intensive wood fired beast over in the corner.

Salesman samples should not be confused with the small electric toy kitchen ranges that actually work that are constantly offered as salesman samples on eBay or in shops. These small electric toy stoves are often operable and many are enameled. They are nicely made, but are toys and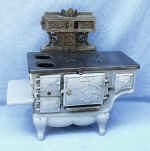 not salesman samples. I have seen these offered for sale for several thousand dollars and seen others still sitting on the shelf for a couple hundred. They sell for even less when offered on eBay, but that does not stop the offers I receive to pay $1000 or more for something I can buy for $100 or so if I wanted.

I especially like examples of early cook stoves that have enamel or graniteware exteriors. Larger and well detailed stoves such as The Majestic, Karr, or the US that I have pictured in the top corner of this page are examples. Just to the right is another interesting stove, an enameled Baby. This is a relatively common toy stove in plain cast iron or nickel finish and is a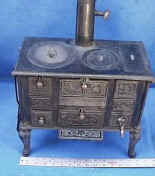 toy. This same design stove can be found with several different names on the door, but is rarely found enameled as this one is. It was made by Stevens and in general this style toy stove use to sell for 300 - 500 depending on the condition and details. Today similar stoves are selling for half or less on eBay.

Condition is critical to the value of these stoves, and those that are broken up or missing pieces are not worth what the one you saw on the Roadshow appraise at, or what you saw one bring on some other TV antique show. Speaking of current values, there is a book out by a fellow named Ford that has some great examples of these types of stoves pictured. It is a price guide, but when those values are compared to what most stoves are typically selling for today on eBay these days there are enormous disparities. Be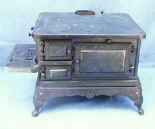 aware and do some research!!

The small cast iron stove on the left is French. It is nicely done, very detailed and quite ornate. This stove even has an enamel lined water tank on the far right. I was once told that these stoves were for actual use in apartments in France. I am not sure if that is true and find it hard to imagine as it measures just 12" or so high and only 20" across, but pieces like this have a nice look nonetheless and there are other similar stoves in the marketplace.

Some of the largest and most prolific makers of toy cast iron stoves were Stevens, Kenton, Hubley and a few others. Stoves with names like the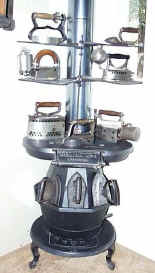 Baby, Royal, Queen, were made by these toy makers, while in general stoves with names like Buck's, Charter Oak, Detroit Stove Works, or others with actual company or stove works in their names were made by or for that company. But again, that does not necessarily make them salesman samples. On the right is an example of a stove that is very similar to its larger counterpart. It is marked Detroit Stove Works. I believe that it is just a toy or at best a display model and not a true salesman sample.

We also buy and sell small laundry stoves and /or different style sad iron heaters that went along with stoves to heat pressing irons with. We can also help you sell things like stove pipe trivets or mitten warmers like the one pictured on the right above the laundry stove pictured. In each of these categories there are many different varieties available, and we are interested in all legitimate and good condition pieces for inclusion to our sale pages on our sister site www.Patented-Antiques.com where we have numerous antiques from a host of categories available for sale as well.
If you have any similar small antique stoves like those pictured here that are for sale, please contact us at AntiqBuyer@gmail.com and provide us with as many details as possible.
Fake & Reproduction Stoves
The most commonly seen or found NEW stoves are marked Crescent, Queen, Royal, Favorite, or Spark. In each instance there are legit old versions of these stoves. Some of these knockoffs have been being made for so long that the distinction is now being lost.

First, I do not consider a Crescent stove from the 60-70's to be "real" or legit. I consider it to be new, and a knockoff, fake, or reproduction. That is what it is. You might not think that and that is fine. There are people who believe the earth is flat and that dinosaurs and man roamed the earth at the same time and that is fine as well, but that idea should not be foisted upon others as fact, or used to deceive another when presenting it for sale or seeking info.

Provenance of I bought it from an 80 year old XX years ago is meaningless. Same with Grandma owned it unless you yourself are approaching 100 years old. Show me a vintage photograph of Grammie with it in the playhouse and you will have something. Or the receipt dated 188X, or ------ . I bought the fake Favorite pictured just below from a 90 year old and she had owned it for 30 years. It is still a fake.

These new stoves have flooded the market and are always offered up as the real thing on eBay, the Internet, and in the group "antique" shops all over the country. Well over 90% of what you see offered on eBay in the way of small stoves are new or reproductions, and yet they are usually being offered as salesman samples or vintage antiques by the dealers proudly displaying them. Most notably and frequently seen are the many different versions of Crescent, a couple different versions of the Favorite, and the pot-bellied Spark. I will speak about just one here.
This "Favorite" Cast Iron Stove is a Reproduction:
On the left I have pictured a newer Favorite stove, and even though this particular stove is at least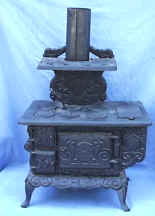 30 years old, was bought by an old person, from an old person, it is a fake nonetheless. I have heard this version was made in Mexico in the 60's -70's. It was actually a pretty well done example, but is a fake nonetheless.

Perhaps it has a place in the decorator's scheme, but when sold, it should be offered for what it is and at a price that reflects that. They typically sell for around $200 on eBay. The latest fake version of the Favorite Stove (not shown) must be from the Far East or China and the molds done off of one of these earlier remakes. The newest version is so rough and poorly cast that you can hardly read the name in the front door. They are also put together with Phillips head screws and the stove lids are so poorly done that no question should remain as to their authenticity, and yet they are offered as real all the time.

I have seen numerous attempts to make these new stoves appear to be legit by changing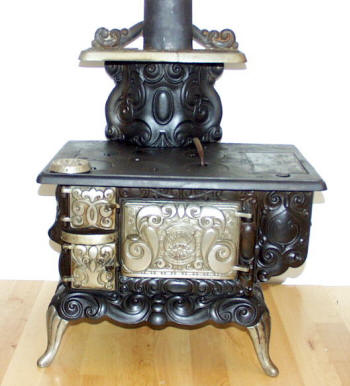 out screws or having the doors nickeled or replacing the top lids, but they still look horrible. I use to visit with a fellow who spent his later years in front of a TV with fake mini waffle irons in hand rubbing them with emery to improve the look. That was 30 some years ago, and he was making a living buying them for $5.00 and selling them for $50.00. They looked good when he was done, but they too were fake.

On the right is an original Dolly's Favorite Stove that these re-pops are fashioned after. Hopefully you can see the difference in the blow-up pic. The one other tell for the real Favorite stove is that none of the fakes are marked on the side panel Dolly's Favorite as this one is.
Note Concerning the market for small stoves


This is a market that has suffered greatly in the recent past. There are a number of reasons. In no particular order, and with little explanation, here is a list of why.
Serious old time collectors of stoves have passed, left the market and no longer buy or drive the market

Major old time dealers in them have passed, left the market and no longer buy or sell
Dealers priced themselves out of the market - The bubble burst
Tastes have changed and buyers would just as soon have a $40.00 fake as a $400.00 or 4,000.00 real stove
Fakes offered as real
Shipping Costs, breakage issues, non insurable or claims denied
Ebay
And More

Please contact me if you have an interesting or unusual small stove that you want to sell at AntiqBuyer@gmail.com as we are still interested in nice examples.
If you have additional questions about our consignment sales program please see the FAQ page or contact us.
To see examples of antiques including some small stoves that I currently have for sale please go to our sister site at www.Patented-Antiques.com and visit the numerous sale pages you will find there.
Thank you!!
Larry & Carole