We buy and can help sell Antique Telephones, Telegraph Equipment, Antique Office Equipment and Related Antiques!!
We deal in, buy and sell early & vintage telephones, antique telegraphy and telegraph keys, stock tickers and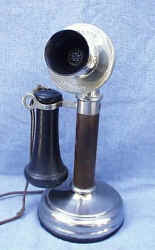 other collectible office related antiques. The types of antique telephones, vintage telegraph devices and office antiques we are interested in date from the mid 1800's up through about 1920 or so.

Please visit the other specific pages in the left column and the general Wanted to Buy Page on this site to see a general outline of the tool & technology related antiques that we deal in, buy, and can help you sell from our sister website www.Patented-Antiques.com.

Early telephones are becoming very difficult to find. Below are some examples of the types and styles of vintage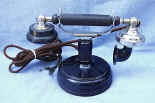 telephones that we sell. The first picture is of a typical Candlestick style phone that is often seen for sale in antique shops and at antique shows. This one is a Kellogg and is a bit different because of the nickel plating instead of being all black as the most common antique telephones of this style are. In this style of phone I am particularly interested in varieties with different shaped bases or handles, those with dials or buttons, or old telephones where the body has different shapes from the standard round tube seen here. I am also interested in buying just the handsets, and especially those with two external terminals to attach the individual wires to instead of the single hole for one wrapped wire as on the phone above. They can come in different lengths and any are considered good.

This next picture to the right is also of a Kellogg telephone that is styled like many foreign telephones that you see from France, Germany, and parts of Eastern Europe. I am buying all early American phones from the well known makers such as Kellogg and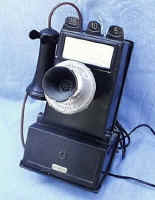 Western Electric and am even more interested in ealier and more obscure makers such as Stromberg Carlson, Westinghouse, American Bell, Ericsson and a host of others.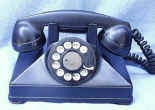 We are also interested in early pay phones like the one pictured on the left. This style of phone is probably from the 20's or so and these also come in an array of different styles and designs by different makers and I would be interested in any pay phone from this era or before. I am also interested in some antique wooden wall mount telephones in nice original condition. The nicer and earlier the better. If you have one you want to sell I need to see a picture of it, and know the price in order to express any interest. I rarely buy later common examples like those typically seen offered for sale on eBay.
Antique Telegraph Keys & Telegraphy Related Antiques
Samuel Morse is given credit for being the first American to successfully utilize the idea of Telegraphy in America in 1838. Although the ideas for, and some implementation of the ideas behind telegraphy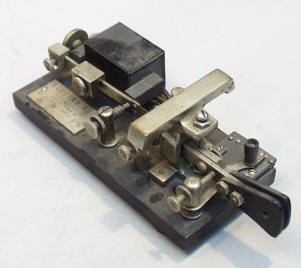 were being experimented with and developed elsewhere and earlier he was the driving force and most influential American name associated with its development

The idea was accepted and spread. The first trans-Atlantic cable was laid in the 1860's and wires had already been strung cross country. It was possible to communicate with people across far reaches, with the touch of a button. Progress.

The design changes and improvements made to the "button" or telegraph key are what I am interested in. The theory is pretty simple. You send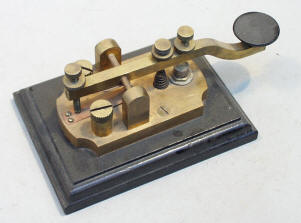 Morse Code over the wires by opening and closing an electric circuit. But like most ideas there was room for improvement and new designs, and the process is still continuing. In a sense email is just the latest type of telegraphy, but my interest stops a bit short of your last keyboard, and are more focused on devices used to send Morse code in the 19th and early 20th century.

Telegraphy or antique telegraph keys come in many shapes and sizes, and there are a lot of early examples that have a great look and sense of design beyond the utilitarian thought of just interrupting the electrical circuit for an instant. Very early keys went through a series of design changes to meet the emerging technology, but given it was pretty simply just turning on and off a circuit, the design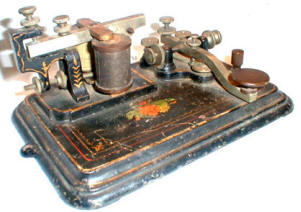 changes came to focus on or exhibit aspects of design and form for the aesthetic touch. Many early keys are known as Hump-backs or camel-backs and have a wonderfully graceful form that was lost with the later introduction of low profile keys that used flat stock for the bar that most common keys from after 1900 have.

Early telegraph keys usually were offered on wooden bases, but some had nicely decorated cast iron ones like the one just above. Another interesting design are what are known as travel keys. These came in small wooden, plastic or leatherette cases and could be taken on trips or the train which usually followed the wires or visa-versa.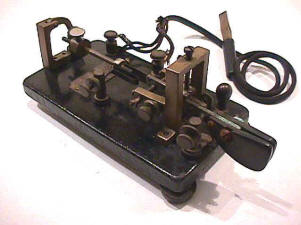 After that most changes had to do withy speed and trying increase it, and that is what designs like the Vibro-Plex and other modern speed keys are all about. I am looking to buy almost any style of antique telegraph keys or Morse Code senders as they are also known. Later keys like the Vibro-Plex or AtoZ or Electro-key from Fresno are all much later keys, but they have a place in the scheme of things and their design has changed considerably since their intial introduction.
If you have antique telephones or telegraph related antiques like telegraph keys that you want to sell, please contact us at AntiqBuyer@gmail.com with complete details and any written information that is on them, a picture of them if you can, and we will get back to you ASAP
Medical / Quack
On this page we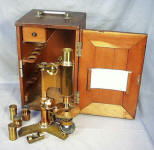 will discuss & describe w/ picture some of the quality scientific and technology related antiques that we are always interested in buying and / or can help you sell. This includes tools and technology related antiques that originate from the home, shop, farm, laboratory or office.

Examples of scientific or medical related antiques that we seek would include early microscopes by makers such as Queen, Bausch & Lomb, Zentmayer, Powell, Beck, and a host of other lesser known names. Earlier examples with tripod or crow feet bases as shown above are more desirable and of special interest.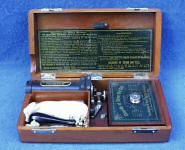 We are active dealers in a broad range of technological or scientific related antiques from many different categories in addition to patented antiques of a mechanical nature. A general outline of these additional types of antiques that we are interested in buying and can help you sell can also be found on this site's Wanted Page. Other specific scientific and technology related antiques that we typically deal in are covered in more detail on other pages at this site. Those page titles w/ links are in the left column while past sales price results in different categories can be found in the right column.

We also deal in and sell quack medical devices, as well as many other types of early office antiques and technology from near the turn of
the century or before. On the right is a Battery Quack machine that was touted to cure all your ills through the use of electrical shock. There are many variations on the theme of these devices, and we are interested in many early versions of these devices that are in nice condition. Many look like things found in chiropractors offices today. From Violet ray or electric wands from the 20's to what modern day chiropractors use on patients now. The
desire to incorporate the latest technologies into everyday life never ceases and it seems they are always on the cutting edge or fringe anyway. I had a neighbor tell me they now perform their magic without ever even touching you, just using machines emitting powerful curative rays and computers these days. Probably in an attempt to limit liability.

We are also interested in early surgical kits and surgical tools from before the process of sterilization was introduced after the Civil War. These surgery or amputation sets would have ebony or ivory handles and oftentimes came as sets in fitted wooden boxes. We are also interested in buying and can also help you sell things like early hearing aids, stethoscopes, and other medical related antiques.
And More Technology Related Antiques
We are also interested in Globes, Orreries,
Tellurium's, Planetaria and other related planetary devices associated with Astronomy and the universe.
We are also looking for the missing link related to evolution so we can put that argument to rest. Or definitive proof that the world is indeed flat and that the moon is only 90 miles away so we can continue believing and stop questioning what is so obvious.
Another category of scientific related antiques that we typically buy are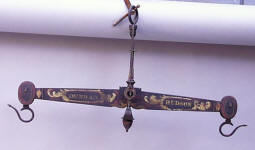 scales. We buy scales used to weigh just about anything. Those for eggs, or for weighing gold, to more refined and precise scales that assayers weighing gold or persons in laboratories would use. We are also looking for one that weighs truth as it comes from the mouths of politicians or other speakers. We are about to submit an application for a patent on the one I have devised. It has a switch that makes the speaker spout the truth. That is all I can tell you for now, the rest is still secret.
If you can not tell, I have run out of things to say and am trying to get to the bottom of the page. Please bear with me a moment longer. We are almost there. Kind of like pulling teeth with something like the dental key shown here was meant to do. We buy antique tooth keys and other dental related antiques like this as well.
---
The antiques pictured are examples of the caliber, condition, and quality that we primarily deal in, seek to buy, and can help you sell.
If you have quality scientific related antiques similar to those that you see on this page that you want to sell, please contact us at AntiqBuyer@gmail.com providing me with as many details as possible.

To see examples of many other scientific related antiques I have sold in the past please go to the Past Sales Results Archive links in the right column.
To see examples of similar antiques that we currently have for sale please go to our sister site at www.Patented-Antiques.com and visit the numerous sale pages you will find there.