This is just a sample of the many antique Leveling tools & Inclinometer levels we have sold.
Click link to see other Past Sales Archive Pages on this Site.
We buy, or can help you sell quality Antiques in this category or others Contact Us.
Special Note Concerning Prices Seen Below:
Most prices seen reflect actual sale results from this website.
Prices seen span a long time and may not reflect current values. Some are selling for more, many now sell for less.
On other pieces you will see no price, or a price range, with or without an explanation. The reasons for that are discussed on the FAQ page.

Our current offering of Antiques for sale are at our sister Website Patented-Antiques.com.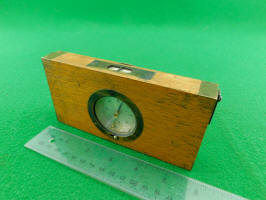 A. Lietz / M
. Attwood Clinometer Inclinometer / Level
This is an interesting Mining / Surveying related tool produced and sold by the A, Lietz Co. of San Francisco. These unusual surveying / mining related instruments came in 2 different forms, a metal bodied version, and this, the far rarer and more difficult to find wooden version. I could not find a patent for it or much other information using Google search. I could find no reference to or images of this wooden version, although I do know of one other in a collection.

They were primarily designed to be a pocket tool for use below ground in mines when doing shoring, timber layout and things of that nature. The ads found also tout their usefulness for above ground work. On one side is an inclinometer dial with the inventors name, Attwood and info about Lietz, the San Francisco maker and distributer. The clinometer scales are labeled "Fall of Angles" On the other side is a small compass w/ 2 1/2 inch needle. It also has little flip up sight vanes, and two good level vials that look to be original.

Mr. Attwood's invention appears in the 1899 A. Lietz Co. of San Francisco catalog billed as their #87 Attwood's Clinometer. It still appears in the 1911 catalog. The 1911 catalog and the entry can be viewed in Google books with a search for M. Attwood Clinometer. Reference can also be found in 1896 J. C. Sala Catalog so the idea for this tool had been around before Lietz offered their versions. The catalog description lists out all the different mining jobs it could be used for, as well as mentioning using it above ground for rough surveys. The cost back then was $15.00

The overall condition is Fine w/ no real apologies or issues. There are minor losses to the original finish. This combination mining tool / inclinometer / Clinometer / compass measures approx. 6 x 3 x 3/4". The level vials are good, and the sighting feature works as it should. The lock feature for the compass and inclinometer function correctly as well. Different.
Fine . . . . . $795.00 SOLD!!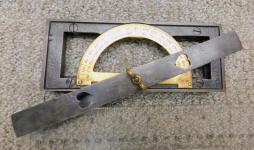 W.S. Batchelder Level - Inclinometer - Square Patented 1867 by G.L. Chamberlin
A rare combination inclinometer level & square. Patent info on the bar. Note the heart cutouts. Good vial. Nice!!
Good + . . . . . $495.00 SOLD!!

W. B. Melick "GRAVITY CLINOMETER"
This great looking unusual inclinometer / level was granted a patent on December 3, 1889. It was issued to St. Louis, Missouri inventor W.B. Melick. In addition to wooden models like this there are also metal mantle clock versions, and different styles of wooden ones as well.

This 30" wood-bodied inclinometer features a spring-activated dial inclinometer that can be stopped at specific measurements by a push button in the back of the tool. It operates well. There is lots of info inscribed on the face as shown in the pictures. The inclinometer face is very nice as is the cover plate. The overall condition of the wood body is very nice noting the branded initials on the front side. Different and Nice!!
Good + . . . . $275.00 SOLD!

Deck Inclinometer Level
This is a nice level in super original condition. . All of its corners are nice and the pointer is here.
Good . . . . . .$695.00 SOLD

Helb Patent Railroad Level
This classic inclinometer level has a great look, and is in nice condition.
Bottom . . . . . Good . . . . $225.00 SOLD
E. C. Durand 1893 Patent Combination Tool / Inclinometer / Level / Plumb / Indicator
This is a rare and unusual patented inclinometer / level. It measures 24" long and the body is made of walnut. It has seen little use and is in excellent condition with most of the original finish remaining. The card with the maker and patent info is nice. It functions smoothly and properly.

The patent was issued in 1893 to E. C. Durand of Wellington, Ohio for a "combination tool". The patent number is 496,300. The patent comes up in a Google patent search, and it is a good match to the "combination tool" described and pictured in the patent. It makes for a good read as he describes the construction and features.

As far as I have been able to determine this is the only known example of this unusual "combination tool" inclinometer / level to appear on the market. A Google search turns up no info on Mr. Durand or his invention. I looked through 10 years of auction catalogs that included a number of other rare and unusual inclinometers and levels but saw no other by this maker. I have never seen another in any of the collections I have seen nor could I learn anything more from other collectors and dealers I spoke with.. A rare opportunity. Highly recommended!
Fine + . . . . . . SOLD!!

Brooks Patent #26 Stanley Universal Plumb & Level / Inclinometer
This is a very rare and very nice condition level / inclinometer that was patented on August 29th 1854 by Lebbius Brooks of Great Falls New Hampshire. The patent number is 11,596 and you can view the patent drawings and write-up using Google. Stanley bought the rights to it, and offered it for sale from 1860 to 1865.

There are but a handful of these levels known, and it can be assumed that Stanley made just one limited production run of them after purchasing the rights to the patent, but after slow sales and little consumer interest dropped the line in favor of simpler and less expensive to produce designs that were better sellers.

Roger Smith wrote an article on these levels in the 1st edition of John Walters publication back in the 90's. It was written after the first one turned up years ago here in California and that collector communicated with Roger about it. . Since that time just a handful more have come to market or been found.

This example is different from, and has an additional feature that the patent does not discuss. It has two brass sighting peep holes attached on the top rail. that I have not seen in any of the other examples that I could find. The reprint of the Stanley Catalog i looked in also does not picture it or discuss it. These appear to be factory and original, and not an afterthought. The paper label instructions on the side make no reference to this feature either. It would seem that this is a rare and unique variation that was probably introduced to help with slow sales make make it more appealing to the prospective buyers.

The overall condition of this rare level is very nice. It is 28" long. The body of the level is made of a hard / heavy dark colored Mahogany. It is a 2 piece slab construction which is proper. There is some minor scuffing and dings in the wood as one would expect. The 3 x 5 paper instruction label is about 90% and readable for the most part. All of the level and plumb vials are full and appear to be original.

The Inclinometer feature is controlled by a bar running through the body to a pointer at the end. This bar is attached to the dial and has a trigger lock mechanism. If I understand the patent and instructions the idea is that he mechanism that will lock the dial in any given position to reflect the angle that was determined. In addition there is a screw release on the side to lock in a result This feature seems to function, but not through the entire range as far as I can determine from reading the instructions. The trigger works, and the dial is moveable a few degrees. I could not get it to turn through the full circle though if it is supposed to. The pointer at the end plate moves up and down, but not all the way in one direction if it is supposed to..

The brass end plate is inscribed with the patent date info and degree / slope charts. As can be seen in the pics these are clear and in fine condition. Reading the patent on line was interesting, Brooks description is very precise, if not complicated, and confusing. This was a very novel and unique idea Mr. Brooks had for his "bar" level as he called it and it is a great piece for the collection of early and rare levels or antique tools.

A rare opportunity. Highly recommended!
Fine . . . . . .SOLD

Union Gravity Level Co. 28" Level / Inclinometer
The condition of this tall Aluminum frame inclinometer / level is very nice. The brass face is marked with the patent info and the location it originated from, Sioux City Iowa. James T. Reed of Akron, Iowa, was issued the in 1923. The patent papers describe a rotating needle suspended by bearings in the glass cover plates, but the actual production model suspended the rotating pointers through a central brass disc on which the scales are engraved. A very nice and hard to find inclinometer / level.
Good + . . . .$395.00 SOLD!!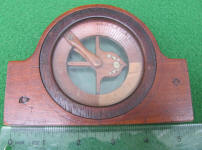 Primitive Wooden Level / Inclinometer
There is no maker name, patent dates or other info on this early and unusual inclinometer / level. It measures 5" across the bottom and is constructed of several different kinds of wood. It originated from Western PA, but there is little other info available about he maker or if this idea was ever submitted for a patent or not.

As can be seen in the different pics below, it is functional. It was carefully crafted of all wood parts by the maker, even the bracket to hold the rotating pointer. The maker balanced and added weight to the pointer by inserting tiny metal weights into the body. Looking at the scales on the back side (side w/o paper), one quadrant is marked off in degrees 0 - 90 degrees. The upper quadrant is marked off in digits from 2 - 24. On the front side, these two scales are repeated, with an additional one in paper on the bottom right. It is marked off in single increments then the increments get to be twice as fine from about 30 - 45 degrees, before returning to the original scale. I am not sure why. Also note the 4 pins in the body of the level. One high, one low, and not all the way through. That is one high on one side, and low on the same end on the other side. Sounds confusing, but just look at the positioning of the pins in the different pics.

A one of? Different and Nice!!
Good + . . . . .$695.00 SOLD!!

"Plumb - Level" Inclinometer Level Patented 1908 by Niels Jensen
This great looking unusual inclinometer / level was granted a patent on August 5 1890 to a Mr. Niels Jensen of Minneapolis Minnesota. The patent number is 433570 and it can be viewed using Google Patent search.

This 18" long inclinometer comes in its original felt lined box which did a super job of preserving it. It has a mahogany body with nickel plated top and bottom rails. The over condition is exceptional. This inclinometer / level features a small nickel plated plumb bob that swings and acts as pointer against the grade scale. It also has 2 level vials set up as a plumb and level. The pointer operates well and both bubbles are good. Over 95% of the original finish remains on the body of the inclinometer and the same for the nickeled rails and dial. The inclinometer face is very nice as is the cover plate. A rare and unusual inclinometer of which just a few are known. Different and Nice!!
Fine + . . . . . SOLD!
This is just a sample of the many antique tools, levels & inclinometers we have sold.
Click link to see other Past Sales Archive Pages on this Site.
We can help you sell quality Antiques Contact Us.

Our current offering of Antiques for sale are at our sister Website Patented-Antiques.com.
This website is Copyrighted
Larry & Carole Meeker