This is just a sample of the many Kitchen Related antiques we have sold.
Click link to see other Sales Archive Pages on this Site.
We Buy Quality Antiques
Contact Us at AntiqBuyer@gmail.com
Special Note Concerning Prices Seen Below:
Most prices seen reflect actual sale results from this website.
Prices seen span a long period of time and may not reflect current values. Some are selling for more, many now sell for less.
On some pieces you will see no price, or a price range, with or without an explanation. The reasons for that are discussed on the FAQ page.

Our current offering of Antiques for sale are at our sister Website Patented-Antiques.com.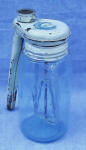 "The World" Water Powered Butter Churn
These churns were patented here in the US and offered mostly to third world countries in need of a butter churn that did not need to be plugged in. I think this was at a period before water was considered a resource to be preserved and not mindlessly poured down the drain. An odd idea that was not a big hit given the relative scarcity.
Good + . . . . .$125.00 SOLD!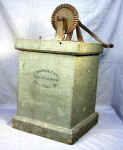 Portland Maine

Wooden Butter Churn
This is a great piece of Americana with great paint and in great condition.
Good + . . . . .$295.00 SOLD!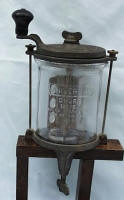 Landers Frary & Clark Universal #15 Glass Churn / Whipper
Examples of this small #15 size glass churn in the Landers, Frary and Clark line are few and far between. It is far less frequently found than their well-known clamp-on mayonnaise mixer, and it is much rarer than their hard-to-find #25 and #35 mid-size glass churns. And it is certainly much rarer than the popular Dazey 1 Qt. churn, or even Dazey's assorted size churns with their early horseshoe logo. If you are looking for a churn that truly is rare, the Universal #15 is the one. This example is the only one we have ever owned in this size. It has been in our own collection for a number of years, and we know of only one other. And it is in super condition, looking like it has seen very little use. The jar is excellent with no cracks or chips. The metal parts are free of corrosion and very clean. The embossed lettering on the jar and the cast lettering on the lid are bold and clear. It is marked "Pat. Applied For" as well as with the patent date of Oct. 1, 1915. You'll be proud to display this top-of-the-line churn!
Good + . . . . .$995.00 SOLD!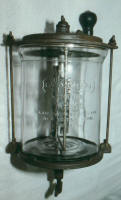 Landers Frary & Clark Universal #35 Glass Churn / Whipper
This is the largest size of this churn / mixer L F & C made.Nice!
Good + . . . . .$795.00 SOLD!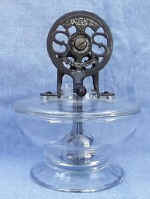 S & S Mayonnaise Maker Churn / Whipper
These are usually chipped and damaged. This example is as nice as one could ask for. Nice!
Good + . . . . .$395.00 SOLD!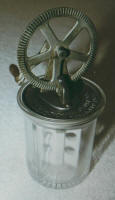 "Churn a Minute" Butter Churn / Whipper
Everyone had a better idea, or name for th
eir idea. This unusual churn is as nice as one could ask for. Nice!
Good + . . . . .$995.00 SOLD!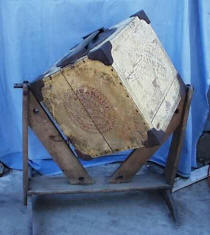 Cornish, Curtis & Greene Butter Churn
At first this antique churn's design looks like a crazy idea, but as soon as you start to spin it, you instantly realize that this fellow had come up with a winner. Because he hooked up his supports at opposing diagonal corners, this puppy revolves almost effortlessly because it is so out of balance. I have had square churns that were just mounted on opposing parallel sides, and they were slow, off balance, and not at all interesting to see in operation. This one on the other hand is super both in looks and action, and will be a highlight of the churn collection. The stencil and writing that remain attest to this fact, and it has info on several of the side panels about all the awards it won at the state fairs and such. I imagine that it won even more than these. I had a catalogue from this company last year, and it was really neat as this company made a full line of dairy and butter products, first for the farmers in Minnesota and later as they became famous for their superior products, for the dairy folks all over the country. This is the smallest #1 size, and I would estimate it at about 5 or 6 gallons. It is in overall good condition with the paint and stencil being very fragile and in need of a stabilizing treatment, but I am going to leave that to the next owner's taste. It is a winner, both in design and looks, and will become a great display piece in your collection!
Good + . . . . .$1295.00 SOLD!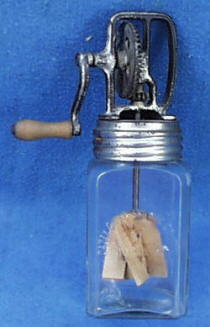 #10 Horseshoe Logo Dazey 1 Qt. Butter Churn
This churn is an example of Dazey's earliest model, the Horseshoe Logo churn. They came in at least 4 different configurations, and now with the fake ones floating about I suppose we should say 5. The top portion is undamaged and in pretty nice condition. It still retains much of its original silver finish and the previous owner has also applied a light coat of some sort of clear finish to further protect it. The wooden paddles are very nice. The rivets in the top and the area around them are very nice indeed, with no looseness or stress cracks. It looks real good and displays nicely. The glass jar is very nice with just the normal flakes at the rim from the way they cut it during the manufacture process.
Good + . . . . .$1495.00 SOLD!
Grey Granite Butter Churn
This is quite unusual in the scheme of thing. Minor damage to the lid, the rest is nice.
Good + . . . . .$1295.00 SOLD!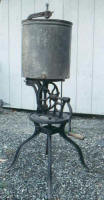 Cast Iron Base Gear Driven Butter Churn
This is an unusual churn. Found in an attic in upstate NY it was retired long before it wore out.
Good + . . . . .$495.00 SOLD!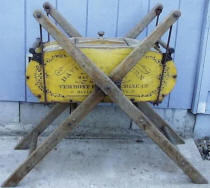 The Davis Swing Churn
This unusual antique butter churn was made in Bellows Falls, Vermont, and is straight out of a time period that most of us do not remember, and involves a process that most folks will soon have little understanding of. I have heard that butter is soon to be outlawed by the ever vigilant fat police. All kidding aside, what was it like to make butter in a contraption like this? Did the operator get to sit and read while doing it with this nearly effortless swing style churn which was one of the "improved and easy to use models"? And who got the job of cleaning it later? I wonder if questions like that were asked of the salesman way back then. This example is very nice, with lots of wonderful and original yellow paint and stenciling remaining. The frame and swing portion are all original, and in great condition. There is some slight fading and paint loss but that is typical and to be expected. It is probably about 8-10 gallons and is one of the smaller sizes of this make that I have ever seen. A great antique piece in original paint to decorate with in a family room or country kitchen!
Good + . . . . .$395.00 SOLD!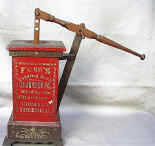 Salesman Sample Funk's Folding Dasher Churn
The condition is superb and is as if it was made yesterday it is so nice. I have never seen another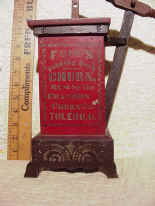 salesman sample churn, or many other salesman samples that are as nicely or as delicately made as this super piece. When I was offered this, at first I thought that's nice, thinking it was just another full size churn that was in very nice condition, but then I saw the ruler in the next picture and I got my nose closer to the screen to be sure I was seeing it right. It only measures about 12" tall by about 5" square. I am sure the price would have started going up. The design of the dasher which has the feature of folding open on the down stroke of the finely turned lever / arm, and then folds up on the up stroke to make it easier to lift with less drag. It hails from Toledo Ohio, but the inventor lived just north of there in Michigan near Sturgis and it had been passed down through the original family of the inventor / manufacturer for the last hundred years or so till now.
Good + . . . . .$2495.00 SOLD!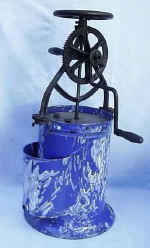 Patented American Blue Granite Churn
I bought this churn at a tool show in New Hampshire one early morning a number of years ago, demonstrating that things show up in the most unlikely of places. We have bought things out of category at the most unlikely of places, from gun shows to book shows to even quilt and home improvement shows. This churn is in super condition and still has remains of the paper label identifying it as American. It also has a patent date in the cast iron portion at the top. When most people initially see this churn they assume it is foreign, but that is not true. These granite butter churns were bringing record breaking sums of money for a while a few years back when I bought this, which was after the books on Graniteware had come out a number of years ago.
Good + . . . . .$1295.00 SOLD!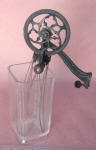 Keystone Wall Mount Mixer / Eggbeater w/ Jar
This a a hard to find variant of a wall mount mixer. The cast iron arm is marked with the patent info, and the phrase "Oil Me" The cast wheel says something to the effect that only qualified retailers can sell this. The jar is pretty nice. No chips at the top, and just minor flakes at the base. The wall bracket is included, and is a cast iron recast. Additional brackets offered below.
Good + . . . . .$175.00 SOLD!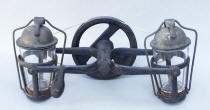 Patented Merry Go Round / Ferris Wheel Milkshake Mixer
This a a hard to find antique mixer. There are a couple different versions out there, marked and unmarked. It goes round and round and the cups go round and round at the same time. Most are found w/o the cup and lids. This one is complete. Very rare and very nice.
Good + . . . . .$1995.00 SOLD!
Dazey 1 Qt. #10 Butter Churn
As with all antiques, condition is paramount when determining the value of Dazey churns. Here is the churn that exemplifies and vividly illustrates that famous saying by E.C. Simmons that long after the price is forgotten, the quality remains. This rare 1 Qt. Dazey churn with the "horseshoe logo" is the nicest example of the earliest model that I have ever had or seen. It is in excellent original condition and there is no damage, flaws, rust or corrosion that would dissuade any collector. Look at all the original silvery finish on the top. The rivets are good, tight, and with no looseness or stress cracks, and hold the top tight to the bright, shiny lid. Observe the crisp condition of the interior of the lid in the picture I have provided. The jar's bottom is boldly marked with the number 10. The jar itself has no damage, cracks, or chips. It's rim has the characteristic roughness associated with these early model jars, which results from the way they were cut off from the mold. The wood paddles are excellent and appear to have never seen cream. These 1 Qt. Dazey churns are offered up on Internet auctions with regularity, but always in lesser condition, even when they claim them to be nice. That is not the case with this example, and I guarantee you will not be disappointed in the condition of this super piece!
Good + . . . . .$1395.00 SOLD!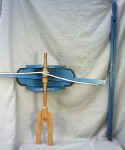 The Sanitary Patented 1912 Butter Churn
This bow and cord powered butter churn demonstrates antique alternative technology at it's most inventive! The inventor of this device must have dreaded the time consuming drudgery and monotony of turning a Dazey churn style crank, and the back-breaking up-and-down-for-half-an-hour method of a conventional dasher churn, so he decided to take advantage of the power of the lever, and the speed of a bow. The way this thing works is that you mount the colorful bracket to the wall and then loop a cord around the shaft of the dasher that hangs from the bracket. ( You provided the crock ) The end of the cord is connected to a lever, one pull of which produces a number of twirls of the dasher on the front swing and then the same number of twirls in the opposite direction on the back swing. Effortless and efficient if you could keep up.

We bought this piece as one of our very first purchases over the Internet, back in the days not that long ago when not everyone was watching and bidding. It wasn't long before it seemed not only us but the whole world had discovered eBay, and I bet if this were to come up for auction again the bidding would be a whole lot more competitive and the result a bit different. The condition of this vintage churn that dates from 1912 is spectacular---it has never been used and sports original blue paint and yellow stenciling with the patent information. We have the original paperwork that came with the churn which indicates the manufacturer was located in Stanton, VA and it also touts the benefits of this great labor-saver! Somehow I just don't think it was a marketing success as I have never seen another. The instructions also say that the main bracket affair makes for a great plant shelf when not in use. Marketing at its best!!
Good + . . . . .$495.00 SOLD!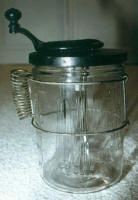 Jewel Butter Churn / Mixer
This is a very rare and hard to find mixer. They came in two different versions that I know of.
Good + . . . . .$795.00 SOLD!
Sylabub Churn
There are lots of variations of these early tinware mixers, and this is one that is not pictured in The Eggbeater Chronicles by Don Thornton. It is unusually large in diameter, measuring about 4 3/4" across. The dasher design is an interesting double-decker affair, and the container is flat bottomed. We could not find a patent date on this piece, but it is undoubtedly unique in design. The only apology is that a portion of the lip of the lid has deteriorated, but it is not noticeable when the lid is in place on the container.
Good + . . . . .$55.00 SOLD!
The Wonder Tin Syllabub Churn
This is a neat little antique tin mixer that was specially designed to make syllabub, a holiday dessert that was popular in the Southern United States in the last century and was made from a mixture of whole milk or cream, eggs, wine or cider, sugar or sweetener, and spiced with nutmeg and cinnamon. The design of this churn consists of an open ended cylinder, perforated around the bottom, and a plunger having a perforated double disk arrangement. The cylinder is stamped "The Wonder Cream Whip & Egg Beater Absolutely Unequaled". Nowadays these churns are found less and less frequently.
Good + . . . . .$75.00 SOLD!
This is just a sample of the many Kitchen Related antiques we have sold.
Click link to see other Sales Archive Pages on this Site.
We Buy Quality Antiques
Contact Us at AntiqBuyer@gmail.com
Our current offering of Antiques for sale are at our sister Website Patented-Antiques.com.
This website is Copyrighted
Larry & Carole Meeker