This is just a sample of the many Scientific & Electrical Related antiques we have sold.
Click link to see other Sales Archive Pages on this Site.
We Buy Quality Office & Scientific Related Antiques
Contact Us at AntiqBuyer@gmail.com
Special Note Concerning Prices Seen Below:
Most prices seen reflect actual sale results from this website.
Prices seen are relatively recent or pieces that have held their value and reflect what I believe to be current values.
On other pieces you will see no price, or a price range, with or without an explanation. The reasons for that are discussed on the FAQ page.

Our current offering of Antiques for saleare at our sister Website Patented-Antiques.com.
Trippensee Planetarium
The Trippensee Co. was formed just after the turn of the century and they made these for a number of years with some minor changes that allow dating them. Those with maple wooden parts like this one are considered first models. Later ones had ebonized wooden parts, and those made after WWII had plastic parts. This Trippensee Planetarium is in overall Good + original condition noting one small dent in the brass sun.

This tellurian by Trippensee is geared and chain driven. The earth is represented with a terrestrial globe that rotates at the end of the maple arm. The three-inch terrestrial globe was manufactured by Rand McNally and copyrighted 1891; it is also marked with the Trippensee name. There is a black-and-white painted wood representation of the moon that revolves around the earth when the long arm is moved. All of this is chain driven. The second small object that revolves around the sun is said to be a representation of Venus. I had to read about that as I did not remember from school the sun having its own moon.

The entire assembly is mounted on a turned maple post, mounted to the weighted brass base. It has a circular zodiac dial as well. The maker's label with the company name, location, and patent info is on the arm. There is also a small compass inset into the arm. When turned by hand using the small metal post under the arm, the earth moves around the sun, and the earth, moon and Venus rotate in unison. I am not sure if the 7000 year young Earther crowd accepts this representation as fact, or if Trippensee or some other outfit makes another version for them where the sun revolves around the earth. Same concept from the same source of information, or have we moved past that part of the idea?

In addition to the educational benefits tellurians offer, they are also decorative, entertaining and make for a great display piece. This fine early 20th century scientific teaching aid is very hard to find and will make for a great display piece today!
Good + . . . . . . . $1695.00 SOLD!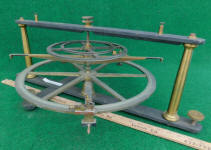 Zeitsinnapparat Scientific Psychological Recording Device by Spindler & Hoyer, Göttingen
It is a large and graphic instrument at over 28" across.

This unusual and large scientific apparatus was designed to measure & record optical and acoustic stimuli. There is an ID tag on one top arm with the manufacturers name Spindler & Hoyer, Göttingen. It dates from approx. 1900 and is German.

Descriptions online make this type if machine sound like a forerunner of the polygraph machine. Information also refers to its use in the study of time. There are numerous line drawings of similar devices using the word Zeitsinnapparat online that all lead to foreign or German sites. Here is a link to one of those German Scientific sites.

It is unclear how exactly it would work, but it seems it was meant to be driven by a motor and would be hooked up to a drum like recording machine similar to those used on steam indicators.

Very graphic, and an interesting and important part of the history of Psychological study. Nice!!
Good + . . . . . $400.00 SOLD!!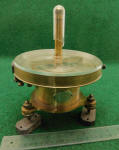 Lord Kelvin Multicellular Voltmeter - Galvanometer Sir William Thomson Patent #104 by J. White Glasgow
The body of the instrument retains nearly all of its original lacquer finish. (See pics). Nice overall cosmetic condition noting a crack in the top piece of glass w/ a bevel edge and the glass tube covering the pillar is also broken. I looked inside and there are a series of delicate vanes and wires. I did not go further or play around in there. Describing what it is or did is beyond my pay grade. I found an example in a Nebraska University collection with a complete write-up including history and operation.

Here is the link - https://www.unl.edu/physics/historical-scientific-instrument-gallery/electrostatics Very nice.
Good + . . . . . 495.00 SOLD!!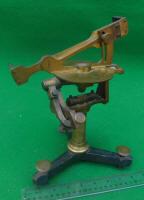 Frederick Yeiser 1859 Patent Altitude / Meridian Instrument
Frederick Yeiser of Lexington Kentucky was granted a patent for this unusual solar / meridian "altitude instrument" on February 8th 1859. The patent # is 22913 and is titled Altitude Instrument. In addition to this patent, which can be found on Google, Yeiser was granted at least two other patents having to do with the design of similar solar instruments and finding the meridian or altitude of the sun. The basic principle is much the same as how a sextant or octant was used for navigation over expanses of water, or as a Burt Patent Solar Instrument which was patented in the 1830's was used in surveying. This instruments basic design is similar with some notable differences. One of Yeiser's other patents was issued as an improvement to this one on August 9 1859 of the same year. That info can be bought up as well, but was trickier to find. The images for that improved patent more closely resemble this instrument.

After spending several hours bouncing around the internet I found a similar example of Yeiser's work in the Kentucky Historical Society Collection. That reference was hard to find as they called their piece a Theodolite and failed to mention the exact patent date. It is interesting to note that that instrument has a second maker name, being John S. Hougham, a known maker of Solar Compasses with an example of his work to be seen at the www.Surveyhistory.org site.

At another site I found info on several of his other inventions, but no further mention of, or examples of, instruments like this. Fredrick Yeiser was granted a number of other patents including a patent for a rail car coupler, an electric motor, and one for an improvement in eyeglasses or spectacles. Yeiser hailed from Danville KY near Lexington KY. Pictures of the original Yeiser homestead in Danville can also be found. It appears the family was quite well to do.

The overall condition of this rare solar instrument is exceptional. The base measures approx. 9" leg to keg of the tripod base. It stands approx. 10" tall. The dial on top is inscribed with the patentees name, Yeiser and the February 8th 1859 Patent date. It is also inscribed Sturm, Steffens & Co. Indianapolis Ind. who research reveals were the makers. They were an obscure Mathematical Instrument maker based in Indiana. I found a listing for them in an old pre Civil War directory which stated

"H. STURM. - C. W. STEFFENS - E. F. STEFFENS. STURM, STEFFENS & CO., MATHEMATICAL QPTICAL & PHILOSOPHICAL INSTRUMENT MAKERS, And Manufacturers of F. Yeiser's Patent Solar Chronometers, No. 8 BLACKFORD'S BUILDING, South-East corner Washington & Meridian Sts., INDIANAPOLIS, IND. All Kinds of Small Machinery, Models, neatly done."

A graphic and near unique museum quality piece that will be the highlight of any collection.
Fine . . . . . . $3750.00 SOLD!!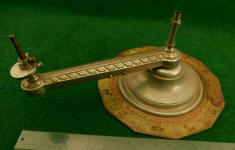 Andrews Tellurium Base for Trippensee or Terrestrial Globe
The bottom half anyway. This project / parts Tellurium Base dates from the 1870's - 1880's and is a pretty rare thing. You can find a few other examples with different setups online using Google. Some having the Sun, Earth and Moons others with just the Earth and moon. I found one listed for 12K, and another for 18K in its original box. Andrew is a well known and respected maker of Globes and other Planetarium related objects.

What is here is in pretty nice condition with most of the Zodiac panels clearly readable with good color still. There is some staining. The gearing to revolve the planets is present and works. What you see is what you get.
Good + . . . . . $675.00 SOLD!

Mercury Arc Rectifier Control Panel by General Electric
Pieces like this are only found in Museums, electrical related collections, and scrap yards. This one came from a collection but looks to have sat outside for a few years at some point before being saved. It looks to have been cleaned up and repainted. It looks pretty good. There is no bulb. These were developed to change AC power to DC. There is tons of info on the history, process, and pics of the bulbs, but very few of the actual machines or control panels like this can be seen or found. Opportunity.
Good . . . . . $800.00 SOLD!!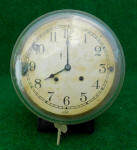 General Electric Type C-9 Explosion Proof Clock
This unusual GE clock looks and is built like a watt hour meter. Other similar but different examples in cast iron housings can be seen using Google but I read no definitive explanation for its purpose. There is a brass tag on the side stamped "N. L. & O. P. Co." that indicates it is probably from Niagara Lockport & Ontario Power Co. Not being a clock guy I can not tell you much more about who made the movement. The top comes off and it looks to be a well made heavy duty instrument. The key to wind it is present, but I have no idea if it works, or what, when, why or how the timer would be activated. Different!!
Fine . . . . . $95.00 SOLD!!
1880's-1900's Era Medical Doctor's Binaural Stethoscope
This 19th century stethoscope is in excellent condition. There are no cracks, breaks, or damage and the braided tubes are nice. I am not sure if the cone is wood or some early plastic material. Its threads are good. It is unmarked as to maker, but I have seen other near identical ones that were marked. Looking at the pics one can see that it breaks down easily with friction fits. An interesting and early piece of medical memorabilia.
Good + . . . . . . . $295.00 SOLD!!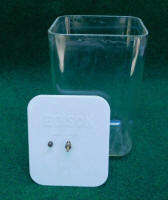 Thomas Edison Battery Jar
The porcelain lid is marked Edison Made in USA, the glass jar is unmarked. Some chipping at top rim as is typical. These early batteries were used to power a variety of things including early Edison fan motors. Nice!!
Good . . . . . . . $75.00 SOLD!!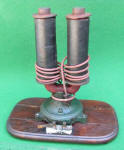 Electromagnet / Scientific Laboratory Electric Magnet
I am not sure of the primary function of this interesting looking electro magnetic device. It looks to date from the late 19th century or a bit later. It came from a private laboratory that experimented in light and radio waves back near the turn of the century. It has twin / dual copper wrapped coils that are marked on the tops + & -. The coils are mounted on a cast iron base that resembles ones on some early battery fans. The cast iron base has an opening in the side like it was meant to have a slide switch, but there is no evidence it ever had such a switch inside. It does have a simple kill switch mounted on the original board. I glued the original mounting board back together and replaced the mounting screws. I played with it for a while, plugged it into a Variac and ran it up to 100 volts or so and nothing happened. Not really sure what was supposed to. I see no damage other than the leads to the switch are now disconnected.
Good + . . . . . $140.00 SOLD!!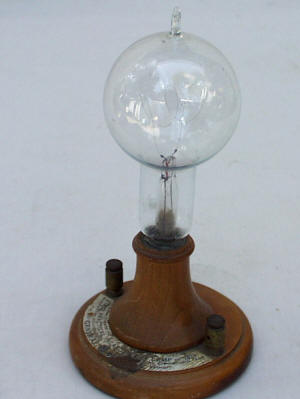 Edison Electric Light Bulb
Shortly after Thomas Edison introduced the first incandescent light bulb reproductions of them began appearing and have been offered for sale ever since. I have had them as late as the 80's coming out of museum shops, and heard of ones dating back to within 25 years of their introduction that were offered at different expositions back near the turn of the century. This one dates from the 1933 Worlds Fair.
Good . . . . . $195.00 SOLD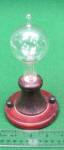 Thomas A. Edison Commemorative Replica Light Bulb
I assume you know the history of Edison and his light bulb and will not repeat that. There are thousands of links to that information on the internet. Within years of his discovery and its introduction onto the market, reproductions or replicas of Edison's light bulb were being made and sold at exhibitions, worlds fairs, and the like to commemorate its introduction in 1879. I have seen some dated as late as the 80's. I am not sure when this one dates from but it is an earlier model.. It is unmarked. The filament is still intact.
Good + . . . . . $125.00 SOLD!!
Thomas Edison Reproduction Light Bulb
Versions of this reproduction Edison Light bulb have been produced since shortly after their initial introduction back in the 1890's. I would guess this one dates from the WWII era or so. Could be earlier. One terminal cap is missing. Filament looks good, but it is untested.
Good + . . . . . . 50.00 SOLD!!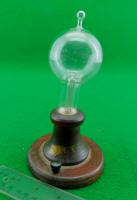 Thomas Edison Golden Jubilee 1929 50th Anniversary Reproduction Light Bulb w/ Original Shipping Box
This one has remains of a decal dating it to 1929 or the 50th anniversary of the introduction of Edison's game changing invention. The last 4 pics are of the original shipping box. Nice!!
Good + . . . . . . . $95.00 SOLD!!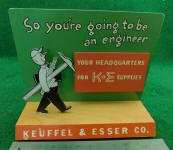 K & E Keuffel & Esser Point of Sale Countertop Display
Never seen this before. A bit different!! The perfect gift for the aspiring Engineer, Architect or K & E collector who has all the rest. Nice overall condition.
Good + . . . . . $25.00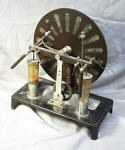 Wilmhurst Static Electricity Machine
This is a later example that might be found in a school or university lab. It needs attention to make it operable again.
Good . . . . . $295.00 SOLD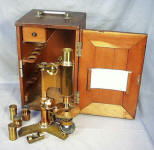 Early Crows Foot or Tripod Base Patented 1875 & 1886 Bausch & Lomb Microscope
This early paw foot microscope is in very nice condition overall. It is one of the first models that Bosch and Lomb put out before the turn of the century. It is fully operational and the optics are all good. Inside the box are 2 metal containers with 2 eye pieces, and in the second tray two lenses. Much of the original lacquer remains on the brass portions of this microscope and it just has some minor scratches. Both the fine adjust and the course adjustment features operate as they should, noting that the course wheel on the right side spins while the left side does the work. Note also that the condenser and the double mirror are independent and have the ability to swing back or forth independently of each other, and their settings are shown on the gage in the frame. The box, which appears to be Cherry is very nice overall as well, showing just some minor scuffs and dings. At the bottom on the front the door stands 1/2 off the table. I am not sure if this was a design feature or if a small piece is missing. These tripod base microscopes are hard to find, and this one will display very nicely.
Good . . . . . $995.00 SOLD
Early Ear, Nose, and Throat Quack Diagnostic Device
This is an early example the supposed diagnostic and curative power of light in the medical field. This device is NOS and shows no signs of even casual use. The directions talk about being able to diagnose most ailments with this as the white light it emits is so strong nothing can escape observation. This is the basic set for ear, nose, and throat, but if you were impressed they also offered a larger set with devices to help probe and examine all sorts of other orifices you might encounter in your quest to heal. Some of the light wands carry 2 different patents, one from the teens, and the other from the 20's which is when I believe this dates from. Have you seen the stuff the modern day ones have in their offices that rival this that hum when they get to the right spot. Never you mind where it actually hurts.
Good . . . . . $225.00 SOLD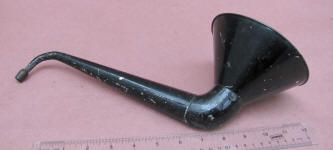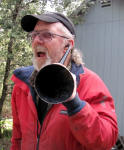 Antique Tin Hearing Aid
Heh - - Whud ya say?
Good . . . . . $95.00 SOLD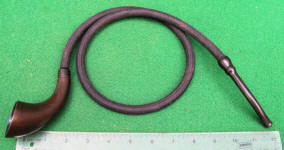 Antique Gutta Percha Hearing Aid
The ends are a hard plastic material and damage or crack free. The cloth tube is in great condition. These sorts of things were sold from the back of magazines and the like back near the turn of the century.
Good . . . . . $125.00 SOLD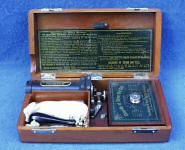 Battery Powered Medical Quack Device
These devices came in many sizes and shapes and were first introduced when electricity was looking for ways to be used that would be beneficial. It was a relatively new technology and little was understood about its actual properties especially in relation to how it might affect humans. What better use than to charge up the system and so a whole new line of medicine was introduced. This example is in like new condition, and either the buyer didnt like the feeling, or passed before it could work its magic.
Good . . . . . $125.00 SOLD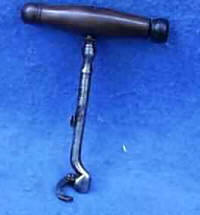 Dentists Tooth Key
These early dental tools are called tooth keys and came in many different sizes and shapes. They work kind of like a basin wrench to undo plumbing pipes under the sink where there is not a lot of room and are hard to get at. Sort of like in the prospective patients mouth. To use you would latch the swinging arm around the bad tooth and twist till it locked on, and then twist more and pull in one motion till the tooth came out. This example has the unusual feature of a root extractor built into one end of the handle if the initial exraction did not work out just right. .
Good . . . . . $495.00 SOLD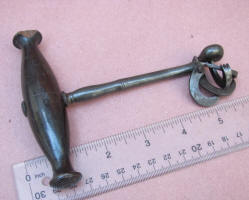 Dental Key w/ 4 Different Jaws
Dentist dental keys were designed much like a basin wrench to get at those hard to reach nuts under a sink. Dental Keys or tooth extractors worked on the same principle. Latch the swivel jaw around the tooth, somehow, give a bit of a twist in the right direction to tighten it up, and then pull down hoping it does not slip, or crack and break the tooth. Fast and no doubt painful, but what were the choices? Oh my goodness that must have hurt before the days of Novocain.

This one has 4 different jaws with different sizes or radiuses to fit all the many different sizes and shapes of the patients teeth. They are usually found with just one. There is a small chip out of the rosewood handle but it is otherwise in fine condition. No wonder people fear dentists, it is probably a genetic fear instilled in their genes after their earlier relatives subjected themselves to this treatment.
Good + . . . . . $295.00 SOLD!!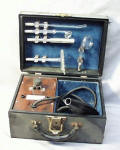 Violet Ray Electrical Quack Device
These unusual devices came in a number of sizes with different amount of wands to be used on different areas of the body. This one has 5 different wands and all are operable. I have seen sets with just one, and others with 25 or more different sizes for the patient with multiple problems. Sets about this size seem to be the most commonly found
. There is a dial like rheostat adjuster to control the amount of juice, and set at its highest the flow of brilliant blue light travels about 2" to the body part and is uncomfortable. Toned down it does not hurt at all, and I can imagine how the customer / patient could be convinced it would be beneficial. The last time I went to a Chiropractor he pulled out something similar and spoke glowingly about its benefits.
Good . . . . . $250.00 SOLD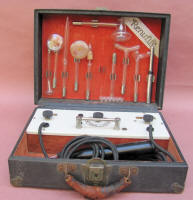 Renu-Life Violet Ray Magical Cure-All
This electrical quack device probably dates from the 20's or so. If you have never seen or tried one you would be impressed by the show it puts on and the feeling it gives off when used. I guarantee you would feel different after a treatment or two as well. Whether or not it will cure you of anything is another question.

It would seem all that tried and felt it did not whip out the money to buy one as they are actually quite hard to find these days. Probably because the operator turned it up to high and it hurt more than it helped. It has that potential, and I can testify to that. This is actually a super deluxe model with more wands and probe than usual, and more adjustments than you usually find in the entry level model. Simple models came with just a couple wands, while I have seen deluxe models with over 20 also different wands.

There are attachments in this one for all different parts of the body. a comb for the hair / scalp, one that will wrap right around your finger. A curve for the knee or elbow. A couple that look like probes of some sort, and we will let you use your imagination for where to use those. There is one that seems to have blown up as well. It also has two settings for intensity and type of ray or power. Probably explained in full in the instructions, but I can guess that negative ions for one type of ailment, and positive for another.

Oh, it does work, and is operational if the one you were using has finally given it up and you do not want one of the new versions being sold on eBay. As with the slogan no new ideas, it seems old ideas never die either.
Good + . . . . . $175.00 SOLD!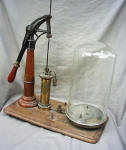 Laboratory Vacuum Jar
These were used to see how things did when subjected to a vacuum. You created that by putting the piece under the glass and then pumping the air out of the enclosure. Think of it kind of like watching TV and then getting stuck on one channel like Fox. Hence the phrase living in a vacuum.
Good . . . . . $395.00 SOLD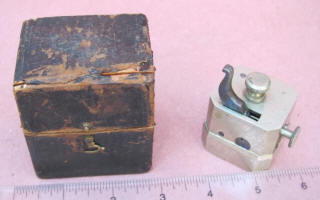 French 12 Blade Blood Letting Scarificator w/ Box
The idea of intentional bleeding to let the bad blood out was an accepted and common practice in the the 19th century and earlier. This 12 blade blood letting device known as a Scarificator is in very fine working condition and includes the box. The box top is detached, but it is otherwise OK. Finding these with a box is a real bonus as they are very fragile and hard to find.

To operate you pull the top lever back 2 clicks. At the first click the blades appear, and all 12 are here, clean, sharp and ready. The second click retracts the blades and cocks it. You can adjust the depth of cut by turning the thumbscrew on top. Put it up against the skin, usually an extremity such as the foot, push the button on the side and it releases blades quickly to puncture the skin creating a path for all the bad blood to escape, and to promote health. Thank goodness we have pharmaceuticals and pills to cure our ills today. A nice early piece of medical technology.
Fine . . . . . $295.00 SOLD!!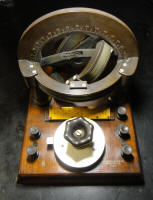 Hartmann & Braun A.G. No. 180 Circular Rotating Coils
This interesting piece is marked Hartmann & Braun A.G. No. 180. It measures 13.5" x 10" x 10" I am not sure of the exact purpose or use, but if you have AC current in one coil, a current will be induced in the other coil: causing it to act as a transformer. When you change the angle of the coils the coupling between the coils will change and the second coil current will change. I have seen similar devices used as tuners on crystal radio sets, but much smaller than this. Very Graphic.
Excellent. . . . . $495.00 SOLD!!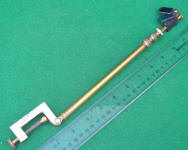 Camera Lucida Right Angle Prism w/ Sun Shades on Telescoping Brass Holder
This device has a jointed clamp on the bottom to mount it to a table or other shelf. The top is also jointed so it can be set into different positions. It is unmarked. It has the ability to telescope out to be longer at two joints. Different!!
Good + . . . . . . $125.00 SOLD!!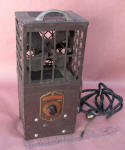 Vintage Electric Ozone Generator
No new ideas. Those in the know have been peddling these sort of things since the discovery of electricity and the smells it use to give off when properly, or not set up. This example looks to date from the 30's or so. Different!!
Good + . . . . . . $95.00 SOLD!!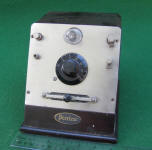 Peerless Crystal Radio Set
The cosmetic condition is super. The instruction sheet is still present on the back. Very Nice!!
Different!!
Good + . . . . . . $195.00 SOLD!!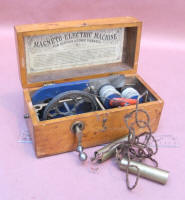 "Magneto - Electric Machine" Quack Machine
This electrical quack device dates from before the turn of the century. It is the earlier version w/ cast wheel w/ curved spokes. Later models had stamped brass gears. Some of these are marked Davis - Kidder, and others with other names. I do not see any name on this one on the instructions in the lid. This is one of many ideas for the use of the relatively newly discovered energy source electricity. Machines based on the use of electricity to cure what ails you are still being "developed" and foisted upon the public. The literature and marketing are slicker, and the claims no less spectacular. Just visit you local Chiropractor for a present day treatment using the same idea..
Good + . . . . . $175.00 SOLD!!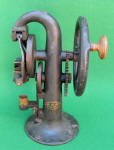 Arthur Colton Pharmaceutical Machinery Toothpaste / Paint Tube Closing Machine
It took me over an hour to figure out just what this was. It is the machine that would fold and crimp the end of metal tubes that held toothpaste or paint. Figuring out that the Arthur Colton Company made pharmaceutical machinery was quick and easy. Figured out this was probably a tube closer pretty soon after that, but it took a couple hours more to find an example pictured and advertised in an old c. 1909 pharmaceutical / dental magazine. In looking around I see they still sell tubes to be filled in case you want to go into business with some secret formula, but this would probably go better in the Country Store / Drug Store type museum / set-up / display. It works fine with the jaws opening and closing, in sync with the bottom tube moving up and down when it should. A neat piece!!
Good + . . . . . $295.00 SOLD!!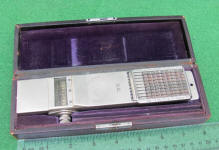 The Rapid Computer Co. Chicago Adding Machine / Patented 1892
A fellow named Landin was granted a patent for this style chain drive adding machine in 1892. Production moved around, first in Minneapolis MN, then to Benton Harbor MI and then Germany. The serial # on this one is 5590. There is a write-up and history on this style calculator on the site http://history-computer.com

There is no mention there, or at the other antique office machine site with info about these adders being produced in Chicago as this one indicates. Even more unusual is the fact that this one is stamped on both the machine and the box that it came from Harvard University. The condition is very nice and it is operable. The box shows some wear but is pretty nice as well. A piece of history.
Fine . . . . . $225.00 SOLD!!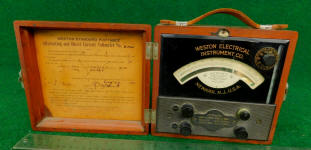 Weston Standard Portable Direct & Alternating Current Volt Meter
This Weston Volt Meter is in fine condition. The label inside the lid indicates it we put into service in 1912. The case is marked with 3 patent dates from the 1890s. Very nice.
Good +. . . . . 50.00 SOLD!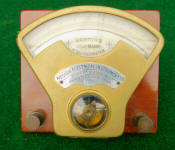 Weston Direct Reading Milli Voltmeter
This early Weston Milli Voltmeter is in fine condition. There is a tag calling off a 1888 patent. It looks to be operable but has not been tested. Very nice.
Fine . . . . . $45.00 SOLD!!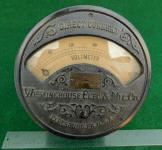 Westinghouse Direct Current Volt Meter
Everything seems to be OK. 9" Diameter. Cast iron housing. Great look. Very Nice!!
Fine . . . . . $75.00 SOLD!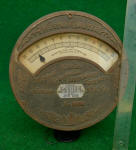 Weston Ammeter
The label says it is for the General Railway Signal Co. of Rochester NY. There are 15 patent dates on the small ID tag ranging from 1885 to 1901. Cast Iron housing, and approx. 9" dia. Nice.
Fine. . . . . $50.00 SOLD!!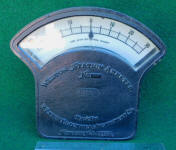 Weston Station Ammeter
A large and graphic meter in nice condition. It is approx. 9" across at the bottom and larger across the curved top. It stands a bit over 12" tall. The needle swings freely. The tag on the front has multiple patents from pre 1900. It has a light bulb socket on the back. Very nice.
Good + . . . . . 325.00 SOLD!!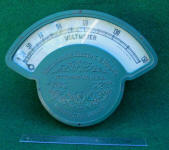 Westinghouse Electric Manufacturing Co. Alternating Current Voltmeter
A large and graphic volt meter in nice condition. It is approx. 14" across at the widest point across the curved top. It stands approx. 12" tall. The needle swings freely. There is a crack in the glass on the left side as shown in the pics. There are two flip out doors on the back for access to allow light bulbs to be screwed in. Very nice.
Good + . . . . . 350.00 SOLD!!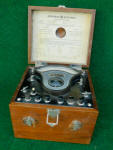 General Electric Watt Meter
This is a very nice condition meter. The date it was put into service was 1936. No leather handle. Clean, straight from the collection and ready for yours. Nice!!
Fine . . . . . $40.00 SOLD!!
Electro Dental Mfg. Co. Rheostat / Speed Control
Used to control speeds on this outfits line of dental drills or other similar applications. Nice.
Good +. . . . . $50.00 SOLD!!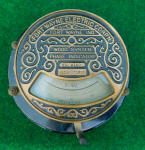 Fort Wayne Electric Corp. "Wood System" Phase Indicator
This is a beautiful meter for the collection. The condition is stunning. It is marked Pat Appd For. Note that it reads right to left. Different!!




Fine . . . . . $295.00 SOLD!!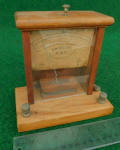 K & D Am-Meter
Everything seems to be OK. Wood case is nice. Great look. Has tag from early California Electric Supply Distributer Paul Seiler on back. Very Nice!!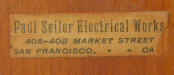 Fine . . . . . $40.00 SOLD!!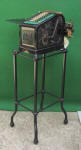 Burroughs Glass Side Adding Machine
Big and heavy. Cutting edge technology in its day. Carefully restored and operational. A neat piece!!
Good + . . . . . $195.00 SOLD!!
This is just a sample of the many Scientific Related antiques we have sold.
Click link to see other Sales Archive Pages on this Site.
We Buy Quality Office & Scientific Related Antiques
Contact Us at AntiqBuyer@gmail.com
Our current offering of Antiques for sale are at our sister Website Patented-Antiques.com.
This website is Copyrighted
Larry & Carole Meeker