Antique Figural Sewing Clamps
Past Sales Archive
Very Good ++ . . . . .$1495.00 SOLD!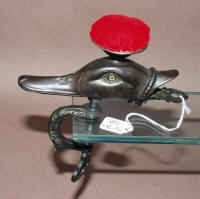 Cast Iron Mallard Duck Head Sewing Clamp with Pincushion
This antique sewing clamp stands just about 7" tall and the duck head is a bit over 6" long. The head is cast iron and every aspect is highly detailed right down to the glass eyes.

The spring is present, and it grips fabric well. The pincushion fabric is a red velvet that looks like it may have been replaced in the past. But it is not as bright as my picture came out. The bottom clamp is cast brass. A seldom seen sewing clamp that has great form, and will be a highlight of the display.
Very Good . . . . .$695.00 SOLD!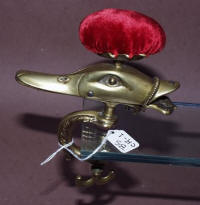 Cast Brass Mallard Duck Head Sewing Clamp with Pincushion
This antique sewing clamp is similar to the cast iron one above. It is cast brass and has a few other subtle differences. It is not just a copy or recast of that version. It stands just about 7" tall but the duck head is only 5" long. The inside of the mouth is pebbled-like to create a gripping surface and from what I remember very much like a ducks tongue, or like a cats tongue if you have ever felt that. The spring is good, and it grips fabric well.

The holder for the pincushion has a series of holes along the edge to help with attaching the fabric---a nice design touch. The pincushion fabric is a red velvet that looks like it may have been replaced. This type of sewing clamp dates from the mid to late 19th century and is a great example of how the design and art of these devices evolved from simple utilitarian devices to pieces of art. A wonderful example of a great figural sewing clamp.
Very Good . . . . .$795.00 SOLD!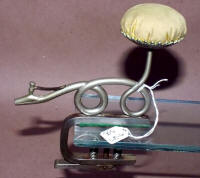 Curly Cue Snake Sewing Clamp w/ Pincushion
This antique figural sewing clamp has a great double curly-cue shape. It is very graphic and obviously represents a snake.

The design of the spring loaded head / clamp is very different from the norm and works fine. The spring loaded mounting clamp is also completely different from what is typically encountered. You pull down on the spring loaded lever to open the jaws and it self-clamps into place. It is an interesting design I have never seen used on a sewing clamp before. The pincushion has decorative tucks that look to have been purposefully done to help create a look of petals or leaves.

This antique snake form sewing clamp stands just about 7" tall and the tailed snake including the double loops is about 6" long . This sewing clamp has a great look and is a unique one of a kind creation that will display very well and be a highlight of the different forms you can find.
Very Good . . . . .$895.00 SOLD!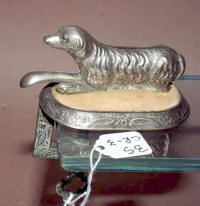 Reclining Dog / Irish Setter Figural Sewing Clamp w/ Pincushion
This is only the third one of these unusual figural sewing clamps I have had in over 25 years of dealing in antiques and sewing birds / figural clamps and other sewing accessories. I have seen just a few others in all that time offered for sale. A rare bird, or dog in this instance!

This figural sewing clamp has a great look, and great action. The dog is sitting on his bed, that doubles as a pincushion or work holder. You can open his mouth by pushing on the small lever between his feet. This portion works fine. It is approx 5" tall, and just over 3" long. My understanding is that it was made under the same patent as the commonly seen patent dated sewing birds, but that these alternative forms were not popular back then and few were made. It is not marked, but it is real, and a super rare piece, in super condition. Opportunity is scratching at the door.
Very Good + . . . . .$1595.00 SOLD!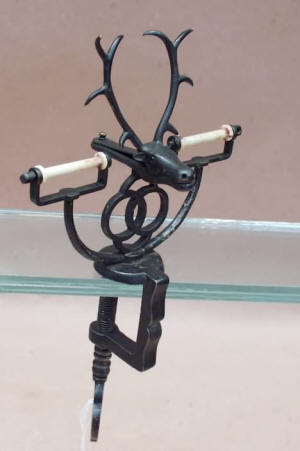 Figural Elk / Reindeer Sewing Clamp w/ 2 Spool Pins
This cast iron figural sewing clamp is a great piece of American folk art / Americana. It transcends the category of sewing accessories and figural sewing clamps and is one of the nicest figural pieces of folk art I have ever handled.

Look at the detail and construction of this rare piece. It is truly a wonder that it survived intact the last 100 + years. It is approx 9" tall, and just over 5" wide across the bone spool pins. It is a one of a kind unique piece and will be a highlight and topic of conversation of any collection.

A bit of provenance: I first bought this sewing clamp about 20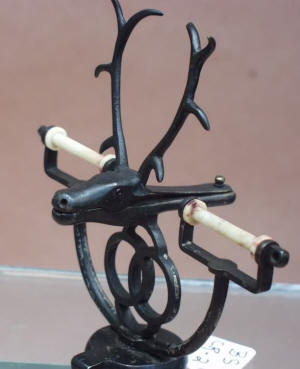 years ago at a farm and engine show in the Midwest. It was in a display case with a bunch of rare spark plugs and unusual wrenches. It was not for sale. It was on display. I was impressed but also concerned as I knew the present owner was going to arrive the next day and he would be on this like........ I spent 3-4 hours with the fellow who owned it trying to get it out of the case. He kept saying it was not for sale, it was on display. I kept asking why. Finally I changed my tune and I made him an offer I can not even remember the details of. It was substantial though, and he opened the case and handed it to me. I held on to it for 2-3 years and then traded it for another great piece (a pencil sharpener) that was not for sale from the same fellow who was to show up the next day. Now some 15 years later here it is again, and this time it has a price on it and trades are not an option. A reindeer---think of it as a gift from Santa if you need an excuse. A fleeting opportunity that will not repeat itself again for another 20 or more years if ever.
Excellent - Very Good + . . . . .$2995.00 SOLD!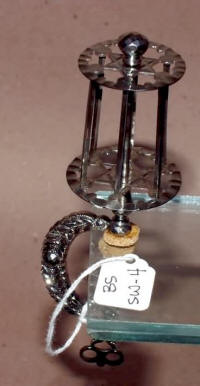 Cut Steel Thread Winder / Spool Sewing Clamp
Cut steel is a medium that originated in Europe and is thought to have been introduced as early as the 16th century. It has a great look, and it was mostly used for jewelry, pins, or buckles, and to find other objects in this medium is quite unusual. This antique thread winder is about 6" tall and has a wonderful faceted design of leaves on a vine with faceted and polished edges that shimmer and "glows" in the light. It is a wonderful example and displays very nicely.
Very Good . . . . .$395.00 SOLD!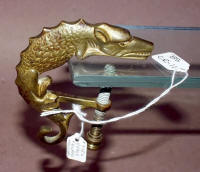 Cast Brass Figural Scaly Dog / Creature Sewing Clamp w/ Hook
This is a very interesting looking sewing clamp that has just the hook you see at the tail to use to hold the work---usually referred to as a netting hook. It is only about 4" tall and is a great casting. It looks like a mythical creature with a dog head and scales to me. It is otherwise unmarked. Interesting!
Very Good + . . . . .$325.00 SOLD!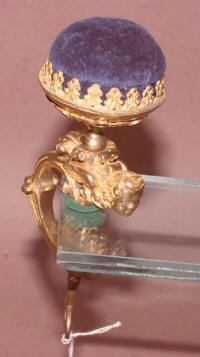 Antique Winged Cherub Gilded Brass Sewing Clamp Pincushion
Cherubs were a favorite theme of the Victorian era. This unusual brass sewing clamp has a beautiful winged cherub below the nicely decorated blue pincushion. The body is gilded and retains a lot of the original finish. Note there is a hole through the body that would allow a user to tie off an accessory or work. A nice added touch. It is about 6" tall, and the pin cushion about 2 1/4" diameter. A very nice piece of Victorian era workmanship!!
Very Good-Excellent . . . . .$395.00 SOLD!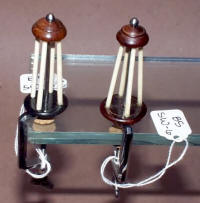 2 Polished Steel / Wood & Ivory Thread Winders / Spool Winders
These are very showy with their mix of materials and heart shaped thumb screws in the polished frames. Thread winders like this would date from the 19th century or before. These two examples are very nice.
Very Good . . . . .$195.00 / Pair SOLD!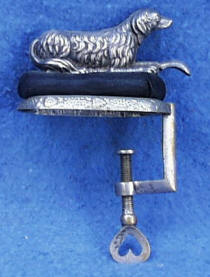 Figural Dog Sewing Clamp
The sewing clamp became the 19th century seamstress' third hand. Fastened to a work table, it acted as a vise of sorts to securely hold the fabric being worked, enabling it to be held taut while being hand-stitched. Manufacturers promoted the health-related benefits of these products, claiming they eliminating rounded shoulders and stooped backs while sewing, but clearly for the lady of comfortable means who could afford it, these needlework tools were pieces of art that were treasured symbols of status and were often given as tokens of love. Far rarer than the numerous variations of "sewing birds" were clamps in the shapes of animals and other mythological creatures. Undoubtedly the figural dog clamp is one of the most sought-after of all the figural needlework clamps, and this puppy has been my personal favorite for years! The body of this example displays fine nickel-over-brass patina as well as excellent detail. The black silk fabric pincushion cover has been replaced, with the cushion itself being original. If you are a collector of antique needlework tools, this is the piece that will put you in the top of your class!
Very Good. . . . .$1295.00 SOLD!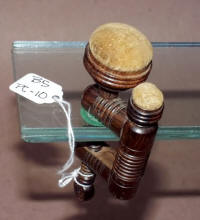 Antique Rosewood Sewing Clamp Pincushion
This is a very nice pin cushion sewing clamp. The condition is super, and the pincushion is original. It is turned rosewood or other exotic dark hardwood and dates from the late 19th century. A nice piece.
Excellent . . . . .$175.00 SOLD!
Very Good . . . . .$195.00 SOLD!!
Excellent . . . . . .$325.00 SOLD!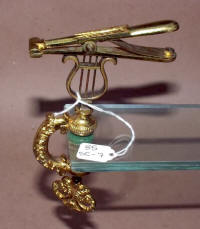 Antique Brass Stylized Sewing Clamp
This is an unusual stylized sewing clamp. The base clamp is a well cast brass that has been gilded or finished with a high golden luster. On top of that is a decorative piece that looks like a shield. It is brass, but has aged and has a darker Patina than below. The top clamp is brass as well and the decoration on the top is an arrow with feathers engraved into the top. The spring to operate it is OK. It is a finely crafted and sturdy example that is about 7" tall. A very nice piece of mid 19th century to Victorian era workmanship!!
Excellent . . . . .$275.00 SOLD!
This is just a sample of the many antiques & collectibles we have sold.
Click link to see other Sales Archive Pages on this Site.
We Buy Quality Antiques
Contact Us at AntiqBuyer@gmail.com
Our current offering of Antiques for sale are at our sister Website Patented-Antiques.com.
This website is Copyrighted
Larry & Carole Meeker