Antique Anvils
Miniature & Salesman Sample Anvils
Antique Advertising Anvils
& Vintage Small Anvil Paperweights
I like genuine antique miniature antique anvils. "Real" or genuine antique examples are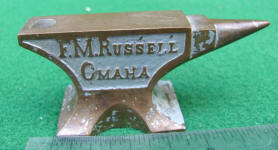 getting hard to find. There are far more new and reproduction miniature anvils on the market than there use to be. This fact has dampened interest and hurt this collectible in more ways than just the value. Just look at what is available on eBay and you will see what I mean. Hundreds of new and reproduction anvils can be found there. Many offered as vintage or antique using the definition of "older than some". Or no mention of age at all. It is sad. I still like and want to buy real ones though.

I am particularly interested in small antique anvils that have interesting characteristics such as raised or incised lettering, advertising, dates, or other info on the anvil. I especially like antique advertising anvils from old time 19th early 20th Century businesses or salesman sample anvils from actual anvil makers of full size anvils like Hay Budden, Fisher, Wright, and others.
I want anvils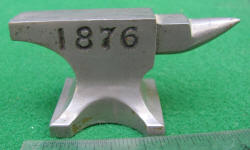 that have information or figural scenes and dates cast or impressed into the sides of the anvil. Typically these miniature anvils are about 4" or so long and a couple of inches tall. There are exceptions with both larger and smaller examples that are going to be of interest as well.

These small vintage anvils were made for a variety of reasons. Some mini antique anvils were given out or sold as souvenirs at the early Expositions that were once a large part of the American scene back in the late 1800's and into the early 1900's. Examples would be the Columbian Exposition, The San Francisco Expositions, the Chicago Worlds Fair and others.

Other anvils were sold as souvenirs at fairs or commemorative events like the one just above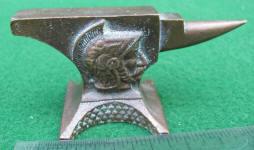 that has 1776 on one side and 1876 on the other, thus commemorating the first American Centennial.

Many companies that dealt with tools, forging, casting or with other iron products produced small anvils as advertising or as giveaways / paperweights for their customers. Some are very detailed and well done.

Some of these early anvils were made of the material that the company produced, like those that say they are made of babbit / lead, the material used for the bearings in large machines of that era. Other miniature anvils are made of brass, aluminum or copper, and can be found marked or not. Some are cast iron, and others are machined. Some are also plated.

Some vintage miniature anvils were made by individuals as gifts or remembrances, and well made examples of this type anvil are of interest. Many unmarked examples were made as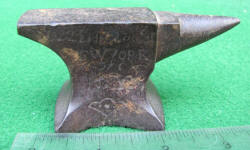 projects by students in machinist or tool making classes at vocational schools. Still others have been made from the scrap derived from famous buildings or ships that were demolished for one reason or another. I have had several over the years that claimed to be from the wreckage of the warship the Maine or other navel ships that were scrapped.

Other small anvils were made to be used by Jewelers or clockmakers and the like and some of these can be very nice as well. If you have any of the above mentioned small anvils you would like to sell please contact me. I sold my last little collection of them, and you can see a portion of that in the sales archive section of this site.
New Anvils
There are a flood of reproduction and new miniature anvils available these days.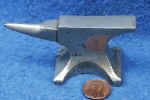 Some are nicely cast and well done by what I will call mechanics here in the US. They can sell for as much as antique anvils. Other lesser examples are coming from China, India or Pakistan in huge numbers and are a sign of the times. Some of these look OK, most are so poorly done it is sad. These include the new John Deere anvils found with raised letters, and others such as the Cal Poly anvil with the bear, or others from the same mold / factory.

There are examples of NEW anvils being sold right now on eBay of some of the best known original and valuable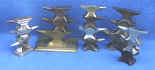 anvils, and they are, I assume, collectible in their own right given the money they sell for, but that is not what I am looking.

The small brass give-away anvils with the slogan about "Compliments of" or "To Forge our Friendship" stamped into the top that were popular giveaways in the 60's / 70's. These small anvils are very common and an example of the sort of miniature anvil worth little and are of minimal interest.
The miniature / salesman sample anvils pictured are an example of the caliber, condition and quality of these vintage anvils that we are interested in buying. To get a sense of values click the proper link, or go to eBay to see what they are currently selling for.
If you have quality antique or vintage mini anvils similar to those that you see on this page that you want to sell, please contact us at AntiqBuyer@gmail.com providing as many details as possible. Thank you!!

To see examples of antiques that we currently have for sale please go to our sister site at www.Patented-Antiques.com and visit the numerous sale pages you will find there.