We are the internet's most active Singer Featherweight Sewing Machine dealers, and we will buy or can help you sell your Singer 221 or 222 Featherweight! We have Singer Featherweight sewing machines available for sale on our sales site www.Patented-Antiques.com if you are looking to buy a Singer 221 now.
The Singer 221 "Featherweight" is the most popular sewing machine ever made that is still being widely used! Singer 221s - 222s were produced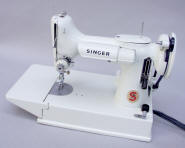 from the 1930's through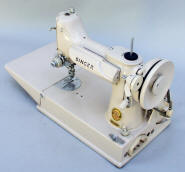 the 1970's, and these compact and lightweight portable electric sewing machines have become a favorite with today's quilters, crafters, fabric artisans, and vintage / antique sewing machine collectors. If you have ever sewn on one you will understand why!
As the demand for these machines has grown, so too has the information about the history of the machines that the Singer Sewing Machine Co. called their "Model 221" and "Model 222", and that collectors and users call "The Perfect Portable". Several books have been published about these popular sewing machines.
* * Singer Featherweight Facts * *
Singer Featherweights were made in the US, the UK, and Canada.

The difference between the 221's and the 222's is the "Freearm" feature of the 222's, which allows a portion of the flat surface to be removed leaving a tubular bed that allows for sewing around pant legs, sleeves, and other circular or limited access areas.

Freearm 222 Featherweights typically sell for two to three times more than a typical 221 Featherweight sewing machine.

Featherweights came in 3 basic colors with several variations---Black, White, and Tan.

Most black models have a shiny finish, however there was also a black matte or crinkle finish model produced for a short period of time during WWII, shown on the right, and it is very collectible and commands a premium price.

There are three other Singer Featherweight variations that are highly sought after and command premium prices, and these are referred to as the Expo models, produced in very limited quantities specifically for the Texas Centennial Exposition, the Chicago Century of Progress Exposition, and the San Francisco Golden Gate Exposition.

White Singer 221 models range in color from creamy white to ivory to "celery" or a pale green-white. Tan Singer 221 J models range from creamy beige to light brown. White and tan models tend to fluctuate in popularity so prices can be up and down, but typically they bring somewhat more than comparable condition black Featherweights.

Singer Featherweight sewing machines were never produced in red, blue, purple, raspberry or anything similar. Nor were they ever produced with floral decals or polka dots. These color machines that you periodically see offered up for sale on the Internet are machines that have been powder-coated / re-painted. Some people like them for their novelty, but they are not original or rare.

Singer 221 and 222 sewing machines came in a "leatherette" covered rectangular wooden carry case which make them "the perfect portable".

The serial number on the bottom of the machine can be used to figure out the approximate production date of the sewing machine. You can find dating charts on various internet sites, including Singer's own site. Although often referred to as the machine's "birth date" it is more accurately the date the production run for that series of machines was assigned.

Although the basic design of the Singer 221 sewing machine stayed the same over the years there were several variations in cosmetic appearance. Earlier machines had what collectors refer to as the Egyptian scrollwork pattern etched on the chrome plated endplate. Later machines had a striated or striped design faceplate. The pattern of the gold decal around the perimeter of the bed also went from a more circular scrollwork design to a more geometric linear pattern.

I sell most Singer 221 Featherweights in the $595-$750 and up price range from my sales page at www.Patented-Antiques.com The exact details of cosmetic condition are critical to the value. Machines that sew well but show loss to the gold decals, or scratches, or chipped paint sell at the lesser end of the range. Machines that are in close to pristine condition sell for upwards of $750. It's all in the details of condition, and even minor blemishes makes a huge difference in price. Singer model 222s and 221 machines that are unusual variations can sell for much, much more.
Featherweight Consignment Sales
* * * * * * * * * * * *
As experienced and enthusiastic dealers of Singer Featherweight sewing machines we are always interested in buying or helping you sell your Singer Featherweight machines through the Consignment Program we offer, typically for more than you would realize from selling in other venues.

* * * * * * * * * * * *
Most Featherweight buyers want to buy a machine from someone they trust, someone who has expertise, someone they can talk to before making the purchase, and someone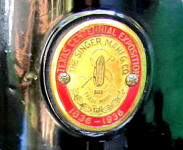 who will stand behind the sale. Many potential buyers do not like the anonymity the internet venues like Ebay, and for good reason, and this can hold prices down.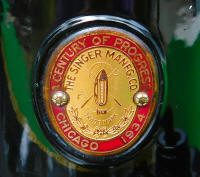 We service every Featherweight we sell and include a 1-year guarantee on every machine. When you partner up with us you get the benefit of our expertise, our reputation, and the benefits of dealing with a real person!


If you have a Featherweight 221 or 222 sewing machine in excellent condition, and most especially if you are looking to sell a Featherweight that is one of the desirable variations---the Century of Progress, Texas Exposition, or San Francisco Golden Gate Exposition models---we can achieve the highest value for your machine, and we make the entire process very easy for you.

For more information about consigning with us please visit our Singer Featherweight Information page at www.patented-antiques.com.

And click here to view some of our testimonials from happy Featherweight customers!
Please contact us at ilovefeatherweights@gmail.com .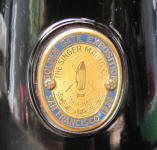 To see some of the many Singer Featherweight sewing machines that we have sold online, please go to our Singer Featherweight Archive Page on this site.


To see Singer Featherweights and other antique sewing machines that we currently have available for sale, please go to our sister site at www.Patented-Antiques.com


Thank you!!
Larry & Carole