To see examples of antique motors and related antiques that I currently have for sale please go to our sister site www.Patented-Antiques.com and visit the numerous sale pages you will find there. To view Past Sales Results for these antiques click the appropriate link to the right.
Early Electric Motors / Fans / Dynamos & More
Other scientific related antiques that we are interested in buying and can help you with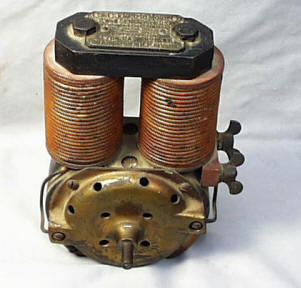 would include very early electrical devices such as pre 1900 electric motors and dynamos. These are oftentimes referred to as Open Frame or Bi-Polar motors. (see pic at left).While Edison fans are probably the best known early electrical device that is typically seen he was also instrumental in developing stand alone motors and dynamos. These ranged in size from as small as battery powered toy motors to dynamos large enough to power entire towns. See the past sale electric motor / dynamo archives to see an example of an Edison Long Leg Dynamo that dates from 1884. Water powered motors from this era are of interest as well. Toy size electric motors and dynamos have an info page found at this link.

Early electric and water powered fans of all types have their own page on this site. Past sale results for antique electric and water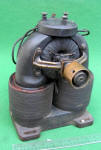 powered fans can be found at this link. We are also interested in any pre 1900 electrical devices such as demonstrator or open frame bi-polar motors antique dynamos, and generators, early telegraph keys and other telegraphy related pieces, early light bulbs, turn of the century or earlier electric appliances, and so forth. This would also include pre 1900 meters and gauges from before the turn of the last century. Any antique electrical devices by Edison, Western Electric, or that have the name Tesla associated with them would be of special interest as well.
We are full time experienced antique dealers who specialize in patented / mechanical & scientific related antiques as well as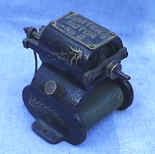 antique tools and technology. I can help you sell early examples of electrical technology ranging from early or vintage electric motors, antique electric fans, telegraphy and telegraph keys, medical quackery devices, all the way to vintage electric light bulbs, early electric meters and more.

On this page I will show you some pictures and provide you some general info to give you an idea of what we are interested in and can help you with. Basically, both full size and smaller toy size or miniature electric motors that date from near the turn of the last century or before are of special interest and most desirable. Full size bi polar or open frame electric motors, and antique fans are covered on their own pages on this site. Past sales results for all can be found through the links to the right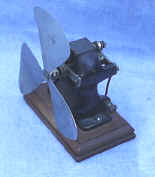 Most small vintage electric motors resemble early large electric motors from the same time period. They are referred to as open framed and or bi-polar in design. The first few miniature electric motors pictured stand about 3 or 4" tall. Some like the Porter Electric Motor on the left just above or the Manhattan electric motor came in graduated sizes up to 10 or 12" tall. They can be found with fan blades or not. Different versions sell for different amounts, but in general the values range from about $20 to $300 or sometimes more for these small toy motors.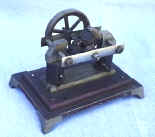 On the right is a common form battery powered electric motor from near the turn of the century. It has a label that says Ajax and can be found marked Hustler and a few other names. This one is a bit different because of the fan blade, but it is a common small electric motor none the less. Full size early electric motors and open framed or battery operated electric fans look similar but are much bigger.

Small electric motors that came with erector sets are pretty common as well. Toy Electric motors that came with toy steam engines like Weeden and Bing as shown here are similar in design, function, and a step better. They too came in graduated sizes and generally sell in the $100 - $300 range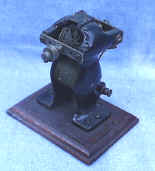 Just to the left is an example of an antique Weeden type toy electric motor. It has a cast iron base and a flywheel. It was most likely sold as part of a steam toy or as an electrical demonstrator. This type or style motor can be found in a variety of different sizes as well. The next picture is of an electric motor called the Manhattan, and this motor came in various sizes and configurations as well. The one pictured is one the smaller sizes available and was most likely sold as a simple demonstrator or toy, but larger sizes like the #3 size were sold as working battery powered fans in early novelty catalogs.
Early Toy Steam Engines
The next picture is of a common form of toy steam engine that was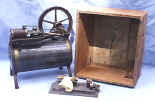 made by a number of different makers over the years. This particular one is called "The Pioneer" and was made or marketed by a fellow named Edgar Side of Philadelphia, PA. near the turn of the century. It is unusual in that it is in its box, and for the fact that it cost a whopping $15.00 back near the turn of the last century. It is a hard to find variation. Most toys from this era cost but a dollar or two including most child size sewing machines made for the girls of the day . Mr. Side must have been bought out by Weeden or some other maker as his toy steam engines are quite rare and hard to find but are almost exactly the same design as those offered by these larger better known makers in later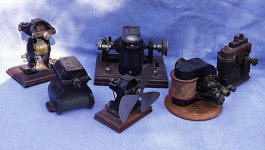 years. These can sell over a wide range from $100 or so to well over $2000 for rarer and more unusual variations.

Other makers of similar toys were Weeden, Bing, Jensen, and Plank to name a few. Some of the nicest and most detailed examples of toy steam engines were German and made in the 1880's and up to the first World War. Some of these toys in the form of boats trains and both vertical and horizontal steam engines can command prices into the 5 or even 6 figures.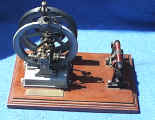 Just below I have also pictured a contemporary model of a slightly larger steam engine that is quite well done. These types of models are also available as kits and are really nice pieces of craftsmanship when finished properly. They are often sold at Christies or other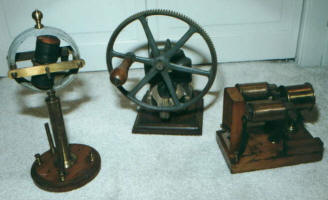 auction venues and identified as works of art. There are many similar but earlier examples that were shop built by skilled machinists, and many of these models are desirable and of interest as well. Another type of motor or generator found were used as demonstrators in classroom settings. Later examples are oftentimes found marked Central Scientific. They offered things like seen here as well as cutaway models of motors and engines.


These next couple of picture are of other small bi-polar and open frame electric motors of the vintage and form that I am actively seeking. Please contact me at AntiqBuyer@gmail.com if you know of or have similar pieces that are for sale.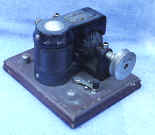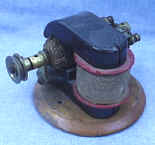 The electric and steam powered devices pictured are examples of the caliber, condition and quality of this type of antique that we can help you with. Past sales results can be found by clicking the appropriate link in the right column
To see examples of antique motors, fans, and electrical related antiques that I currently have for sale please go to our sister site at www.Patented-Antiques.com and visit the numerous sale pages you will find there.