Sewing Machine Consignment Sales
We are active, knowledgeable, and experienced dealers in rare and historically important American patented sewing machines. We specialize in pre 1870 machines and we are always interested in helping you sell "good" antique sewing machines through the Consignment Program we offer.

You are currently at www.AntiqBuyer.com, our antique buying and general information website about antiques and antique sewing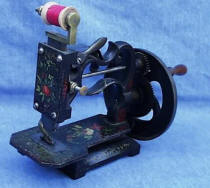 machines that we deal in. To see past sales results for the many rare, unusual full size and toy Antique Sewing Machines, and other antiques we have sold in the past click the relevant links in the right column. If you are looking for info on later more common sewing machines see the link at the bottom of this page

We conduct sales for antique and vintage sewing machines, including Singer Featherweight 221 and 222 sewing machines from our sister website www.Patented-Antiques.com. Please visit that site if you are in the market to buy antique sewing machines or a good 221 or 222 Singer Featherweight.

We have a separate Singer 221 informational page at this site as well.

Examples of Desirable Antique Sewing Machines
Below are a series of pictures that graphically illustrate some of the vintage and antique sewing machines we buy, sell, and deal in. What we aim to do on this page is to give you some pictures of, and information about the types of rare and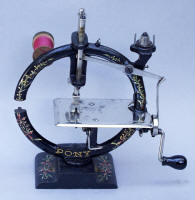 desirable vintage and antique sewing machines that we are seeking. Past sales results without values will be found on the sewing archive pages (Links on the right). Toy sewing machines are covered in detail on their own page linked on the left.

An important thing to understand about the development of the sewing machine is that there is a huge difference in the look, rarity, and values of sewing machines that were manufactured before the 1870's compared to those sewing machines that were manufactured after that time. At the bottom of the page we describe and illustrate those later sewing machines we are not interested in buying and can not help you with. Please be sure to see that information as well.
Hand-Held Style Sewing Machines
On the left is what is known as an American Hand scissors-style sewing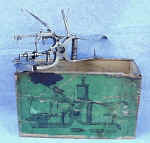 machine. Value for such a machine, depending on condition and other factors, can run from a couple hundred dollars to a couple thousand dollars. Other examples of this style sewing machine would be the Goodbody patent, Hendrick patent, and Beckwith sewing machines. The truth is this type of machine is similar to the products that are being sold on late night TV today. Cheap, basically unworkable, and gimmicky, but it is those features that make them great collectibles.

There were relatively few sewing machine manufacturers in the earliest years. Many different inventors / designers came up with novel designs to try and get a share of the growing market. By the 1880's though most of the innovative ideas had been introduced to the market. By the 1890's there were literally millions of sewing machines being produced by largest manufacturers and sold to every household in America. More information about these later more typical machines is below.
Although "later" (1880 and beyond) machines are "antique" in the sense of their age, they do not have the same historical significance or values as earlier models from the 1850's thru 1870's. For that reason our main focus is on buying and selling those earlier and rarer examples.
Some antique sewing machines, such as Wilcox & Gibbs and most Wheeler & Wilson sewing machines carry early patent dates but also carry much later patent dates and were produced well into the 19th and even 20th Century. They are bought by collectors and decorators, and their value is based more on their decorator appeal rather than on their historical significance. First model examples of both of these sewing machines can sell for several thousand dollars, while later examples sell for $100 to $1000 or so, depending on the details.
Clamp-On Style Sewing Machines
On the right is a Cute sewing machine. It is an 1870's patent and has an unusual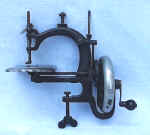 gearing mechanism. Note it also has an integral clamp. It's value, depending on circumstances and condition, can run from as little as a few hundred to a couple thousand. There were a number of other sewing machines that were small and portable with built in clamps, including one by Charles Parker, the Hardie patent, the various Hancock patent sewing machines, and others. All are desirable and collectible and examples of most can be seen in the sale archives linked in the right column..

We are primarily interested in helping you sell pre-1870 patented sewing machines, or sewing machines that are of a style that is distinctly different from the common look of most later "antique" sewing machines. If you have or know of an example of one of these earlier and different looking sewing machines please contact us at LCM@AntiqBuyer.com anytime.
"New England" Style Sewing Machines
There are a seemingly endless variety of machines that fall into a style collectively referred to as New England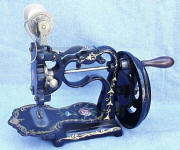 sewing machines. They were manufactured by a number of different companies and all with slightly different variations in features and decoration. The most notable thing about these machines is that they utilized a "walking presser foot" to move the fabric along from above rather than using the more typical feed dogs from below.

These antique sewing machines were made in the 1860's and 1870's and in general have fancy open-work body styles and decorative brightly colored paintwork. One such example is pictured above and another to the right. A critical factor in determining value of these antique sewing machines is the condition of the paint and decoration. Pristine examples in their original boxes are considerably more desirable than those with little or no remaining paint. Poor condition examples turn up all the time. Condition is paramount in relation to value. "Dogs" currently sell for $200 or less on Ebay, while pristine examples in their boxes with accesories can bring low four figures when properly promoted and marketed.
Paw Foot Style Antique Sewing Machines
Another early patented sewing machine found in many varieties are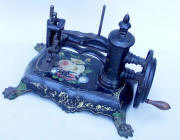 "pawfoot" style sewing machines. Shaw and Clark was but one major manufacturer and many of these machines are unmarked. Others carry names such as "Ketchem's Patent", Monitor, Wilson, Atwater, Goodspeed & Wyman, Hodgkin's patent, Granite State, and others.

They are typically hand-crank machines but many had grooved wheels and could be adapted to a treadle base. They are sometimes referred to as having a "fire hydrant" shaped body enclosing the drive mechanism. This is sometimes topped with an acorn finial or other decorative element such as a ball.. Other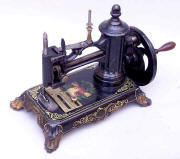 machines are nicknamed after the body style and referred to as open pillar, closed pillar, skinny pillar, square pillar, or fat pillar. The values of this type sewing machine are largely dependent on the condition and other details. Marked examples being worth more, and some body styles being harder to find than others. Lastly, value and demand are controlled by whether or not the current active collectors driving the market feel they need each and every variation, (yes!) or if they are satisfied with just one (Oh no!!).
More Pawfoot-Style Sewing Machine Variations
Other similar looking machines dating from this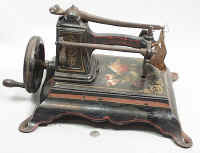 era are the Watson patent sewing machines like the example pictured here. The Folsom patent sewing machine that was manufactured in or near Winchendon, Massachusetts or Biddeford, Maine in the 1860's are another example They are harder to find than the examples above. Again, condition is really important on these sewing machines and when you see an example in pristine condition you'll see the reason!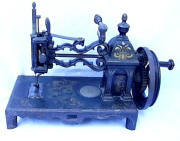 Other historically important and desirable early patented antique sewing machines we would love to have the opportunity to help you sell, bear names like Secor, Thomson, Leavitt, Pratt, Blodgett & Lerow, Blees, Battelle, Parker, Holly, and others dating prior to 1870.
Singer Sewing Machines
Singer is by far the best known name of sewing machines in the world. Though most Singer sewing machines are very common and frequently found, Singer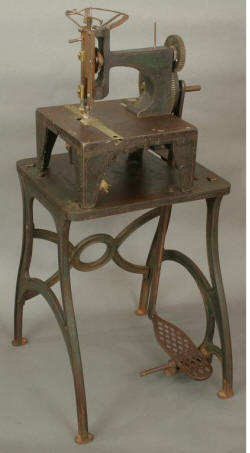 produced some very rare and desirable machines in the early years (pre 1860), and the best of these are known as the Singer Model 1, and the Singer Model 2. The Model 1 and 2 are very large primitive looking sewing machines. After that came the Singer Turtleback which was a much more refined looking machine. The other desirable model from this early era is known as the Letter A. These earliest machines can sell for several thousand dollars or more. These models were all developed and offered over a short period of time. After 1870 the typical design was settled upon and just cosmetic changes in design were made after that.

There is some interest in the more ornate or later Singer cabinet and treadle models after the Turtleback and Letter A. Most other and later Singers are considered relatively common, and fall into the period of mass production and are bought today mostly for their decorative value.
Singer Featherweight 221 and 222 Sewing Machines
The major exception to all the "rules" above is the Singer Mo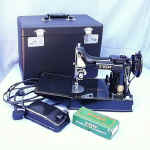 del 221 and 222 Featherweight sewing machines, like the one pictured on the right. There were close to two million of these machines made so in general they are not considered rare. They were manufactured from the 1930s through the 1960s so they are really not "antique". But they enjoy immense popularity as "user" and collector machines with today's quilters, craftspeople, and other seamstresses. They are a testament to the quality of the product design that Singer put out. There are a few hard to find variants of these machines to be found, most notably those marked as coming from the 1936 Texas Centennial Exhibition, the 1934 Chicago Worlds fair, and the 1939 San Francisco Expo. The difference in these machines is how they are marked on the ID badge. There is also what is known as the Crinkle finish model that was produced during WWII that is highly sought after.
If you would like to read more about Singer Featherweights be sure to see the special Featherweight Sewing Machine page we have dedicated to them on this site.
If you would like to buy a Singer Featherweight 221 or 222 please see our Singer Featherweight sales page at www.Patented-Antiques.com.
---
The above sewing machines are examples of the caliber, condition, and quality of antique sewing machines that we are primarily interested in and can help you sell.
If you have quality antique sewing machines similar to those that you see on this page that you want to sell, please contact us at LCM@AntiqBuyer.com
To see examples of antique sewing machines that we currently have for sale please go to our sister site at www.Patented-Antiques.com and visit the different sewing machine pages you will find there.
Thank you!!
Larry & Carole