As one of the countries leading dealers in patented and mechanical antiques we are always interested in
buying patent models, antique salesman samples, and other detailed models related to those categories of antiques that we specialize in.
Patent Models were submitted to the US Government Patent office for review of the inventor's idea. If you have or know of some that may be of interest to us, please let us know by contacting us at AntiqBuyer@gmail.com with as many details as possible.

What antique & vintage patent models or salesman samples we currently have for sale can be found on our antique sales website www.Patented-Antiques.com

Patent Model History & Examples
The idea for the requirement of a model of a given invention or idea was first authorized by the US Government in 1790. These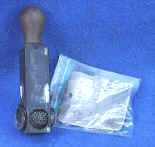 models of the inventor's idea came to be known as Patent Models. The process changed over the next few years, and evolved to where in approximately 1836 every idea or invention that was to be patented had to have an accompanying model that was to be no larger than 12" x 12" square.

The numbering system for patent models began on in 1836 with #1. It is a bit, but earlier models were given what is known as an X number to denote those that were already in existence. There was little record keeping of these earlier models, and at about this same time the first of 2 major fires destroyed most of the known patent models that had been submitted and were being stored in a warehouse.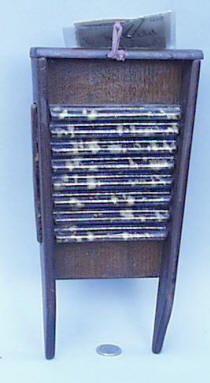 Even though Congress authorized the rebuilding of select models, this explains why very few early models from before this period are known.

Models of the patented idea were a requirement up into the 1880's or so. Because of the sheer volume of patent models already in their possession and the volume of new models that were arriving daily, the requirement was dropped and modified. By 1880 the requirement for a model was changed to where they were only to be submitted when required by the commissioner. At this point there were over 200,000 models in the government's possession.

At about this time a second fire hit the Patent Office buildings housing the collection and many more of the models were again destroyed and damaged by fire. Many of the models found today are damaged or show the effects of water and smoke from this fire.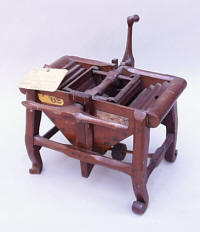 A lot of these patent models are now being sold / peddled on eBay with new fake tags and a story about the proceeds being for some charitable foundation.

In 1908 the government decided to sell off the remaining patent models. After giving some back to original patentees or to their families, and after the Smithsonian took those that they deemed historically significant, the remainder were finally sold off in 1925 to the first of many entrepreneurs with a vision for their potential.
The underbidders of this first sale were buyers from Japan whose intention was to scrap them for their value as weight.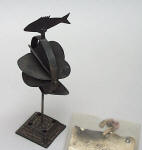 Luckily for the American collectors this did not happen. Over the next few years the remaining patent models changed hands several times after attempts to form museums or to sell them failed for one reason or another. They were moved a couple of times and batches of them sold a couple more times. Small batches were always coming onto the market for sale as each new owner tried his hand at properly promoting them. At different times they were sold from kiosks on street corners or in department stores in New York. They were also offered through catalog sales in the 70's. In the early 90's there were a couple of auctions of Patent Models in New York at Christies auction house.

The final sale of the remaining stock was sold just a few years ago, and again the hope, or claim was to form a museum around the remaining examples that were purchased. I have since heard that plan is no longer in the works either.

The good news is that, although hard to find, there are literally thousands of these models out and about around the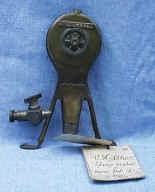 country. The most interesting feature to consider is that no two are alike, and each and every one of them is a unique creation. Some are intricate, some are very simple, but all display the sense of the American spirit and ethic, thus making for one of the greatest of all collectibles available to the American collector who has interests in history, art, form, and the mechanical intricacies that are involved in many of these models.
On the left is a Water Motor patent model from 1881. The idea behind this device was that a standard water motor could be improved on by adding a provision for injecting an auxiliary jet of steam or other gaseous material to the mix to increase the efficiency of the motor. It was good enough an idea to get Mr. Atwell a patent, but it seems that the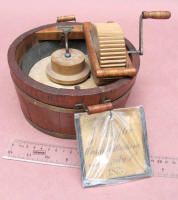 ideas for different designs of water motors put forth by names such as Pelton, Dodd, and others were better received in the marketplace as I have seen examples of those water motors numerous times, but never a device quite like this one.

We have more examples of Patent models for sale and pictured at our sales site www.Patented-Antiques.com. What I have shown you on this page is just a small sampling to give you an idea of how interesting and historically significant these models can be.
If you would like to see examples of past sales results for other antique Patent Models go to this link Patent Model Results For any of the other Past Sales archives click the appropriate links in the right hand column.
---
The examples of patent models discussed and shown are of the caliber, condition and quality of patent models or salesman samples that we are interested in buying.
If you have quality antique or vintage Patent Models or salesman samples that you want to sell, please contact us at AntiqBuyer@gmail.com providing as many details as possible.
To see examples of antique patent models and salesman samples I currently have for sale please go to our sister site at www.Patented-Antiques.com and visit the sale pages you will find there.