We deal in Americana, which includes figural cast iron antiques and patented or mechanical antiques that have a certain "look or feel" about them. We invite you to contact us at AntiqBuyer@gmail.com should you have antiques and collectibles similar to those described on theses pages you are looking to sell.
I will buy outright, or can help you sell similar antiques and collections on consignment from my antique sales website www.Patented-Antiques.com
We deal in many antiques and vintage collectibles that oftentimes do not fit into more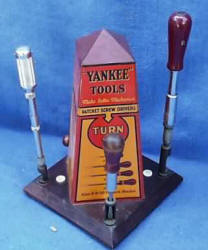 specific categories. We like them simply because of their superior form, look, or condition.

Our primary interests are toward patented and mechanical antiques, tools, technology and scientific related antiques dating from the period of history commonly known as the Industrial Revolution but we are equally interested in things often referred to as Americana, advertising or General / Country Store Antiques.

Collections of antiques oftentimes take on a higher significance than single
objects. Take for instance the of the selection of lamp fillers on the right. I used to buy them when they were relatively inexpensive, then I bought them when a different one appeared. Pretty soon they were a collection. I stopped when it seemed everyone else started, and the ready supply dried up. As a group they are far more significant and interesting than just one oil lamp filler.

Another example is the small collection of small oilcans / oilers that I assembled over the years. They certainly would not be considered important, but we like them and they fulfilled the urge to buy. When it came time to sell them, the fact it was an assembled collection was the factor that made them more interesting and appealing to collectors of Petroliana and advertising.

The common theme for our buying and selling interests is form and condition and it must have a certain "eye" appeal. We enjoy dealing with, and helping consignors sell the collections they have amassed over the years. Other specific areas of antiques that we deal in and are always interested in helping owners sell are listed in the left hand
column of this page.

Even though we do not specialize in tobacco related objects, we do deal in and sell tobacco cutters and other tobacco related collectibles. Most tobacco cutters were just made to accomplish their stated job, while others had unusual figural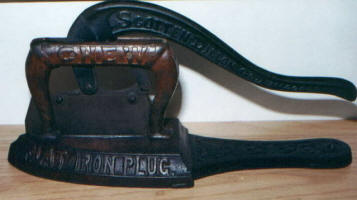 aspects to their design as represented by the Scotten-Dillon Flatiron Cut Plug tobacco cutter pictured on the right. The base is a figural flat iron. There are many other figural examples of Tobacco cutters that can be found. Values can range from as low as $40.00 - 50.00 or so to over $1000 for unusual and desirable examples.

Another example of unusual cast iron that we like are antique cast iron bootjacks. Particularly those that have wrenches or cutout letters or names incorporated into their design. We recently sold 2 different collection of bootjacks totaling over 300 on our sales site www.Patented-Antiques.com.

Often times the reason for buying an object crosses categories and we drawn to a special antique for reasons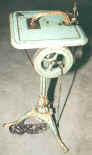 other than to simply add to the collection or to sell. The Pratt patent sewing machine known as the "Lady's Companion" pictured on the left, is a perfect example of this. Later and more common treadle sewing machines are a dime a dozen, and we have inquires from people wanting to sell those later treadle sewing machines nearly every day. We sell all types of antique sewing machines but rarely deal in those later more common treadle sewing machines. When I first saw this tripod style sewing machine I knew I had to own it. Even though it was the most expensive antique sewing machine we had ever bought at the time, in looking at the condition, the strikingly different form, and considering its historical significance, we knew we had to own this. I did buy it, and true to form and the dealer inside me sold it the next day. Money is also important at times.

It was the condition and form that convinced me to buy this sewing machine. The price was secondary. I knew it would be OK, and the urge was satisfied.

We typically do not deal in later more common standard wooden treadle sewing machines found in nearly every home in America after the turn of the century. It seems that there are still enough of those to go around for every buyer or collector who wants one, even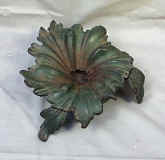 today. There are a few other antique treadle sewing machines that we are interested in, and the criteria for our interest are laid out or explained in detail on the Sewing Machine page.

We also have pics and sales results for many other early and rare sewing machines and other antiques in our sales archive pages. The links to those pages are in the right hand column.

We are always looking for unusual figural antiques, early mechanical sewing machines, and other devices, and we invite you to contact us at LCM@AntiqBuyer.com anytime should you have something similar that you are looking to sell.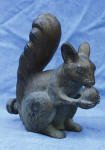 Another category of figural antiques we deal in are figural water sprinklers and other unusual mechanical water sprinklers. I am mainly interested in lawn sprinklers that represent animals or people. There are some great non figural sprinkler that were over-engineered and look like a mechanical marvels that are very collectible as well. If you have anything interesting you want to sell contact me.

Many times the antiques that we deal in or sell can fall into more than one or into completely different categories. Oftentimes the

primary reason we like an antique is based solely on the condition. We always strive to have the best condition pieces we can find and have turned down antiques that are considered quite rare, and that we would love to have listed, because the condition was not right.

In many instances condition is more important to us than the perceived rarity of a piece, a concept that many sellers never seem to grasp. Collectors learn it after a while, but sellers seem to be oblivious. In relation to that we have come to recognize the expression "great for its age" used by many sellers on the internet to be a giant red flag that often indicates something less than acceptable condition in reality. It is small wonder that is the phrase of choice to describe merchandise listed for sale on eBay by many sellers there.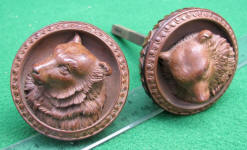 A few examples of the type, style, vintage, condition and quality of the antiques that we are primarily interested in are pictured. Click the links on the right to see pics and descriptions of past sales results for these and other antiques.
Please contact us at AntiqBuyer@gmail.com if you have interesting tools and technology, or great form figural antiques that are for sale. We are always interested in quality antiques and vintage collectibles and can help you sell them!

To see examples of antiques that we currently are offering for sale please go to our sister site at www.Patented-Antiques.com.