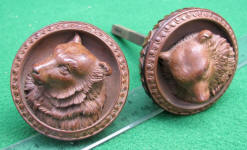 We deal in Americana, which includes figural cast iron antiques and patented or mechanical antiques that have a certain "look or feel" about them. We invite you to contact us at AntiqBuyer@gmail.com should you have antiques and collectibles similar to those described on theses pages you are looking to sell.
I buy antiques to be added to those we have for sale at our antique sales website www.Patented-Antiques.com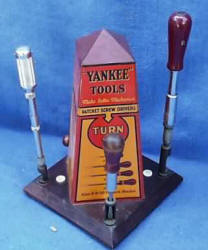 Our primary interests are toward patented and mechanical antiques, tools, technology and scientific related antiques dating from the period of history commonly known as the Industrial Revolution but we are equally interested in things often referred to as Americana, advertising or General / Country Store Antiques.

The common theme for our buying and selling interests is form and condition and it must have a certain "eye" appeal. Other specific areas of antiques that we deal in are listed in the left hand column of this page.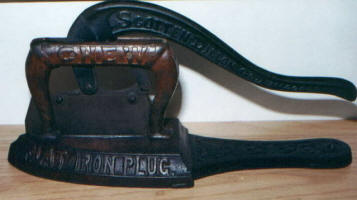 Even though we do not specialize in tobacco related objects, we do buy figural tobacco cutters. Most tobacco cutters were just made to accomplish their stated job, while others had unusual figural aspects to their design as represented by the Scotten-Dillon Flatiron Cut Plug tobacco cutter pictured on the right. There are many other figural examples of Tobacco cutters that can be found. Values can range from as low as $40.00 - 50.00 or so to over $1000 for unusual and desirable examples.

Another example of unusual cast iron that we like are antique cast iron bootjacks. Particularly those that have wrenches or cutout letters or names incorporated into their design. We had and sold 2 different collection of bootjacks totaling over 300 on our sales site www.Patented-Antiques.com.

Often times the reason for buying an object crosses categories and we drawn to a special antique for reasons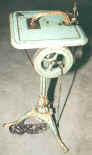 other than to simply add to the collection or to sell. The Pratt patent sewing machine known as the "Lady's Companion" pictured on the left, is a perfect example of this. We sell all types of antique sewing machines but rarely deal in later more common treadle sewing machines. When I first saw this tripod style antique sewing machine I knew I had to own it. Even though it was the most expensive antique sewing machine we had ever bought at the time, in looking at the condition, the strikingly different form, and considering its historical significance, we knew we had to own this. I did buy it, and true to form, and the dealer inside me, sold it the next day.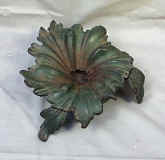 Money is also important at times.

There are a few other antique treadle sewing machines that we are interested in, and the criteria for our interest are laid out or explained in detail on the Sewing Machine page.

We also have pics and sales results for many other early and rare sewing machines and other antiques in our sales archive pages. The links to those pages are in the right hand column.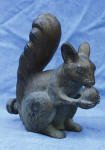 We are always looking for unusual figural antiques, early sewing machines, and other mechanical devices, and we invite you to contact us at LCM@AntiqBuyer.com anytime should you have something that you are looking to sell.

Another category of figural antiques we deal in are figural water sprinklers and other unusual mechanical water

sprinklers. I am mainly interested in lawn sprinklers that represent animals or people. There are some great non figural sprinkler that were over-engineered and look like a mechanical marvels that are very collectible as well. If you have anything interesting you want to sell contact me.

In many instances condition is more important to us than the perceived rarity of a piece.
A few examples of the type, style, vintage, condition and quality of the antiques that we are primarily interested in are pictured. Click the links on the right to see pics and descriptions of past sales results for these and other antiques.
Antique & Vintage
Sewing Birds & Figural Sewing Clamps
We Buy
Antique & Vintage Sewing Related Collections!
Sewing clamps or sewing birds were used by a seamstress to assist with mending and fancy needlework. They acted like third hand. These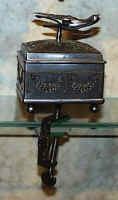 vintage and oftentimes patented devices were typically fastened to a work table by a thumb-screw. The working portion was designed to hold the fabric so that it could be held taut with one hand leaving her other hand free to do the stitching. They are sometimes referred to as "third-hands". Some were multi featured and had pincushions, thread cutters, small drawers, scissor sharpeners or other features to help with the sewing related tasks at hand. Some can be quite elaborate, others very plain and utilitarian.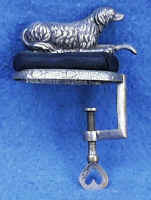 Below are just a few examples of some unusual & figural sewing clamps we look for and offer for sale at our sales site www.Patented-Antiques.com. These include examples made of ivory, wood, brass, silver, steel, and cast iron. We are especially seeking unusual and elaborate figural examples, or those with attached holders or boxes to store thread, wax, needles, emery, thimbles, etc.
Note: There are many reproduction sewing clamps on the market, most notably the brass bird with the 1853 patent in its wing. You can always find them listed for sale on eBay. Be Aware!!
Some of the rarest, most desirable and hardest to find are figural examples in the shapes of animals, bugs or other critters. Pictured just above is a "sewing dog", who obediently lays on top of his pincushion bed and helps out by gripping the fabric in his mouth. It can be found in either a nickel or lacquered brass finish. It is a very desirable piece.

The fabulous figural elk clamp show here is all cast iron with two thread-winding spools made of bone on either side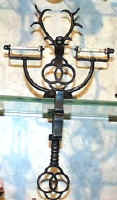 of his incredible rack. To hold the fabric you gently pull back on his delicate antlers to open up his jaw, insert the fabric, then release. This figural clamp is extremely rare, probably a one-of-a-kind, and crosses over from the category of sewing into the realm of Americana and rare American folk art.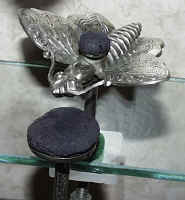 Another great figural animal sewing or needlework clamp is the butterfly clamp shown here. It is an example that is rarely seen. In addition to the butterfly body opening and acting as a clamp, this figural butterfly clamp also has 2 pincushions to hold either the fabric, or additional pins or needles.

The cherub clamp at the top of the page is another nice figural sewing clamp. It also has a pin cushion and clamping feature as additional features. Cherubs were a favorite during the Victorian era, and that is when this clamp and most of the others shown on this page date from.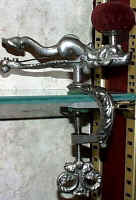 Some sewing clamps were made as almost little portable work stations and a very interesting and desirable model that we are looking for is known as the "Lady's Companion". It has all sorts of accessories and features that the typical clamp does not. Some of these devices came equipped with their own thimbles while others had scissors or thread cutters incorporated into their design.

Another favorite image or theme for figural antique sewing "birds" / sewing clamps is that of the fish, dolphins, or

other mythological critters including dragons and monsters. Some are so elaborate and detailed that the scales show. At left is a neat one that we have seen a lot of different variations of, some with pincushions and the tail wrapped around the post, some without a tail at all. Others with just the face or head, with some more grotesque and others simpler and more stylized.

Not all sewing clamps were designed with a clamp or "vise" for holding the fabric. The example shown here is designed to be a thread winder with 4 individual spools that the seamstress could use to keep 4 different colors of thread within easy reach. The pincushion on top could be used simply to hold extra pins, or the fabric being worked on could actually be pinned to it to serve the same function as the vise-style sewing clamps. A clamp like this would be very handy for embroidery.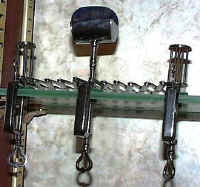 All of the different styles we have shown so far have their origins in either America or Europe. The butterfly and the dog sitting on the bed are American origin that were a patented design, while many of the other figural monsters and creatures are considered to be European.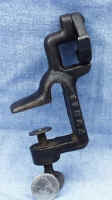 Another unusual sewing clamp is this unique design, which actually consisted of three clamps. The center one is a pincushion and the two on the ends are thread winders. All three are attached to each other, and could be adjusted in width with an accordion-style mechanism.

Sewing clamps can range from incredibly ornate and elaborate to very simple and plain. The clamp pictured above on the right uses a simple swinging arm mechanism to secure the fabric. This particular one is a bit bigger and heavier-duty than the typical light duty swing arm Victorian design clamps you can find, and it was probably used for leather, wool, canvas, and other heavy materials.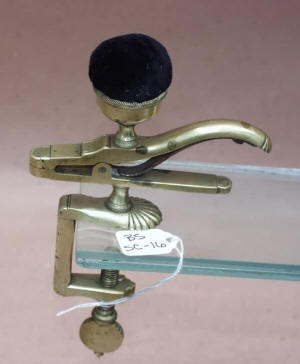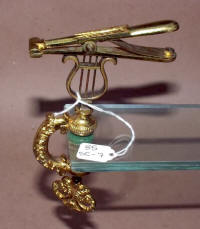 If you have antique sewing clamps, Victorian needlework tools or very early antique sewing machines to sell, please email us at AntiqBuyer@gmail.com
We are active dealers of sewing birds / clamps and other antique and Victorian sewing and needlework accessories---such as pinking machines, chatelaines, tape measures, fancy scissors, darners and more.
Please contact us at AntiqBuyer@gmail.com if you have interesting tools and technology, or great form figural antiques that are for sale.

To see examples of antiques that we currently are offering for sale please go to our sister site at www.Patented-Antiques.com.