Antique Coffee Mills / Grinders
We are active dealers and buyers of antique coffee mills and vintage collectible coffee grinders.
We Buy
Coffee Mills & Grinders & Country or General Store Related Advertising & Antiques!!
We deal in and sell many coffee related antiques. From double wheel coffee grinders and wall mount coffee mills, to coffee roasters and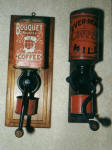 early country store advertising related to coffee. We are especially interested in original condition #2 size cast iron 2-wheel or double wheel coffee mills or coffee grinders by makers like Parker, Enterprise, Landers Frary & Clark, Simmons / Keen Kutter, Coles, National, and others. #2 size coffee mills generally stand 12-16" inches tall, depending on the hopper size, and have double wheels with a 8- 9" diameter.

We are also interested in early patented American cast iron mills or other unusual lap or counter top size coffee grinders. Early vintage AMERICAN wall mount antique coffee mills with litho advertising like those to the left are also of interest.
We are primarily interested antique coffee grinders / mills that are in great original condition and not repaints or restored coffee mills.
We are especially fond of smaller easily shipped model grinders. The following pictures will give you an idea of the styles and condition of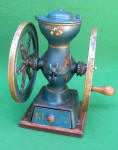 antique coffee grinders that we are seeking to buy and sell. More can be seen in the past sale archives linked on the right.
If you are looking to buy antique coffee mills, please visit our sister site at www.Patented-Antiques.com where we conduct our sales of coffee related antiques and general or country store antiques.
We do not travel nearly as much as we use to and it seems that the only antique coffee mills that are available on this coast are either restored and have a thick new coat of glossy enamel paint covering them. Or they are in such rough condition that they will need to be restored. Repainted and restored coffee mills look great if done properly, and it oftentimes needs to be done, but we are really only interested in coffee mills in original finish with original decals and decoration.

The green Landers, Frary and Clark #20 coffee mill on the left is an example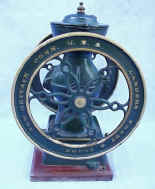 of a relatively common antique coffee grinder in uncommonly nice condition. This antique coffee mill is still sporting nearly all of its original paint and decals and they are difficult to find in this condition. We have seen this grinder in a variety of color schemes and are especially fond of those with original two-tone paint jobs in colors. Few are seen or found in this nice original condition.

This next grinder shown is a Simmons Hardware Co. of St Louis MO Koffee Krusher #2 size mill. They referred to this size mill as the # 13. It is an unusual coffee mill and was offered for sale by the Simmons Hardware Company back near the turn of the century. The Simmons Hardware Co. of St. Louis, MO carried and sold a famous line of now highly collectible and sought after tools and other consumer goods, most commonly known by their Keen Kutter logo.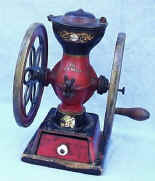 They used the KK logo on many of their products, and hence the name on this mill, "Koffee Krusher". They named many of their products in this way with two K's in the name.

Simmons never actually made their products and instead ordered or contracted out their line to the lowest bidder.This mill appears to be a result of that process as the wheels awere made by one company and the body another, and yet it is "right" and properly marked on both halves.

The antique coffee grinder at the top right corner of this page is a Charles Parker of Meriden, CT. coffee grinder. It is a #250 because of the large nickel plated brass hopper it has. A Parker # 200 mill would have a cast iron hopper and not the taller top nickel hopper. It is a very rare and desirable coffee mill by what many consider the premier maker of such things. Most companies offered coffee mills with nickel or brass hoppers, and they are somewhat harder to find in this configuration and especially so in this small size. Enterprise denoted their brass hopper models by calling the #2 size a #2 1/2. LFC did the same thing naming theirs the #20 1/2 instead of #20.
Wall Mount Coffee Mills / Grinders
We are also interested in early American wall mount antique coffee mills. The following two pictures will give you an idea of the vintage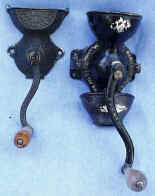 and type advertising mills that we are interested in. We are especially fond of what is referred to as litho advertising examples like those to the right. The green tin litho coffee mill is marked "Lightning No. 2 Belmont Hardware Co." and the red tin litho coffee grinder is marked "Bouquet Roasted Coffee O.V. Tracy & Co. Syracuse, NY". Both are complete with their original tin catch-cups, and it is condition like these exhibit that we are interested in and can help you with.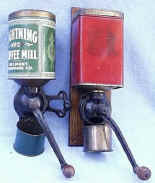 There are hundreds of different versions of wall mount grinders that were offered and some had glass containers like the Arcade and Parker models, but there were also others like the Queen which had a rectangular glass jar with embossed writing on it.

The coffee mills like the the two wall mount coffee mills to the left just below are all cast iron. The grinder on the left is an Arcade No. 5 with beautiful decorative casting and the grinder with the original cup on the right is marked "Chas. Parker Meriden, CT". Charles Parker was the famous shotgun / firearms manufacturer and maker of a very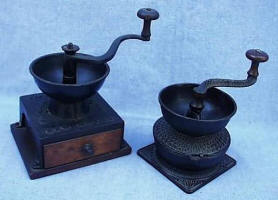 extensive line of cast iron products and hardware that are eagerly sought by collectors today. The Chas. Parker Co. made many different style coffee mills that are very popular, especially their #250 mill 2 wheel model seen in the top left corner of this page.

Parker made many other products as well, most notably a sewing machine that he produced for a short time in the mid 1800's that bears his name and the patent dates. Charles Parkers patented sewing machine had the novel and unusual feature of the needle coming at the work from below the sewing table.

Another form of vintage wall mount coffee grinders have glass hoppers above the grinder. All are of interest, but especially ones like the Queen which had a beautiful clear glass hopper / canister. Other wall mount coffee grinders that we are looking for are the Bell, and variations of the coffee grinder known as the Telephone Mill.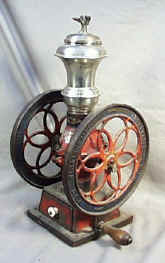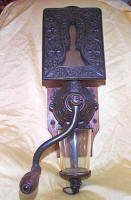 If you have an antique coffee mills / grinders or other General Store Antiques to sell please contact us at AntiqBuyer@gmail.com
The above coffee grinders are examples of the type, style, vintage, condition and quality of these devices that we are primarily interested in.
To see examples of antique or vintage coffee related antiques that are currently for sale please go to our sister site at www.Patented-Antiques.com and visit the cast iron and coffee related page there.
Please visit the Past Sales Archives found in the right column to see past sales results for the many coffee mills we have sold in the past. There are 3 different pages of them.