We Buy or Can Help You Sell Antique Typewriters & Early Antique Office Antiques!!
We are active full time antique dealers in vintage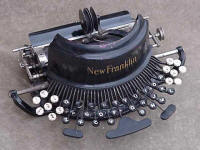 office related antiques and early antique typewriters. We buy, sell, and deal in many different office related antiques and collectibles from near the turn of the last century. This is our buying and general antique information website. We conduct our antique sales from our sister website www.Patented-Antiques.com
We buy and can help you sell early office related antiques such as antique staplers, mechanical pencil sharpeners, antique check protectors, antique calculators / adders, vintage slide rules,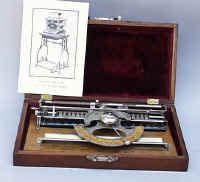 and more. Most of the objects I am talking about date from the turn of the 20th century and before. I am not talking about and do not deal in most office equipment from the 1930's and later, and I am not talking about or interested in used office furniture from that era.

I have provided addition specific information on some of the specific categories of office antiques we do deal in on other pages at this website and have attempted to lay out the criteria or guidelines for the age / vintage and condition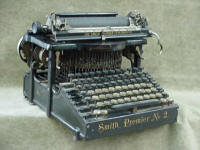 of the things we are interested in. We will buy or can help you sell these antiques through our consignment sales program, oftentimes for far more than you can realize selling them locally or elsewhere on the internet.

There is a separate pages at this site for Antique Pencil Sharpeners, and another for antique electric or fuel fans and calculation devices. Please visit those pages if that is what you have. On the right there are links to pages with past sales results with additional info and prices that individual pieces have previously sold for.
Please contact us at AntiqBuyer@gmail.com if you have EARLY PRE 1920 office related antiques that you want to sell or consign with us. If you have additional questions please see the FAQ page, or other informational pages you will find in the left hand column.
Condition
Condition is critical to the value of all antique & collectible typewriters and other office antiques. With most office collectibles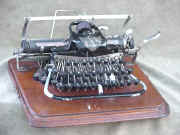 and antiques the earlier the better and the more unusual the better ----- and more valuable. The same piece in near mint / perfect condition can sell for up to 10 times what the same piece in poor condition will bring.

There are very few typewriters or other office antiques that date from later than the 1920's that are considered desirable or command good prices. People might be buying them, but it is because they can buy them cheap. Common later typewriters such as those made by Underwood, Corona, Remington, Oliver, and many others are poor sellers and not much in demand unless they are the first model of that typewriter. Simply check eBay completed sale prices to confirm that. Many are being broken down and the keys used for making jewelry.

Antique typewriters from the turn of the century or earlier, and typewriters & early office machines that have a different appearance from the norm, are usually of interest. If you will look at the pictures that I have provided here, and visit the Typewriter Past Sales page you will get a better sense of what I mean.

Desirable antique typewriters include those called Index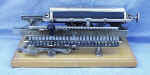 typewriters. These vintage typewriters have unusual indexing devices instead of a standard keyboards (like the machine to the right). Most index style typewriters sell in the 300 - 3000 dollar range depending on the condition and exact model and there are a few notable exceptions that can be worth more. It is all in the details.

Most typewriters whose keyboard do not spell out QWERTY as the first six keys on the top left side of the keyboard are going to be an unusual & collectible typewriter. Most vintage typewriters that have this characteristic have values in the 4 figure range.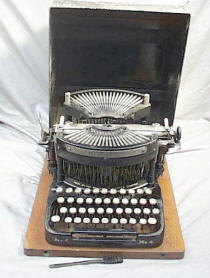 Again, it is all in the details.
Antique Typewriters that have double keyboards (one each for upper and lower case) or curved keyboards, or keys that are made of wood are unusual as well. Some of these are pretty common while others are very rare. Depending on the model, and name, machines like this can sell for 300-500 and up to 5 figures for rare & unusual models.

Antique typewriters that have keys that strike the paper from below or behind are desirable and collectible as well. These antique typewriters are referred to as upstrikes or grasshoppers. To sum up, antique typewriters that have features different from those that you see on most machines have the most potential to be collectible in demand and thus be more valuable. Most typewriters from the 1930's and later seen at the thrift stores or at most garage sales are too late and too common to have much collector value. Typewriters from this era are being bought and their keys cut off to make jewelry out of. Sad but true. Or for their decorator value which is limited as there is so little demand or interest.

The picture at the top of the page on the left above is of a vintage typewriter called the New Franklin and is an
example of an antique typewriter that has a curved keyboard. Another well known machine that had this feature on its earlier models is the Hammond typewriter. The values for most versions of these are in the mid 3 figures to the low 4 figures.

The Hammond typewriter is a good example of the types of changes that a typewriter could go through during its production period over the years, and how different models of it have different values. The first model Hammond had a curved keyboard with wooden keys that almost looked like small piano keys. This is the most valuable and as expected hardest to find model. Later models were offered with either curved or straight keyboards, and the keys themselves developed into something very similar to those on most later machines found today. The typewriter on the right is a #12 Hammond and is considered a relatively common machine and can be found quite easily. They also produced what is known as the Multi-Plex another relatively common typewriter.

Names of some other desirable curved keyboard typewriters include the Polygraph, Imperial, Salter, Columbia Bar Lock and Crandall to name just a few.

The next few pictures are of more index typewriters, or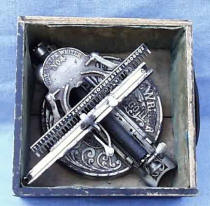 keyless typewriters. Many machines or typewriters that have this feature instead of the typical keyboard are good collectibles and in demand. One of the best known is the Odell which was first patented in 1887. These came in several models numbers, each having subtle differences from the first model. Again the first model is considered the hardest to find. Their value can range from just a couple hundred for well used, beat up models to $1000.00 or more for nice ones in their original box like the one above.

It should be noted that there are other index typewriters that are very similar in appearance with different names on them that were produced either under license from the patent holder, or as with some models of calculators and other office devices, as knockoffs or copies of the real thing that were offered on the market in competition to the real version.

There is a lot of room for further research and documentation to find out all the history of many of the different typewriters. While the Odell and the French Virotyp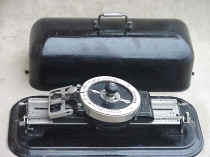 pictured above were based on a round design, other typewriters with an indexing feature were straight like the Merritt index typewriter. These typewriters were very popular as attested to by the number of machines that have survived today. It must have been a combination of low cost and the notion that most people's handwriting was so bad that they needed to spend the time fiddling with one of these contraptions in order to have their thoughts understood on the receiving end. I wonder how many words a minute were possible with one of these.

Some other names of early patented typewriters that operate in a similar mode and that I would be interested in buying are The Hall, Champion, Peoples, Columbia, and Crown, to name just a few.
The typewriters seen above, and described here and on the typewriter past sales results are examples of the caliber, condition and quality of office antique typewriters that I am primarily interested in and can help you sell.
If you have any antique typewriters or other office related antiques similar to the examples shown here that you want to sell or consign to our sales pages at www.Patented-Antiques.com, please contact us at LCM@AntiqBuyer.com
To see examples of office related antiques that I currently have for sale please go to our sister site at www.Patented-Antiques.com and visit the numerous sale pages you will find there.