We will buy or can help you sell Antique Corkscrews / Can Openers / Ice Cream Scoops and other related Patented and Mechanical Antiques!! The corkscrews pictured on this page are examples of the type, style, vintage, condition and quality of these devices that we are primarily interested in and can help you with.
If you have corkscrews or other types of antique openers similar to those that you see on this page that you want to sell, please contact us at AntiqBuyer@gmail.com providing as many details as possible.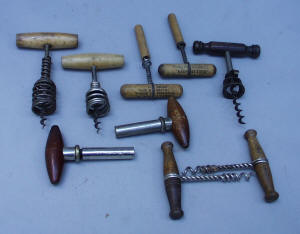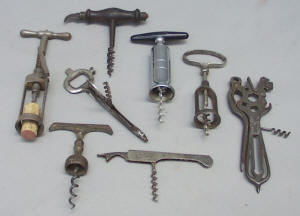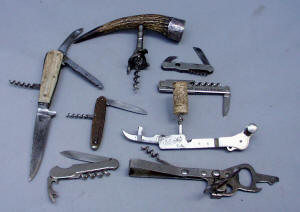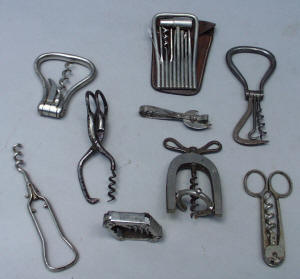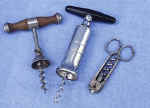 I buy, sell, and am interested in helping you sell many different varieties of antique and vintage corkscrews and other wine related memorabilia.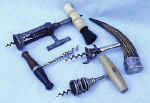 Corkscrews and other can / jar openers are an interesting and fun collectible category. Many are graphic, mechanical, patented and can still be found. Prices can range from just a few dollars for more common varieties to mid 5 figures for rare and desirable examples. Vintage corkscrews fit right in with the main focus of our tool, technology and mechanical related interests. Americana with a purpose.

We are seeking vintage corkscrews ranging from early patented American examples to interesting mechanical corkscrews from other countries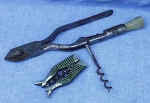 that produced interesting patented & mechanical designs as well. We have sold many interesting antique corkscrews over the years, and I would like to share with you some pictures and information about some of the nicer or more interesting ones that we have handled.

In addition to corkscrews we are also interested in buying other early pre-1900 patented antique bottle, jar, and can openers as well. We have had and sold some rare and exotic examples of these as well, and are always on the lookout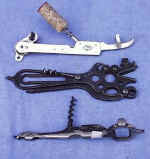 for more.

If you have an interesting or unusual corkscrew or patented can opener for sale contact us by email at AntiqBuyer@gmail.com with details
The Internet has certainly brought a lot of information about corkscrews and can openers into the open, and has made many of them seem very common. There are a host of wonderfully informative books about corkscrew available that have been published over the years. The amount of info on the internet is incredible as well. We use these references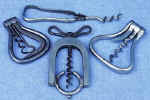 and they have been a great help as well as an inspiration to find more and different corkscrews. Both of these sources of information have helped us to better understand this intriguing and challenging collecting category.

We can help you utilize the Internet to sell antique corkscrews or other unusual bottle and can openers as the supply of interesting ones certainly seems to be drying up at the normal venues where they use to appear.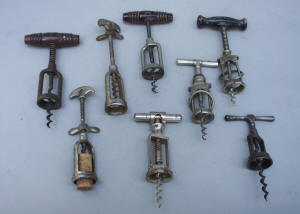 I once got a nice ivory handled one (pictured above top left corner) which was made by Michael Price, the renowned California Gold Rush-era cutlery maker. I found it at a local show here in California amongst a table full of Beanie Babies. A once in a lifetime find. Those kind of finds are few and far between these days. We have not been seeing many other interesting corkscrews or openers here in California recently even though we live in what is now known as a great wine grape growing (viticulture) area.

To see and get a good idea of other antiques that we are interested in acquiring or trading for, please visit our sister site www.patented-antiques.com where we have other quality and interesting antiques for sale that are generally focused on mechanical and patented antiques from the home, shop, farm, and office. Please visit that site if you have the time.
Vintage & Antique
Mechanical & Patented
Ice Cream Scoops / Dishers
We Buy & Can Help You Sell Your Antique & Collectible Ice Cream Scoops and Soda Fountain Related Antiques!!
If you have any ice cream scoops similar to those you see on this page that you want to sell, please contact us at AntiqBuyer@gmail.com with details and we will get back to you ASAP.
We have bought and sold a lot of antique ice cream scoops, or ice cream dippers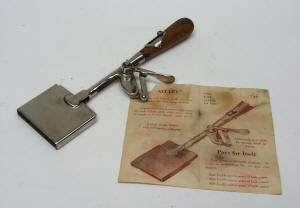 over the years, and we are actively seeking ice cream related antiques to add to our antique sales webpage www.Patented-Antiques.com .

We use to buy and sell scoops as quick as we could find them to a few good customers. At some point in this process we realized that we were continually seeing certain scoops over and over, and other scoops we had only seen once or twice and never again after we sold it. I suppose that is the way the collecting urge in any category begins and is one of the main ways that collectors and collections are created, not born.



We are interested in a lot of different mechanical and patented or technology-related antiques and strange devices of all different sorts, and ice cream scoops or ice cream dishers are just one of many categories of collectibles that fit into this definition of antiques and collectibles that we buy, sell, and deal in.

Basically we are interested in any early and unusual soda fountain type antiques or advertising and if you have something interesting we can help you.



On this page I will show you a few pieces we have had over the years and tell you a little about each. The scoop below is generically know as a slicer, and was introduced during the Depression as a means to save the storekeeper a penny here and a penny there in extra ice cream that he was dishing out unnecessarily. This scoop ensured that the customer never got more than a leveled-off half scoop for his nickel. It sure is interesting to note that nowadays in this "super-size" era in which we live the Stewart's in New York state and elsewhere on the East Coast a single scoop ice cream cone is about 5 times the size of what this one would put out.

This speaks to a few differences between now and then, and also about the growing waist sizes we see in today's society as well. Here in California, on the other hand, they use a scoop that is smaller than what this one puts out, charge you $5.00 for it, and smile while collecting the money. The United Slicer ice cream scoop / slicer shown above is a somewhat harder to find variant than the
look-alike Dover Slicer and sells for a bit more as well.

We are interested in scoops or dishers that have an unusual feature or different shape or size bowl from the norm. The next picture is of two ice cream dippers that have split-apart bowl features. The one in the front is unmarked other than a small "Pat Pend" inside the handles and is interesting because it has the ability to split wide open thus ensuring that the scoop of ice cream would let go and fall onto the plate or dish. This ice cream scoop comes in at least two different sizes that I know of. It is a hard to find scoop.

The ice cream scoop in the back is of a more dubious design, and instead of having one wire scraper inside the bowl to push the ice cream out, this one has two that start in the middle and both go to the opposite sides. It too is a pretty difficult to find scoop.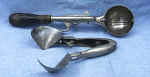 Other vintage ice cream scoops that have a similar feature to this are the Bohlig, and the Mosteller, both of which have bowls that rotate or split apart, and these are the style or type of ice cream scoops that are desirable and we can help you with.

Later and more typical Gilchrist's and other normal or standard-looking scoops with plastic handles that you typically seeing in the antique shops and at antique shows these days are for the most part very common and later than those shown on this page. We tend to not buy or sell later more common scoops for a number of reasons.

The next picture is of a group of unusual pieces that are referred to as molds or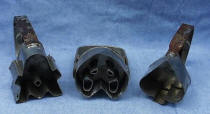 scoops, or even cookie cutters, when a knowledgeable buyer is asking how much it is from the less knowledgeable seller.

The truth is they probably should be called a mold but they are ice cream related. I have an ad for these from an old magazine that shows that there were 6 different shapes of these made or available, and the Diamond was not one of them so you can stop looking for it. The first one on the left is the Masonic symbol of the square and dividers, as found on a lot of their pieces, and not an A and W as I originally thought. These molds were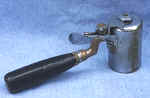 produced for use at social functions for fraternal organizations and the like. I do not know or am unfamiliar with what the middle one represents, and have no idea what it would would stand for. I would love to find other or different molds (or cookie cutters) like these, and if you have any please contact me

The final picture, on the left, is of an antique ice cream scoop that I have never seen before, and is not in the Smith book that was put out a number of years ago on this subject. I have never been to one of the Ice Screamers Ice Cream Scoop Conventions, and would love to go with this in hand to see if there was interest in it. Who knows, perhaps it is as common as an IcyPi or Kingery, but I doubt it.
---
The above corkscrews, can openers and ice cream scoops are examples of the caliber, condition and quality of these devices that I am primarily interested in and can help you with.
If you are looking for value information for scoops and other Kitchen related antiques please see the past sales archives.
To see what scoops we currently have for sale, and many other examples of antique or vintage kitchenware, please go to our sister site at www.Patented-Antiques.comand visit the Americana & Kitchen sale pages you will find there.
Thank you!!
Larry & Carole