Mechanical Nature Antiques
Past Sales / Archive
Our Past Sales Archive Pages contain examples of some of the most interesting and important pieces we have sold since we introduced this webpage over 20 years ago.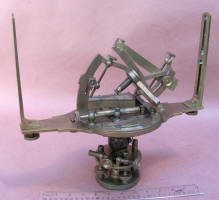 It represents a select cross-section reflecting the level / caliber and types of antiques that we are seeking to buy. If you have similar antiques and collectibles you want to sell please contact us at AntiqBuyer@gmail.com.

A few notes on the past sale prices that have been removed.
Some of the past sale result prices found in the past sales archives are going on 20 years old and may not be relevant in today's market. Many of the specific antiques & collectibles that we deal in have fallen in value. In a few instances values have risen. If you find the thing you have and there is no price listed with the ad, you can try asking what I think. How I respond will depend on how you ask.

Prices for individual pieces, as well as broad categories fluctuate over time, and contrary to popular belief it is not always up. In fact many specific sub categories within a given category are currently selling for half or less of what they use to in the hey-day. The list is long, from toasters and eggbeaters, to certain antique tools, pencil sharpeners, sewing machines, surveying instruments and more. The reasons for the drops in value are varied and complex. It is not just because of the internet, or eBay, or the economy. It is all those reasons and others combined.

Use the values you see with caution and seek confirmation elsewhere. Double Check. I will not be responsible for any perceived or real loss you may incur using the information found on this website. If you sell that thing you were looking up for far more than you thought it was worth because of what you find here, and feel grateful, send my share % or commission to Sales@Patented-Antiques.com through Paypal or send me a small donation to continue this work.
Because of the volume of our sales of antiques, we have several topic-specific Past Sales Archive Pages that can be entered through the links provided below and on the right.
* * * * We Sell Antiques! * * * *
We can Help you Sell Your quality Antiques. To view examples of the types of antiques and collectibles we have previously sold and are always interested in visit the different past sales archives on this site through the links on the right.
If you have a single antique, or a collection of antiques to sell please contact us at AntiqBuyer@gmail.com giving us your PHONE NUMBER and other contact info and we will get back to you ASAP.
To see examples of similar antiques that we currently have for sale please go to our sister site at www.Patented-Antiques.com and visit the numerous sale pages you will find there.